Anand iffy on online gambit
On Sunday, the world chess body postponed the World Chess Championship Match, which was scheduled to start on December 20 in Dubai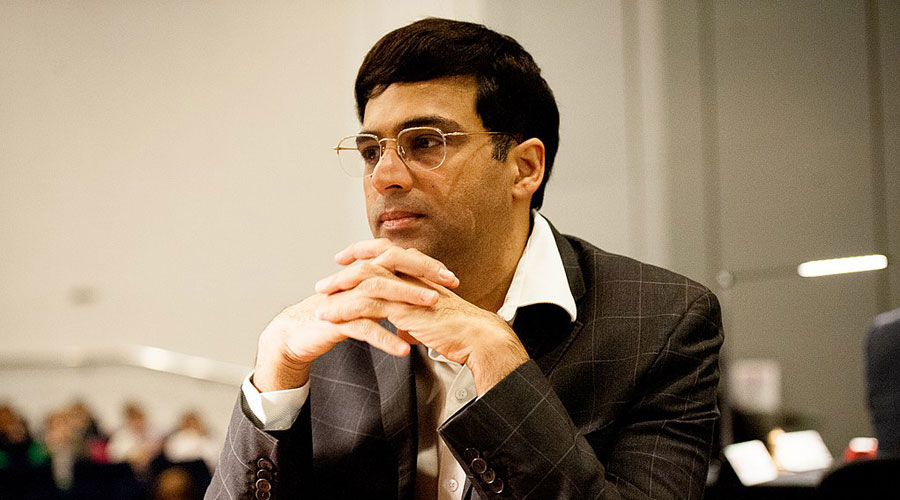 ---
|
Calcutta
|
Published 01.07.20, 12:18 PM
---
Chess has seen a surfeit of online competitions in the rapid and blitz formats in the last three months owing to the worldwide lockdown.
Viswanathan Anand, in fact, led India at the Online Nations Cup chess tournament in early May when was cooped up in Frankfurt. India finished fifth in the tournament. There has been a debate whether the classical version also should be played online, but Anand has doubts on that.
"I doubt the classical format will go online but I think rapid, blitz and a slightly longer formation — may be say of two hours — will do very well online," he told The Telegraph on Monday.
Anand has a point. On Sunday, the world chess body, Fide, postponed the World Chess Championship Match, which was scheduled to start on December 20 in Dubai, to 2021. The second half of the Candidates tournament, which was halted on March 26 after seven rounds, is still on schedule to take place before the end of this year. That means for the classical format, online doesn't make sense.
Anand returned to his family in Chennai on June 6 after being stuck in Germany for over three months. That was after completing a seven-day institutional quarantine in Bangalore where he touched down on May 30.
Anand thinks "the pandemic has pushed" chess superstars to play the game online. "It was always there online... Even offline events had significant online audiences. So the only element absent was the actual participant playing online. And the pandemic has pushed us to take that step. I think in future some version of either combination, may be some hybrid element, will be seen. I think both offline and online formats will continue going forward," he said.
In his chequered career, Anand has faced many adversaries but he doesn't think it would be right on his part to single out one particular foe who troubled him the most.
"I would not say there is a single toughest rival... I have experienced many people who gave me difficulties for a certain period of time... And those are the usual names, like (Garry) Kasparov, (Anatoly) Karpov, (Veselin) Topalov, (Vladimir) Kramnik, (Magnus) Carlsen, (Levon) Aronian and (Hikaru) Nakamura... There are so many names… I cannot single out just one adversary," he said.
Being a five-time world champion, Anand is someone who knows the high it gives being the best. And that is not restricted to chess. To him, India's World Cup triumph in cricket in 1983 still evokes memories.
"I still remember June 25. It was a great day in the history of Indian sports. We had a modest target to defend against the West Indies and we did that in style. You know that's one of those moments. You cannot even ask someone to try to do something like that. But if you have the spirit and the heart to try, they sometimes get lucky,"
Football is also something close to Anand's heart. Being a die-hard Real Madrid fan, he is happy that Zinedine Zidane's men have fought back well. Madrid, after their 1-0 win over Espanyol, enjoy a two-point lead over Barcelona with six more rounds to play.
"Yes, Madrid have fought back well. I am also very happy that Liverpool have finally won the league."
Asked if he was okay with football pressing the restart button without spectators, Anand said: "Fans will get to used to everything... In the end, the team's performance matters..."