India's quest for Gold: Boxing
The Olympic Games, after a year's delay, are just days away. As India embarks on 'Mission Tokyo', The Telegraph attempts to dissect the disciplines where the country's prospects look promising. First up, it's boxing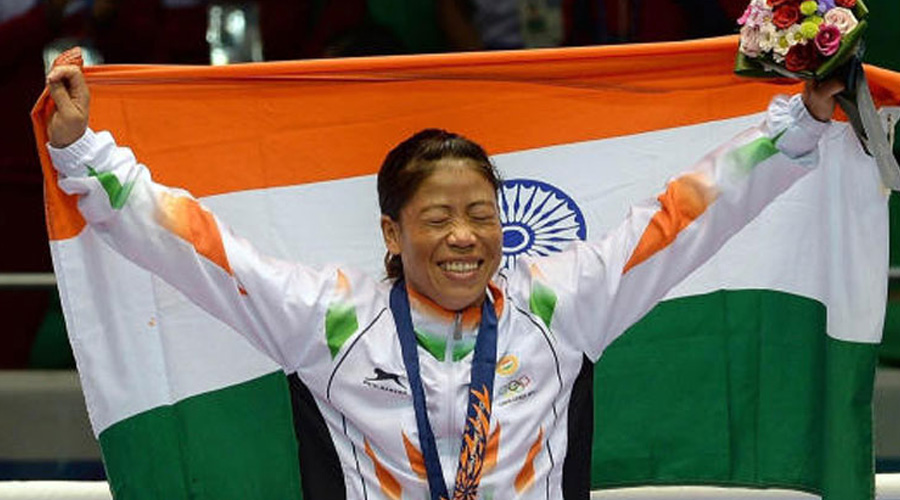 Will Mary Kom return from Tokyo with a golden smile?
File picture
---
Published 16.07.21, 03:30 AM
|
---
When nine Indian boxers — five men and four women — begin their bouts on July 24, a day after the Olympic Games begin, they will be carrying a load of expectations. At the last Games in Rio, only three had qualified, none of them women, and the country did not win any boxing medals there.
India's first boxing medal at the Olympics came in the 2008 Beijing Games when Vijender Singh had claimed the middleweight bronze. This was followed by MC Mary Kom's bronze in London, 2012.
But this time around, with so many boxers making the cut, expectations soar. More so because they have been putting up a good performance in the lead-up to the Games. In May, India had bagged 15 medals (2 gold, 5 silver, 8 bronze) at the Asian Boxing in Dubai. In December 2020, at the World Cup in Cologne, the country had finished with nine medals, including three gold.
The boxers are currently training in Assisi in Italy, from where they leave for Tokyo on Sunday.
Among women, all eyes are undoubtedly on India's poster girl in boxing Mary Kom. The six-time world champion will be leading the challenge in women's flyweight. Aged 38, this should be her last shot at a Games gold and she sure will give her competitors a run for their money.
Ranked No. 3 in the world, reigning Asian champion Pooja Rani will be another strong contender in 75 kg middle-weight.
Speaking to The Telegraph from Assisi in Italy where the boxers are currently training, women's head coach Mohammed Ali Qamar seemed satisfied with the way his wards have shaped up in their last lap of training.
"Yes, the last few weeks have been very satisfying. Thrice a week the girls have been having sparring sessions with competitors from several other countries who are all here for their last-minute preparations. So the girls sparred with competitors from Colombia, Ecuador, France, Poland and Azerbaijan which was a tremendous exposure.
"Our girls could gauge their preparations while observing their opponents' techniques. The men too have been undergoing similar sparring sessions."
World No. 1 Amit Panghal too carries hopes of the country. A 2018 gold medallist at the Asian Games, the first Indian male boxer to win a silver at World Boxing, Panghal sealed his Olympic berth with a bronze medal in the Asian Olympic qualifiers and then bagged a gold at the World Cup.
According to Santiago Nieva, the high performance director of the Indian men's team, expectations are not a burden for the boxers who have performed well in the last couple of years.
TEAM FOR TOKYO
Men: Amit Panghal (52kg), Manish Kaushik (63kg), Vikas Krishan (69kg), Ashish Kumar (75kg) and Satish Kumar (91kg)
Women: MC Mary Kom (51kg), Lovlina Borgohain (69kg), Pooja Rani (75kg), Simranjit Kaur (60kg)
BEST BET
World No. 1 in men's flyweight 52 kg category
Won gold in 2018 Jakarta Asian Games
Won silver in 2018 Gold Coast Commonwealth Games
Became the first Indian male boxer to win a silver at World Boxing in 2019
Won gold medal at the World Cup in Cologne, Germany in Dec. 2020
OLYMPIC SCROLL
Boxing has featured at all modern Olympic Games since St. Louis 1904, barring Stockholm 1912.
The most consistently successful countries in boxing have been the United States and Cuba, the two having won approximately one-third of all gold medals.
Until Rio 2016, only amateurs were permitted to participate in the Olympic Games. But from this edition, professionals are also allowed to fight, which can enhance the quality of competition.
Text: Madhumita Ganguly
EXPERT EYE: Vijender Singh — Bronze medal winner at the 2008 Beijing Olympics
An unprecedented nine pugilists have qualified for the Tokyo Olympics which is fantastic and I feel India have a fair chance of bagging more than one medal this time around. I would particularly put my money on MC Mary Kom, Amit Panghal and Vikas Krishan to do the country proud. Mary Kom, a six-time world boxing champion and London Olympics bronze medallist, has a lot of experience behind her and should be going all out in what will probably be her last Olympics. Vikas is the only one among the five men to have the experience of competing in the Games. He made the 64kg pre-quarters in the 2012 edition, the 75kg quarters in the 2016 Rio Games and is ready to present his challenge in the 69kg category in Tokyo. For Amit, this is his first Olympics but he's an Asian Games gold medallist, and ought to overcome any pressure that he may be feeling and deliver.
As for pressure, I'd tell one and all: Think positive and don't waste energy. Come on, all, my best wishes and the country's prayers are with you.