Tips for off-form Prithvi Shaw: Adapt fast and use common sense
India need a proper replacement now could well be an overstatement as this is Shaw's maiden away assignment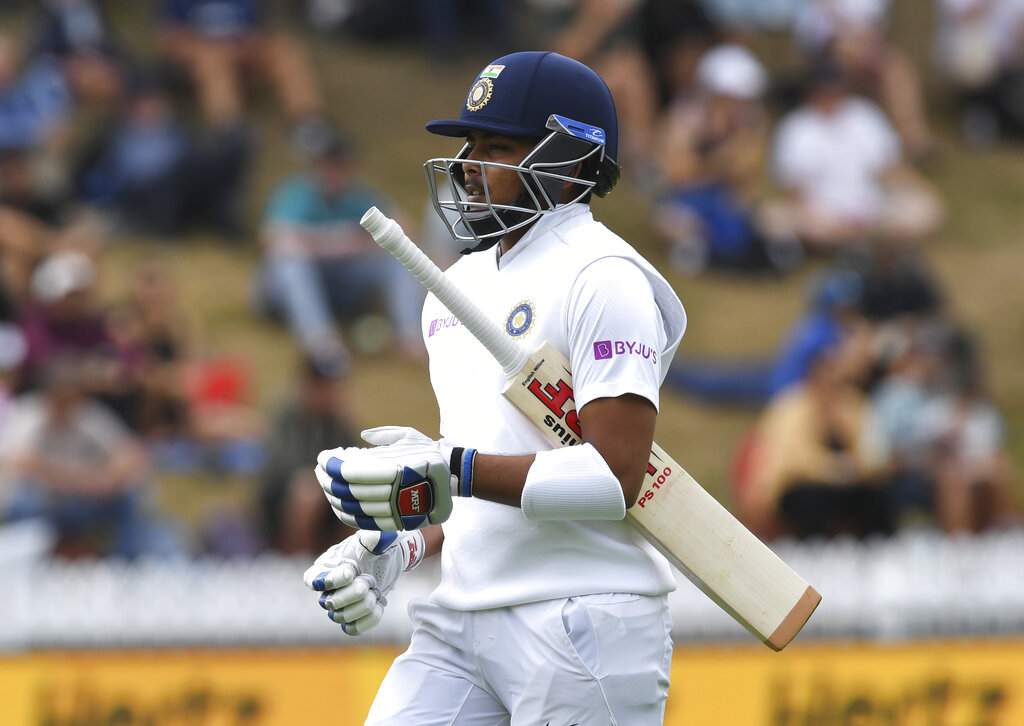 Prithvi Shaw, walks from the field after he was dismissed by New Zealand's Tim Southee during the first cricket test in Wellington on Friday
(AP)
---
Calcutta
|
Published 26.02.20, 08:17 PM
|
---
Prithvi Shaw has not been able to get even one half-century in the seven innings he has played so far for the India senior side in the ongoing New Zealand tour.
The likes of Tim Southee, Kyle Jamieson and Trent Boult have certainly exposed Shaw's shortcomings in both formats of the game. Somehow managing to get starts in the ODIs, Shaw looked at sea in the first Test in Wellington, where India were given a hiding by the Black Caps.
However, to say that India need a proper replacement now could well be an overstatement as this is Shaw's maiden away assignment. And the talent that he has, he does deserve more opportunities.
That said, he definitely needs to work on his technique, particularly the extremely high back-lift, which tends to make batting tougher in conditions conducive to swing and seam bowling. In Wellington, where Shaw managed just 16 and 14, Southee first beat him with an away going delivery that missed the edge of his bat and in the second innings, he was shaken by a well-directed short stuff from Boult.
But is high back-lift the sole reason behind Shaw's struggles in New Zealand? Former India captain Dilip Vengsarkar doesn't quite agree.
"See, every batsman has his own style. Obviously, there are some basics to be followed, styles vary from batsmen to batsmen.
"You might see the bat of one batsman coming down from gully and that of another from, say third slip. But it all depends on how you adapt to the conditions and situations, while you also need to use your common sense," Vengsarkar told The Telegraph on Wednesday.
So what does Shaw need then to get back to scoring runs? Vengsarkar emphasises: "Prithvi needs to adapt well. Adaptability and control are the things that matter for a batsman."
It has been noticed that while playing on the on-side, Shaw's bat comes down from first/second slip. And when he tries to play on the off, it comes from around fine leg.
Vinayak Samant, who coached Mumbai this season, feels high back-lift is one reason that could be making matters difficult for Shaw. At the same time, he doesn't want Shaw to do away with the back-lift altogether.
"New Zealand pitches have more bounce and bowlers get more swing. Prithvi has to analyse and play accordingly.
"So what he should focus on is spending as much time as possible out there in the middle. And for that, he needs to control his back-lift, stroke-play and all. In other words, curb his instincts a little bit.
"If he can do that, he can get back to scoring big. Since he is not doing so, he is getting dismissed cheaply. That adjustment according to the nature of the wicket is crucial.
"High back-lift is his strength. Even Brian Lara had a high back-lift, so that cannot be a minus point. Prithvi just needs some more control and be careful of the shot selection, depending upon the nature of pitches. He himself needs to analyse. His high back-lift is natural, and what comes naturally shouldn't be changed," Samant explained.
Along with Lara, Graham Gooch, Jacques Kallis and Graeme Smith are among the batsmen to have been very successful at the Test level with a high back-lift. Among the modern-day cricketers, you have Steve Smith who, has a staggering Test average of 62.84 despite a big back-lift.
According to Shaw's first coach, Santosh Pingulkar, more than the technical flaws in his batting, Shaw has rather been outsmarted by the New Zealand quicks.
"The high back-lift does help Prithvi play his shots, but he is unable to read the movements generated by the New Zealand quicks. I feel he is finding Boult difficult to read," Pingulkar said.
"Timing-wise, I don't think he is having problems. He should react quickly to the ball. To get back to runs, he needs to show a bit of patience and read the ball a bit better. He shouldn't buckle under pressure and start compromising on his style," Pingulkar added.
That captain Virat Kohli still has his trust on Shaw should keep the youngster's morale high. "It's the execution of things which was not there, but Prithvi will figure it out. He will find ways to score because he is a natural stroke-player. Once he feels that he can do it, I think it will be a different ball game," Kohli had said the other day.