Mohammed Azharuddin, Sourav Ganguly and Rohit Sharma talk captaincy
Stars light up the Eden sky on a rain-soaked remembrance of Jagmohan Dalmiya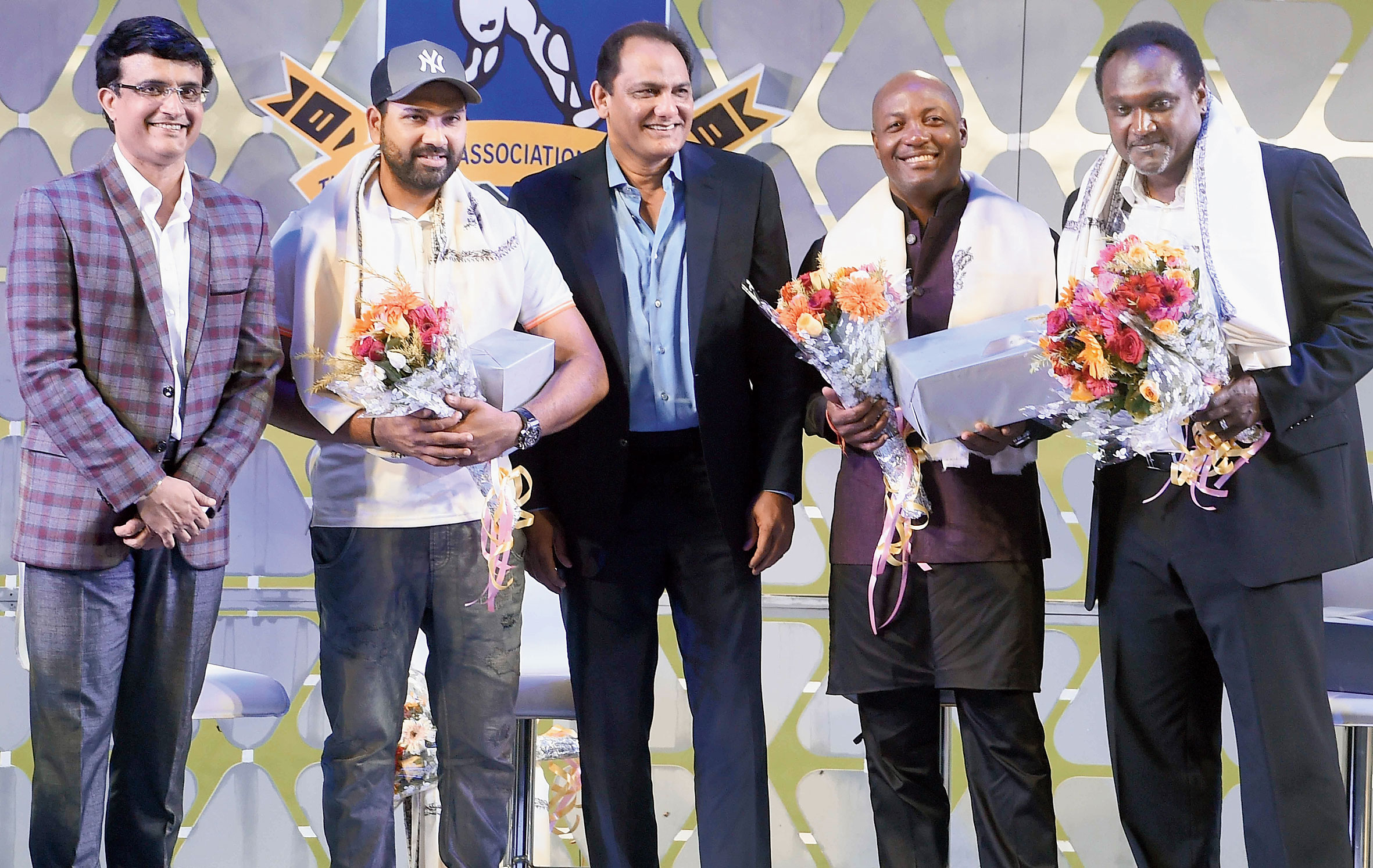 Sourav Ganguly, Rohit Sharma, Mohammed Azharuddin, Brian Lara and Carl Hooper during the Jagmohan Dalmiya Annual Conclave at Eden Gardens on Friday.
Picture by Santosh Ghosh
---
Calcutta
|
Published 02.11.18, 10:04 PM
|
---
Three India captains on a rain-soaked evening at the floodlit Eden talking on captaincy punctuated with anecdotes — cricket romanticism was at its classic best on Friday.
The Cricket Association of Bengal was hosting the Jagmohan Dalmiya Annual Conclave 2018 and celebrating 25 years of the first floodlit match at the Eden. The three India captains — Mohammed Azharuddin, Sourav Ganguly and Rohit Sharma — along with Brian Lara and Carl Hooper, were part of a talk show.
Rohit, of course, is not a full-time national team captain yet, but he is the one who leads the team in the limited-overs format in Virat Kohli's absence.
Interestingly, though their styles of leading a team may differ, the three seemed to have a lot common in terms of their understanding of captaincy.
Azharuddin was asked the reason why he had tossed the ball to part-timer Sachin Tendulkar to bowl the last over in the Hero Cup semi-final against South Africa, in November 1993. The Proteas needed six to win but courtesy a magical over from Sachin, India won the match by two runs.
"We had a discussion before the last over… Ajay (Jadeja) kept saying that we should do something different. Initially, I was not sure about that.
"I realised that even an established bowler could fail to defend those runs, so why not try something different. It was actually an 'once-in-a-lifetime' over," Azhar said.
Sourav, commenting on that, said: "That turned out to be such a good idea. As Azhar rightly said, even a specialist bowler could have given away those runs in that last over. That is a key trait of captaincy… You will have to back your gut feeling..."
Rohit too spoke in support of out-of-the-box thinking as a captain. "You have to take odd decisions at times as a captain… You can go wrong, but it is also important to think out of the box in some situations."
Rohit was also asked about his take on captaincy. Saluting Mahendra Singh Dhoni, Rohit said: "I have played most of my cricket under MS Dhoni. I know what he used tell the young players… How he gave them confidence. He did the same thing with me when I was a youngster. As a youngster, it is very important to have the backing of your captain.
"I think Dada (Sourav) did the same thing… I have heard that so many times from Yuvraj (Singh)… "