T20 World Cup: If it's India-Pakistan, wait for the spin
Ashwin or Varun? Virat won't tell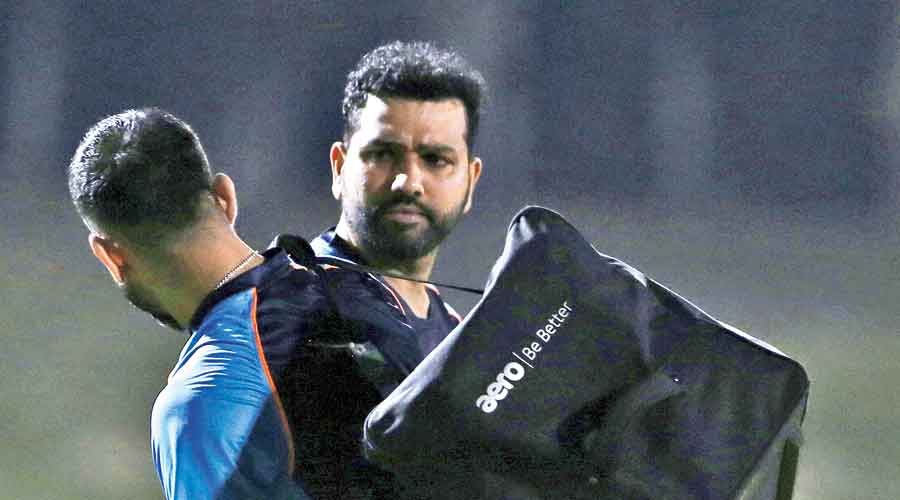 ---
Calcutta
|
Published 24.10.21, 02:17 AM
|
---
To play or not to play Ravichandran Ashwin seems to be the trending topic ahead of India's opening showdown against Pakistan in Dubai.
Virat Kohli gave little away at the match-eve media conference on Saturday. "Yeah, we have spoken about our combinations, obviously. I'm not going to reveal them right now, but we have put in place a very balanced team, and something that we feel covers all bases properly. And we are pretty confident in terms of execution," the Team India captain said.
While Ashwin had a decent IPL in the UAE and was economical in the two warm-ups, sources told The Telegraph that Varun Chakravarthy is being preferred over the veteran off spinner. In 23 T20s in the UAE since last season's IPL, he has 28 wickets at an average of 20.89 and economy of 6.35.
The mystery spinner loves bowling on the notoriously slow wickets of the UAE and the team management feels he will be able to bring in the surprise element, which could prove to be crucial in the middle overs. Ashwin can be a viable option against a lefthander like Fakhar Zaman but Varun's variation could prove to be a potent weapon against Pakistan.
Most of the top-order batsmen select themselves and Ishan Kishan can pip Suryakumar Yadav to the XI. The other debate is on whether Bhuvneshwar Kumar should be considered ahead of all-rounder Shardul Thakur. Bhuvi hasn't had a successful IPL and was not impressive in the warm-ups too. Thakur's ability to produce explosive batting down the order could weigh in his favour. Perhaps mentor Mahendra Singh Dhoni could have the last word on his inclusion before the toss.
Kohli made clear his faith in Hardik Pandya's abilities and that he is expected to bowl during the tournament. "Well, honestly I feel that Hardik presently with his physical condition is getting better in terms of being prepared to bowl at least two overs for us at a certain stage in this tournament... we strongly think that we can make the most of the opportunity that we have at hand until the time he starts bowling. We have considered a couple of other options to chip in for an over or two. So we are not bothered about that at all," the India captain said.
"What Hardik brings at that No. 6 spot is something that you just can't create overnight, and hence I was always in favour of backing him in Australia as a batter purely... we saw what he did in the T20 series and how he can take the game away from the opposition when he's in full flow... Even when the chips are down, he's someone who can play a long innings playing in that way…. He's motivated and he's very keen to start giving us a couple of overs, and when that happens, obviously the balance becomes even better," Kohli explained.
He is hoping there's been a significant change in the quality of pitches since the IPL got over on October 15. "Looking at the IPL finals, I believe that the quality of pitches definitely is going to be far better in this T20 World Cup. Also it being an ICC tournament, we know that the standard of pitches has to be maintained to a certain degree, which is consistent across all venues... I understand that to protect the pitches for a tournament like the World Cup, there had to be some kind of compromise done with the playing conditions when we played the IPL. We all understood that, and the wicket in the IPL finals was very, very good.
"I think the dew factor is becoming prominent as we head into this time of the year in Dubai, and that is also going to help the pitches play much better. I don't see many high scoring (games) unless dew becomes such a massive factor there."
Kohli sounded a tad irritated when probed about the reason for his decision to quit T20 captaincy after this tournament. "I've already explained myself a lot. I don't think I need to harp on that anymore," he retorted.
"Our focus is to play well in this World Cup and do what we need to do as a team. The rest, I mean, people are trying to dig something that doesn't exist, and I'm not someone who's ever going to give fodder to that. I explained myself very honestly and openly, and if people feel there's more to it or there's something that's not been told, I feel pretty bad for them because that's certainly not the case."