Success mantra for spin hero: Adaptation, accuracy & variety
Apart from Axar Patel, Ashwin and Jadeja too did a pretty good job by keeping things tight, exploiting the ultra-defensive mindset of some of the New Zealand batsmen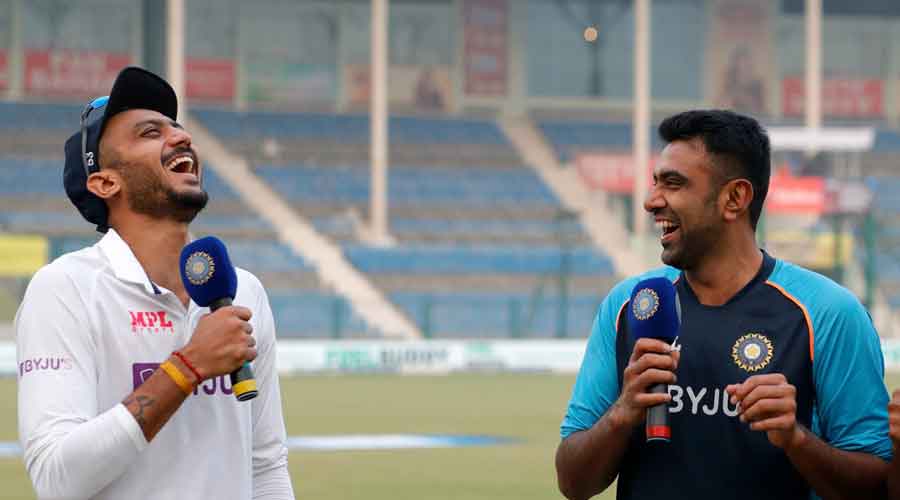 ---
Published 28.11.21, 02:52 AM
|
---
Accuracy is Axar Patel's forte.
Like senior pros Ravichandran Ashwin and Ravindra Jadeja, Axar too wasn't really effective against the New Zealand openers on Friday.
But he reorganised himself, used the crease to good effect and varied the pace of his deliveries to bring India back to a strong position in the game on Saturday.
"I used the crease much more today (Saturday), something I didn't do enough in the 10 overs I bowled on the second day of the match," Axar said after the day's play, talking about the changes he effected in his bowling on Day III.
"I was using the crease by going wide and coming near the stumps. I looked to create various angles and that helped me get a lot of purchase."
Ashwin and Jadeja too did a pretty good job by keeping things tight, exploiting the ultra-defensive mindset of some of the New Zealand batsmen. But it was Axar, the junior-most among India's spin trident, who stood out.
Since his Test debut in February versus England in Chennai, Axar has picked up the bulk of the wickets for India in spin-friendly conditions.
"Whenever I go to the ground, I try and enjoy and don't think whether Ashwinbhai and Jaddubhai are there or not," he said.
"When I have the ball in my hand, I just try and see to it that I am enjoying my bowling, trying to read the wicket and understanding what's happening, how the pitch is behaving and then I plan accordingly."
He had to wait for almost seven years for a debut in the longest format after wearing the India cap for the first time during an ODI versus Bangl-adesh at Mirpur in June 2014. But never has Axar felt that he's more of a white-ball specialist.
"Whenever I have played first-class cricket or for India A, I've done well. I don't know who labelled me as a white-ball specialist, but I've never seen myself as one.
"I always had the belief that whenever I would bowl (with the red ball), I would do well," he said.