Stick wizard who led Olympics gold rush
'He was a rare talent who could sniff goals from 100 miles away'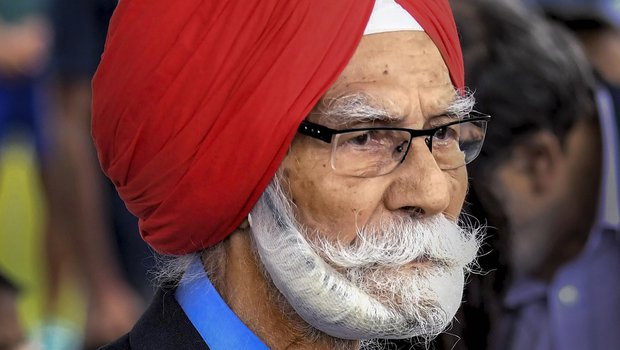 ---
---
India lost its third sporting hero in a little more than two months.

PK Banerjee passed away on March 20, Chuni Goswami's demise was on April 30. On Monday my hero and three-time Olympic hockey gold medal winner Balbir Singh Dosanjh breathed his last in Chandigarh after putting up a valiant fight since May 9.
Balbir Sr, as he was known, was a legend. I am associated with hockey since 1948 and to me he is the greatest centre-forward the world of hockey has ever seen. If KD Singh Babu was the greatest inside right, Dhyan Chand the most complete player, Balbir Sr was the best upfront.
So how good was he?
Statistics would tell you that his five goals in the 6-1 romp against Netherlands in the 1952 Olympic Games final is still a record. Statistics will, however, not tell you that if in those days the reverse hit was allowed, Balbir Sr would have scored 100 more goals.
He was a rare talent. Not a good dribbler like KD Singh Babu (his teammate in the 1948 and 1952 Olympics) or Udham Singh (his teammate in the 1952 and 1956 Olympics), Balbir Sr could sniff goals from 100 miles away. Post-Independence, when the wound of Partition was still fresh, he gave us joy and many reasons to cheer.
Lanky and supremely fit — he was born in Punjab's Haripur Khalsa village in 1924 — Balbir Sr came into our consciousness after India won the 1948 London Olympics gold.
He did not play in all the matches but was the hero in the final scoring two goals against Britain in the 4-0 win. My dad, Major Kartar Singh, a hockey player himself, used to tell us stories about Dhyan Chand the wizard. After hearing those, we started idolising Dhyan Chand. But after the 1948 triumph, for me as a 13-year-old who had just started playing hockey, Balbir Sr and Babu became overnight heroes. If Dhyan Chand is regarded as the father of Indian hockey, Balbir Sr should be credited with carrying on the legacy of the Major.
I had the chance to see Balbir Sr play for the first time during an inter-department police tournament in Lucknow in 1952. Three years later, I was playing against him in the Scindia Gold Cup in Gwalior. I turned up for Meerut District Sports Association and Balbir Sr was with Punjab Police. I was just 20 and my job was to mark him. I managed to keep him silent for most of the time. Still he managed to score one after fooling me with a nice juggle and banging in hard. His hits were so powerful that at times we thought he would break the leather ball.
Balbir Sr was the coach of the team that won bronze in the 1971 World Cup and four years later he oversaw the high of the 1975 World Cup triumph. That remains our only World Cup victory. But as chief coach he also had the ignominy of that 1-7 rout at the hands of Pakistan in the 1982 Asian Games gold medal-deciding match. The high of 1975, India defeated Pakistan 2-1 in the final, to the low of '82, Balbir Sr had seen it all.
The last time I met him was during an awards function in New Delhi in early March. He came from Chandigarh with his daughter and grandson. At 95, he looked frail and could hardly talk. We took some photographs together.
There are so many memories. During a hockey friendship series tour to Pakistan in 1999 we were together. There we saw how popular Balbir Sr was. In Rawalpindi, we were felicitated and I have no qualms in saying he was the cynosure.
I think Balbir Sr did not get his due. In 1957, he became the first recipient of the Padma Shri award in the sports category but that was all he would get. His achievements as a player deserved more.
Gurbux Singh, gold medal-winning Olympian and former India captain, spoke to Angshuman Roy