Rohit Sharma, Quinton de Kock to open: Mumbai Indians coach Mahela Jayawardene
There has been a lot of speculation on this since the defending champions added Chris Lynn to their ranks during the December auction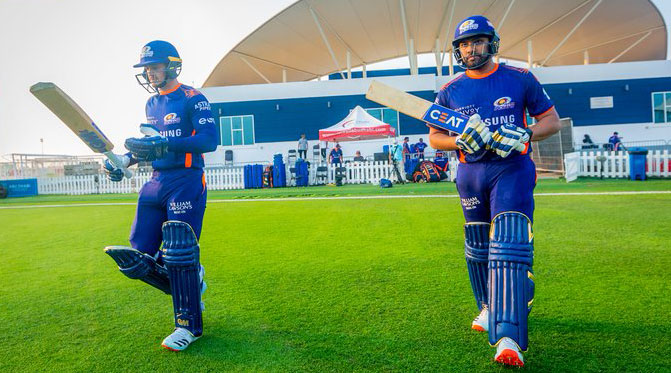 ---
|
Calcutta
|
Published 18.09.20, 03:16 AM
---
Mumbai Indians coach Mahela Jayawardene has confirmed that Rohit Sharma will continue to open the innings with Quinton de Kock during this edition of the IPL in the UAE. Rohit, however, said that he was ready to bat at any position.
There has been a lot of speculation on this since the defending champions added Chris Lynn to their ranks during the December auction.
"Lynn is a great addition to the squad, but the combination of Rohit and Quinton did a phenomenal job for us last season," Jayawardene said during a virtual news conference from Abu Dhabi.
"They complement each other well, they're consistent and both of them are experienced. They're good leaders as well, so why would you want to fix something that isn't broken? We will continue to go with that.
"Lynn as an option gives us flexibility in the squad and that's what we've always done. We try and add more value to the team, give more options so that we can be unpredictable when it comes to tournaments and big matches. Quinton and Rohit as a combination have been brilliant."
Rohit though kept all options open.
"I opened for the entire tournament last year and will continue to do that," the captain said. "As a team, we keep all options open. I'm happy to do what the team wants. I enjoy batting at the top of the order and I've been doing it for a while. But even when I play for India, the message to the management is to not close any door and keep all the options open, so I'll do the same here."
Rohit and Quinton had opened in 15 of Mumbai's 16 games last season aggregating 565 runs at an average of 37.66, including five half-century stands.
Rohit felt the conditions would play a crucial role as he expects pitches to "tire down" as the tournament progresses.
"It's about understanding pitches and conditions, that is crucial so we are putting a lot of emphasis on that," he said. "Eventually the pitches will play a big part, so understanding and adapting quickly is important.
"The weather is so hot and humid, the wickets will tire down. Having played the Asia Cup couple of years ago here, I certainly experienced that between the first game and the final there was a lot of difference in how the pitch was behaving. We will certainly expect the same here.
"It's going to be a long tournament, we know how many matches are being played at each venue so the wickets will definitely tire down, and the slowness of the pitch will be a big factor. For us, all the talk happening in our group is based on all of that... We need to adapt how to play cricket on those kinds of pitches, what lengths to bowl, which shots to pick, what will be the percentage shot and ball.
"It's not just the spinners but I think even the seamers will have a lot of assistance. Not the seam or swing movement, but there will be some reverse swing that we're expecting. The way I look at it, we've got good balance and variety in our bowling attack. The same goes for the batting as well, you need to understand shots that will give you runs on this pitch," Rohit explained.
He is expecting a "great contest" in the opener against Chennai Super Kings on Saturday. "CSK are probably one of the successful IPL teams and you can't take them for granted... They will come out all guns blazing. None of us have played cricket for months now, so obviously everybody wants to start on a high.
"So, we will be expecting a great contest between the two and we need to focus on what we need to do as team and get all our bases are covered," Rohit asserted.
He conceded that the "incomparable" Lasith Malinga, who is IPL's highest wicket-taker and has opted out this season, will be missed given his "unbelievable" past performances.
"I don't think it is easy to come and fill his boots. He has been a match-winner for Mumbai. I have said it many times, whenever we sort of find ourselves in trouble, Malinga was the one to bail us out from that," Rohit said.
"His experience will be missed, what he did with MI is unbelievable and it is unfortunate that he is not a part of the team this year. We have got the likes of (James) Pattinson, Dhawal Kulkarni, Mohsin (Khan) and these are the names that we are looking to replace Malinga with. But obviously what Malinga did for Mumbai, it is not just comparable."
The Mumbai Indians captain dismissed talk that they didn't have quality spinners except for Krunal Pandya, Rahul Chahar and Jayant Yadav.
"We've got a youngster in the auction this year... Prince Balwant Rai, he looks quite exciting. Anukul (Roy) has been part of the team for a while so we have a few options. We've got some quality spinners in our group. Hopefully they can explore conditions if need be and all these guys have experience playing domestic cricket in India."