Balm for a nation's wounds
Rising to stardom from a grimy Buenos Aires slum to lead Argentina to World Cup victory, Maradona was a rags-to-riches story in his soccer-mad homeland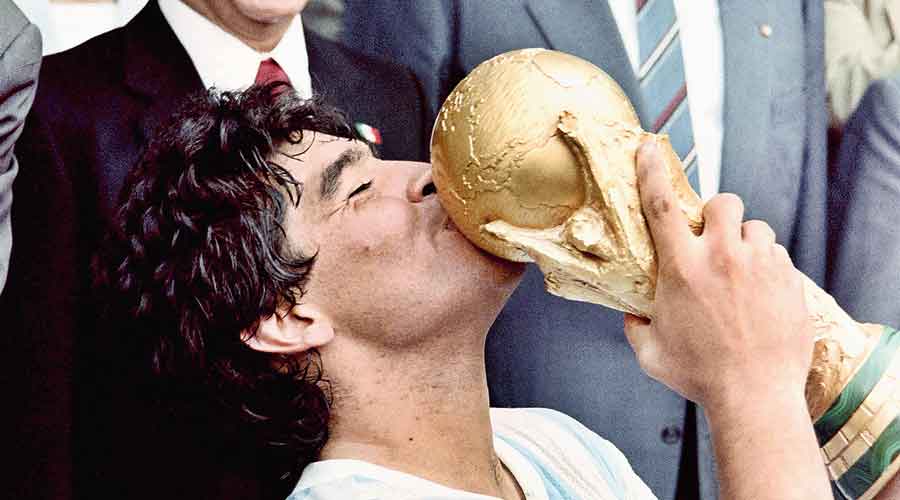 Maradona kissing the World Cup on June 29, 1986
File picture
---
Published 26.11.20, 03:00 AM
|
---
World soccer great Diego Armando Maradona, who died on Wednesday less than a month after his 60th birthday, was worshipped like a god for his genius with the ball, but his demons almost destroyed him.
 Rising to stardom from a grimy Buenos Aires slum to lead Argentina to World Cup victory, Maradona was a rags-to-riches story in his soccer-mad homeland and gained the iconic status of fellow Argentines Che Guevara and Evita Peron.
Years of drug use, overeating and alcoholism truncated a stellar career and altered his appearance from the lithe athlete who could slalom effortlessly through teams to a bloated addict who nearly died of cocaine-induced heart failure in 2000.
 But he reinvented himself in a stunning comeback in 2008 as coach of the Argentina team, persuading managers that with sheer charisma he could inspire the team to victory, despite a lack of coaching experience.
Born on October 30, 1960 in the Buenos Aires working class suburb of Lanus, the fifth of eight children of a factory worker, Maradona grew up in the Villa Fiorito shanty town.
 His mother Dalma, known to his fans as "Dona Tota," saw a star reflected on the floor in the church where her son was baptized and imagined a bright future as an accountant.
 But Maradona's love affair with soccer was apparent from the start. Given his first football as an infant, he slept with it under his arm.
 Discovered in street kickabouts by the scout for first division club Argentinos Juniors, the prodigy made his league debut at 15.
 At 17 he just missed inclusion in Argentina's 1978 World Cup-winning squad at home. In the 1982 tournament in Spain, a sending-off against Brazil was a fitting prologue to two unhappy seasons at Barcelona, marred by hepatitis and injury.
 But then came liberation, and triumph. In 1984, he moved to Napoli for a then world-record $7.5 million contract. Maradona helped underdogs Napoli to the Italian title twice — creating a whole new set of adoring fans in the process.
 And, after the 1986 World Cup triumph in Mexico, he also coaxed a mediocre Argentine team to a second successive World Cup final in Rome in 1990.
 But by 1991, drugs and alcohol began taking over his life.
 That year Maradona was handed a 15-month suspension from football worldwide for doping and was called to trial in Naples over alleged links with a vice ring.
 He was banned again for 15 months after testing positive for drugs at the 1994 World Cup in the United States. Slow-motion suicide
Maradona retired from professional soccer in 1997 and after his brush with death in 2000 he underwent drug rehabilitation, living off-and-on in Cuba between 2000 and 2005, where he often spent time with Fidel Castro. He had a tattoo of the Cuban leader on his leg — and one of fellow revolutionary Che on his arm.
Maradona was an antidote to upheaval for Argentina as it suffered successive economic crises and humiliating defeat to England after the 1982 conflict over the Falklands, or Malvinas Islands.
And he was balm for the wounded soul of Argentines, obsessed with their country's perpetual failure to live up to its potential globally.
"In our collective imagination Diego Maradona represents a certain glorious past, he's a symbol of what we might have been," popular culture professor at Buenos Aires University and Maradona expert Pablo Alabarces has said.