Practice, home-made food & Pixie: Chowrasia's hands full
SSP's current world ranking is 939 and he is unlikely to be a part of the Tokyo Olympics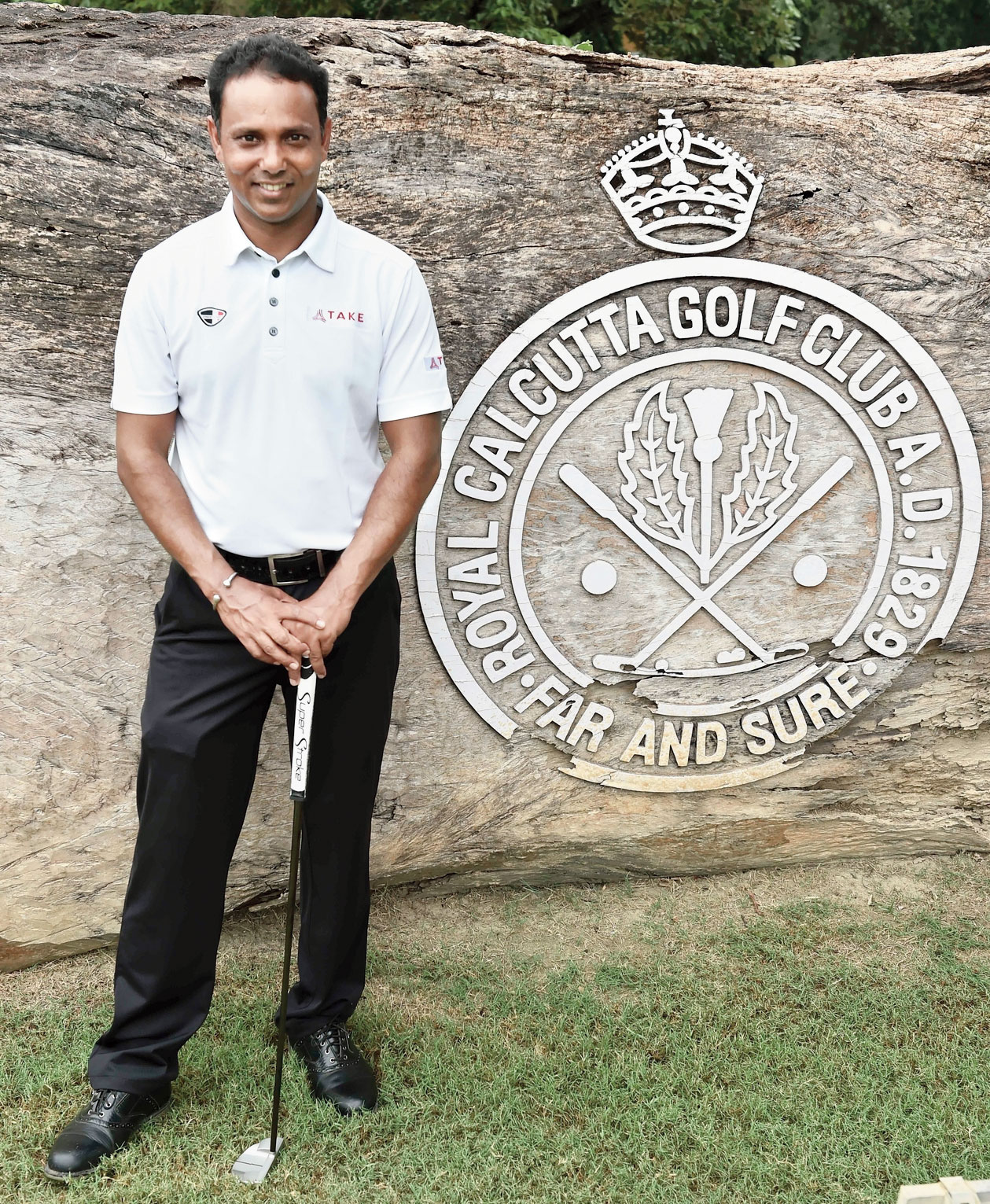 SSP Chowrasia at the RCGC on Friday.
Picture by Santosh Ghosh
---
Calcutta
|
Published 27.07.19, 08:04 PM
|
---
SSP Chowrasia is in town for the last two weeks and is rigorously working on his short game at the Royal Calcutta Golf Club. "Two sessions of practice every day and one hour of gym in the evening. That's my routine for now," he told The Telegraph on a mildly rainy Friday morning, wiping off beads of sweat from his eyebrow.
And cards? "Well not much these days," he said flashing his infectious smile. "Hardly get time to play taash," he said.
For someone who is known on the circuit for the short game — chipping and putting have always been his forte — working on that is very surprising. "I have been playing for seven weeks non-stop on the European Tour. I had planned my schedule like this so that I would be able to take a three-week break. I introspected on where I needed to improve. And that is my short game," he said.
SSP's performance this year has not been that great. He still does not have a top-10 finish. "I may not be playing well, but I know I am on the right track. I just need that four-day performance, I am confident of regaining form. Golf is a mind game. If you stay confident and do away with the doubts, success will come," he said.
"It's not the first time that I am going through a slump. You just have to clear the cobwebs in your mind and start afresh. This break will help me play better."
SSP has two tournaments lined up in the Czech Republic and Sweden, respectively. "Those two tournaments would give me an idea of how much I have been able to improve my short game," he said. "After that I return to the Asian Tour and will also play on the Indian circuit. That's because October onwards it becomes very cold in Europe."
According to the two-time Hero Indian Open winner, a golfer needs to spend time with family to recharge the batteries.
"Breaks are very important. I am now having home-made food, spending time with wife (Simantini), friends and of course Labrador Pixie. These things help me stay relaxed."
Pixie is the one who keeps SSP busy when he is not at the RCGC or the gym.
"She has become part of our system. She sits in the driving seat when we go out and honks if we are late. And when Simantini drives, she makes it a point of sitting next to her. Every day at 12.30pm she sits on the balcony and waits for me. I really miss her when on Tour," SSP said.
While at home, SSP doesn't follow much golf. "I was just checking the scores at The Open. Did not see much of the action. I never watch or follow golf while on break."
And what about Anirban Lahiri's form? He hasn't been doing well this season. "Look, for a sportsperson slump is normal. Ever since he arrived on the golfing scenario, Anirban's graph has been going north. Now it's southbound. It's normal. I am sure he will bounce back."
Lack of top-level golf tournaments in Calcutta is something which saddens SSP.
"Yes it's bad. When we were say 10-year-olds, we used to follow tournaments and try to repeat what we saw at the course. That's how we developed. If you do not have big-time golf in the city, then how would the youngsters develop? Just watching Tiger Woods or Brooks Koepka on television will not help. For the sake of young golfers in the city, we need top-level tournaments at the RCGC or Tollygunge Club," was his take.
"The Professional Golf Tour of India (PGTI) is bringing a tournament in the city. And that's good news for us. Ideally if you ask me, there should be at least three tournaments in the city," he said. The PGTI meet would be played from December 11 to 14. The course though has not been confirmed.
So would we see him action? "Let's see. I would definitely like to play."
Close friend Gaurav Ghosh though is confident of SSP's participation. "Of course he will be there. A tournament in Calcutta and there is no SSP! No way."
SSP's current world ranking is 939 and he is unlikely to be a part of the Tokyo Olympics.
"Given my rankings, I have a mountain to climb in order to book a berth for Tokyo Olympics. Let's see how things unfold over the next four-five months," he said.