Our pacers right at the top: Virat
"If you ask me, I would say we're right at the top. I won't even count our pace attack in the top three," Kohli said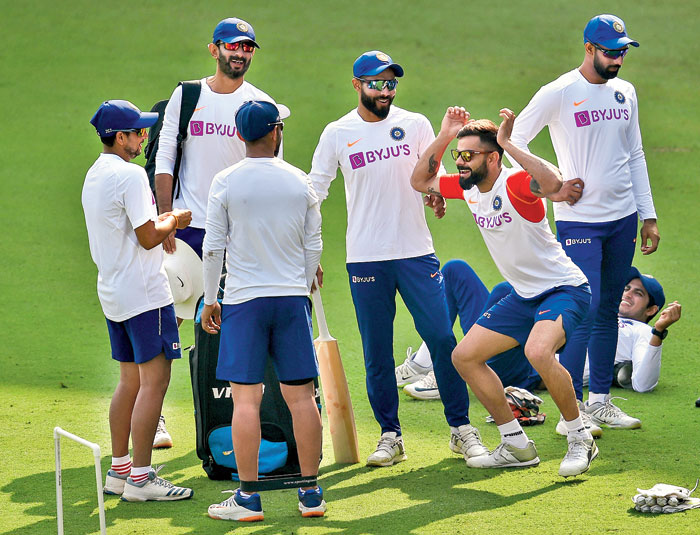 ---
|
Indore
|
Published 13.11.19, 08:14 PM
---
India's fast bowling attack is not just among the world's top three, it's "right at the top", captain Virat Kohli asserted on Wednesday.
"If you ask me, I would say we're right at the top. I won't even count our pace attack in the top three," Kohli said on the eve of the first Test versus Bangladesh. "These guys deserve it. As a captain when we started off, that was the conversation… That was the one thing in my mind that I really wanted to see happen.
"Batting was never an issue and so wasn't spin. After Zak (Zaheer Khan) and all the stalwarts went away, we were thinking how we could get back to the top, regain the ability and the firepower to pick 20 wickets.
"Just seeing the way the pacers have bowled, it's the belief that stands out — any kind of pitch and any opposition, they believe that they can get more out of the pitch than the opponents. And that belief matters a lot…
"The best thing is that the quicks are getting hungrier every time they step out and that's their biggest strength," Kohli stressed.
With the likes of Ishant Sharma, Mohammed Shami and Umesh Yadav set to steam in when the first Test versus begins here on Thursday, Bhuvneshwar Kumar too is striving to return to the side. He even appeared for a fitness test on Wednesday at the Holkar Stadium after recovery from hamstring injury and a recurring side strain.
He is most likely to return for the home T20Is versus the Windies, but could he also be drafted in as an extra seamer for the Day-Night pink-ball Test at Eden Gardens? That remains to be seen.
Kohli, though, didn't say anything about Bhuvneshwar. He rather had special mention for Ishant, the senior-most of the pacers, for his tireless work over the years in the longest format.
"Ishant's experience will always be handy for the team. And the communication is very clear. We've played cricket together since our under-17 days, so he knows that when I go and say something to him, it's purely based on what the team requires.
"There's a lot of trust between us. So, he takes it really well. Ishant's strengths are different. When the ball's seaming and swinging, he's right among the top two contenders," Kohli said.
The upcoming Test with the pink ball has been the centre of discussions in this series.
Assessing the prospect of playing a Day-Night Test with the pink ball, Kohli said: "I think it's a new way to bring excitement to Test cricket. The pink ball with which I played yesterday, I felt it swings a lot more compared to the red ball because there's extra lacquer on it, which doesn't go away too fast. And the seam holds upright quite a bit.
"I don't quite know how the old ball behaves because with the dew and the lacquer going off, it will be interesting to see how much it does."