Mohun Bagan done, Sony Norde eager to live his dream in Europe
Sony Norde is "very sad" about the fact that Mohun Bagan did not offer him a contract for the 2019-20 season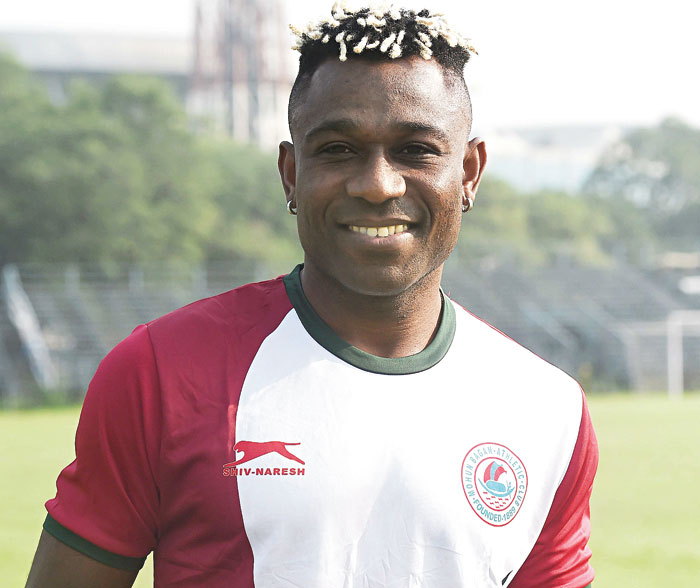 ---
|
Calcutta
|
Published 14.08.19, 09:46 PM
---
Sony Norde is "very sad" about the fact that Mohun Bagan did not offer him a contract for the 2019-20 season. But at the same time, he is happy that he has got a chance to play in Europe.
So, for the time being, his India chapter is closed.
The former Mohun Bagan captain and probably the best foreigner to ply his trade in India in the last five years, is now playing for Baku-based Zika FK which feature in the Azerbaijan Premier League.
"Yes very sad because I was with Mohun Bagan in good moments as well as bad. At the same time, it's good for me. If Bagan had offered me a contract I would not have got this opportunity to play in Europe...
"Now I have a chance to play Europa League. If you ask me, it's a dream-come-true move for me," Sony told The Telegraph from Baku on Wednesday.
"I'm very happy here. I want to play for two-three years for Zika FK... It's a very competitive league and we have a very good team," the Haitian added.
Sony revealed that East Bengal did contact him for a stint with the red-and-gold brigade during the I-League. "One East Bengal official did contact me. I already played in India for five seasons. Now it's time to play in another country," Sony said.
Sony arrived in Bagan in 2014-15 and masterminded the club's I-League triumph in that season only. "I-League triumph is a thing of the past," he said.
There is a Spanish wave in Indian football. Chennai City, East Bengal and now Bagan too are bitten by the Spanish bug. "Yes, Spanish players and support staff are giving results. I hope Bagan do well under the new coach (Kibu Vicuna) and their new players. Let's hope they will be able to give results. It's time for Bagan fans to dream again."
Sony scored some outstanding goals last season.
The one against Chennai City FC at the Salt Lake Stadium was out of the world. And that sublime free-kick against Real Kashmir FC, on an early January Sunday afternoon. Bagan had lost that match 1-2 and cost coach Shankarlal Chakraborty his job.
"Scoring beautiful goals means nothing if your team loses. I did not play badly last season. But it was the worst season because I always wanted Bagan to be on top… Fighting for the league. Teams like Mohun Bagan always have to fight for the I-League and be on pole position," he said.
There were talks that Shankarlal could not motivate his players last season. Sony though defended his former coach. "Shankarlal is very good coach.
"I was very happy with him. But sometimes results don't come the way you want to. Under him, Bagan won the CFL title after so many years."
An injury on right knee cut short Sony's 2017-18 season and he left Bagan in late January. "You cannot do much with injuries. Thanks to God, my knee was fine after the operation. The first six-seven months were very depressing. But if your are mentally strong then it's okay."
But 2018-19 he was there in Bagan shirt even though lack of support on the field did not help him much.
Sony is now looking forward to the Azerbaijan Premier League, which starts on Friday. Zika play their first match away on Sunday. "It's a new club, new city. Everything is new for me. With each passing day, I am gelling more with teammates."
Zika did their pre-season in Turkey. "We played four matches and I scored two goals and had one assist. In the 4-4-1-1 formation, our coach (Sami Abbasov) uses me as the second striker. I am getting adapted to my new role. But you know the most important part is, I understand what my coach wants," he said.
Zika's home stadium has a seating capacity of 1300. "You do not find a Salt Lake Stadium everywhere. Do you?"
When informed that Vicuna's men were held by Calcutta Customs 1-1 in a CFL match, Bagan's go-to man till the other day sounded disappointed. "That's bad. They have to be more serious. I-League would be tough."
Does he miss the Calcutta madness? Being always under the glare of the media and fans? "Yes I do miss that. And also the Calcutta sweets."