Mitchell Santner learns from MS Dhoni, Kane Williamson
For almost every cricketer, Indian or overseas, playing alongside Mahendra Singh Dhoni and having him as the leader of the group is an experience to treasure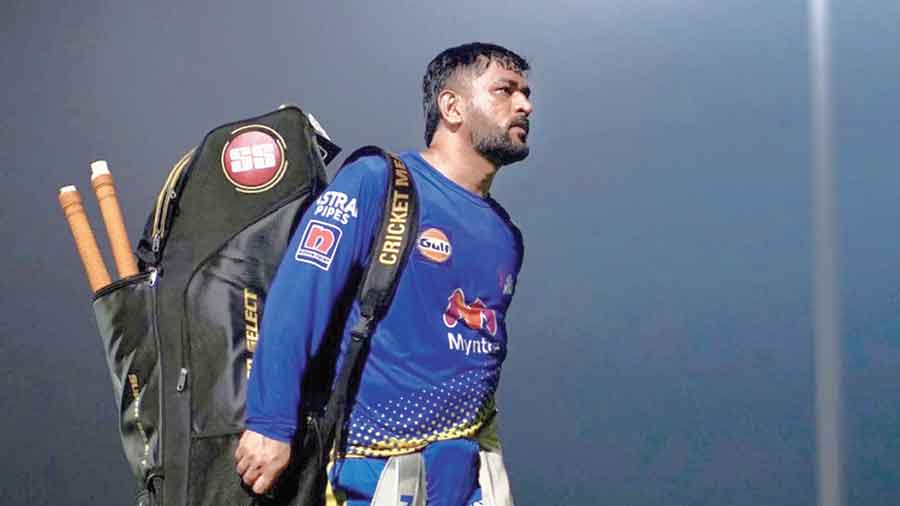 Mahendra Singh Dhoni
File picture
---
Calcutta
|
Published 05.11.21, 01:15 AM
|
---
For almost every cricketer, Indian or overseas, playing alongside Mahendra Singh Dhoni and having him as the leader of the group is an experience to treasure. It's no different for Mitchell Santner.
Dhoni's style of leadership has had an impact on Santner too even though the left-arm spinner, one of the key men in New Zealand's white-ball scheme of things, made only six appearances for Chennai Super Kings since he was roped in by the franchise three years ago.
What stands out for Santner is the Team India mentor's relaxed nature and approach as well as his instinctiveness. "I guess every captain is different in the way they approach things and other stuff," Santner said on the eve of New Zealand's T20 World Cup Super 12 clash with Namibia in Sharjah.
"Obviously, I've been lucky to have been around MS for three years at Chennai. He keeps it pretty simple and stays very relaxed.
"Besides, MS is very instinctive. If he feels about something, he'll go on with it and it generally pans out that way, which certainly helps the team as a whole. So obviously, I'm gaining experience under different guys in different ways. They are the leaders, obviously," Santner explained.
Like Dhoni, skipper Kane Williamson too commands a similar kind of respect in the Black Caps' dressing room, Santner said. "The way we're set up at the moment and with everyone been around the team for a while now, Kane has the respect of one and all.
"And he goes about his business and backs everyone to perform. There's no added pressure behind that," the 29-year-old emphasised.
Bowling in UAE
So far in this T20 World Cup, Santner has had just one scalp. But what's impressive is his economy rate, which is just 5.91, thanks to the tight lines he bowled during New Zealand's convincing eight-wicket win over India in Dubai.
"There's a bit of difference in playing in Sharjah compared to the other two grounds (Dubai and Abu Dhabi), whereas in New Zealand, you're looking for a bit of bounce. You try to bowl the hard length to get a bit of bounce, which you don't really get in Sharjah," Santner said, talking about the adjustments required to bowl in UAE conditions.
Sodhi & his roles
While he kept Indian batsmen quiet, leg-spinner Ish Sodhi also picked up the vital scalps of Rohit Sharma and captain Virat Kohli in what was a crucial win for the Black Caps. Elaborating on his role and that of Sodhi, Santner said: "I'd say he's probably more the aggressor. My role is to deny runs. It kind of forces the big shot at the other end. And we've seen when each one of us get the wickets, he has bowled extremely well. I'm pretty happy floating around the radar and go under a run a ball."
Net run rate
A clinical win versus Namibia will help Santner, Martin Guptill and their teammates  better their net run rate and boost their prospects of making the semi-finals.
"The nature of each group being very tight, the run rate is going to play a part. For us, it's just about winning the next two games and then we're through. But I think especially at a ground like that of Sharjah, if you're trying to win by a lot, it can be quite challenging. Just with the way the surface is," said Santner.