Lionel Messi joins Paris Saint-Germain, dreams of winning Champions League again
He signed a two-year deal with an option for a third with the Parisians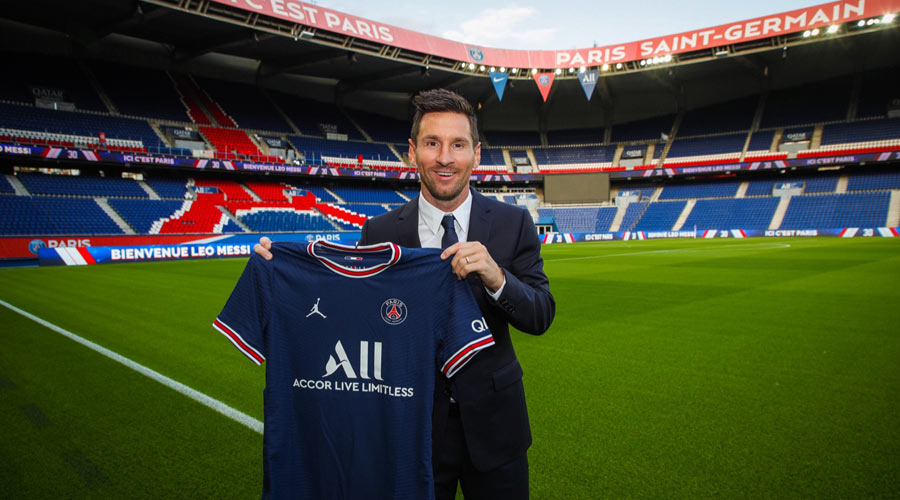 ---
Paris
|
Published 12.08.21, 03:17 AM
|
---
Football icon Lionel Messi set out his ambition to win the Champions League with Paris Saint-Germain after his agreement to join the star-studded French side on a two-year deal worth about £1 million a week.
"My goal and my dream is to win this trophy again and I think this is the best place to win it again," he said at a news conference at the Parc des Princes stadium.
The Argentine forward, 34, had agreed to stay at former club Barcelona after his deal expired at the end of June, only for the Spanish club to admit they could no longer afford him last week.
He signed a two-year deal with an option for a third with the Parisians on Tuesday.
PSG have hoovered up domestic titles since the investment of their deep-pocketed owners Qatar Sports Investment in 2011. However, they have never won the Champions League, coming second two seasons ago, while Messi has won it four times, the last one coming in 2015.
"That's why I am here (to win trophies). It's an ambitious club," Messi, who will wear the No. 30 jersey — which was his first squad number in senior football at Barcelona in 2006, told a news conference.
"You can see they're ready to fight for everything.
"My dream is to win another Champions League, and I think this is the ideal place to be to do that."
The Argentine conceded he did not know when he would be able to make his debut given he has not played since winning the Copa America with his country last month.
"I'm coming back from holiday. I need a bit of a pre-season and get myself going. Hopefully debuting can be soon but I can't give you a date. It's up to the coaches."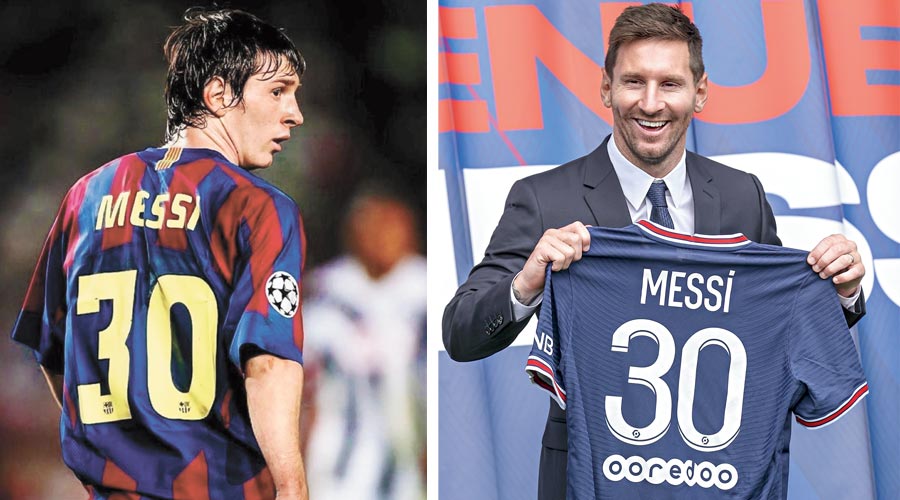 Back with Neymar
Messi, who spoke in Spanish throughout his presentation, is looking forward to reuniting with his former Barcelona teammate Neymar. They are expected to form a formidable attack alongside Kylian Mbappé, the 22-year-old France striker. "Playing with Neymar and Mbappé is madness," Messi said.
PSG have also just signed Sergio Ramos from Real Madrid, the Dutch midfielder Georginio Wijnaldum from Liverpool, and Italy's Euro 2020-winning goalkeeper Gianluigi Donnarumma from AC Milan.
"The team is incredible," Messi said. "I am going to be playing with the best players. This is an ambitious club and we are ready to fight for everything.
"This is all new for us, but I am ready. It's an amazing place, a beautiful city too so I am sure that we will enjoy this place."
Financial fair play
Although Messi was a free agent and cost nothing in transfer fees his salary, about £30 million a year, has led to questions about PSG's respect for Uefa's Financial Fair Play (FFP) regulations. However, club chairman and CEO Nasser Al-Khelaifi, who sat alongside Messi, insisted the deal was well within their economic scope.
"We are always attentive to Financial Fair Play. It's the first thing we check with the commercial, financial and legal people to see if we can do it before signing someone," he said.
"I think the media need to focus on the positives and not just the negatives of these moves, but what positives he brings. He's an unbelievable asset to the club."
He did, however, suggest that the financial balancing act may be delicate, saying: "I hope Leo will not ask for more salary."
The Qatari president also believes that the addition of Messi can help PSG win the Champions League, saying, "I think that our goal, as everyone knows, is to win all the trophies".
"That has never changed and now with Leo, we are close to winning them."
Fan frenzy
The mood in Paris was very different to the last media conference Messi had given in Barcelona on Sunday.
Then, he had wept as he bade farewell to the club where he had been for 21 years.
In Paris, he offered a broad smile as Omar da Fonseca, the former Argentine footballer who is now a French television commentator, brought the news meet to an end with chants of "Messi, Messi".
Outside, hundreds of supporters had gathered at the stadium in a further sign of the fervour witnessed since the announcement that Messi was joining PSG.
Dozens had waited for three days at Bourget airport in anticipation of Messi's arrival. A handful had queued up all night outside PSG's shop on the Champs-Élysées in the hope of being among the first to buy a PSG shirt with Messi's name on the back.
The Argentina forward said the week had been an emotional roller-coaster. "You know my exit from Barcelona was a very hard moment after so many years there. It was a difficult change after so much time but the moment I arrived here I felt very happy.
"Everything that has happened to me this last week has been very strange; it's been hard, quick and emotional. I can't forget what I lived and experienced in Barcelona but I really feel impatient to start training here now. This whole week I have been going through ups and downs."
Written with a report from Reuters