Kohli parts with crown that pricked
His sudden disclosure did take both by surprise but there was no attempt to convince him to reconsider his move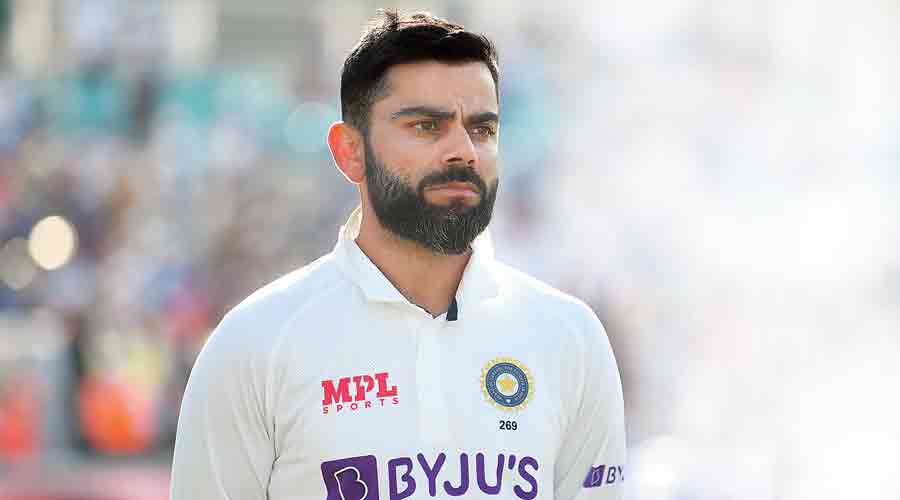 Virat Kohli's tweet on Saturday evening, announcing his decision to step down as India's Test captain.
---
Calcutta
|
Published 16.01.22, 02:52 AM
|
---
Around 1pm on Saturday, Virat Kohli informed BCCI president Sourav Ganguly and secretary Jay Shah about his decision to step down from the Test captaincy.
Kohli's sudden disclosure did take both by surprise but there was no attempt to convince him to reconsider his move.
"He had made up his mind to quit Test captaincy. There was no point requesting him
to reconsider it. The BCCI brass decided to keep quiet given the drama and controversy that followed his resignation as T20 captain and Rohit's elevation as ODI leader," someone in the know of things told The Telegraph.
Sources also revealed that Kohli told head coach Rahul Dravid and his teammates about the decision once he returned to the hotel in Cape Town on Friday evening following the loss at Newlands.
Kohli, it is widely believed, had planned to quit even before the series in South Africa began. He wished to go out on a winning note but that was not to be.
Kohli read the writing on the wall once Ravi Shastri's term as head coach ended and Dravid took charge. He realised that his authority and control on the team had diminished. With Rohit Sharma taking over as limited overs captain, his powers were further curtailed.
"It is no secret that he was never a popular leader in the dressing room and now his powers had been curbed. He was no longer considered to be the supreme voice in Indian cricket and that began to hurt his ego. There was never any doubt about his batting but he lost that indisputable dominance he enjoyed as captain. His poor run of scores also contributed to his downfall," a source said.
Kohli has failed to get an international hundred since November 2019, when he made 136 against Bangladesh in the Day-Night Test at Eden Gardens. He has since scored 760 runs at an average of 28.15 in Tests, with six half-centuries.
India's most successful captain also perhaps thought he had lost the trust of the BCCI given the claims and counter-claims that followed after quitting as T20 skipper.
Kohli had, without naming anyone, contradicted Board president Sourav's statement last month that the captain had been counselled against giving up the T20 reins in September.
The controversy stretched further when chief selector Chetan Sharma vindicated the BCCI president, saying "everyone who was present at the meeting" asked Kohli to reconsider his decision.
This was in some ways "a face loss" for a captain who had got the BCCI to remove Anil Kumble as head coach after finding it difficult to work with him. He also got the Board to reinstate Shastri, though the Cricket Advisory Committee had more or less zeroed in on Virender Sehwag for the head coach's job.
In many ways, he had been pushed out of his comfort zone. Kohli also envisaged that the axe might fall on him had there been more failures and felt this was the right time to move forward.
Unlike his association with Kumble, Kohli had no problems working with Dravid. Dravid, too, had shown immense respect for the captain, praising his work ethic as "phenomenal" and lauding "the way he has trained and connected with the group" despite the noise around him.
During his tenure, India have twice won Test series in Australia (Kohli though missed three Tests during the 2021 series) and are ahead 2-1 in England, with the final Test scheduled in July. Had the South Africa bastion been breached, it would have signalled another first for Indian cricket and helped his team attain the status of greatness.
Since taking over as captain in January 2015, Kohli saw India attain the No.1 status in the ICC rankings and reach the final of the World Test Championship. But if the failure to win series in New Zealand and South Africa remained his biggest regret, the lack of any ICC trophy as captain will always rankle his ego.
It is really unfortunate that someone whose passion remains Test cricket has decided not to be the captain when he plays his 100th Test in Bangalore versus Sri Lanka.