IPL 2021: Travel may have let in virus, says BCCI president Sourav Ganguly
He also said if the IPL can't be completed later this year, the BCCI would incur a loss of around Rs 2,500 crore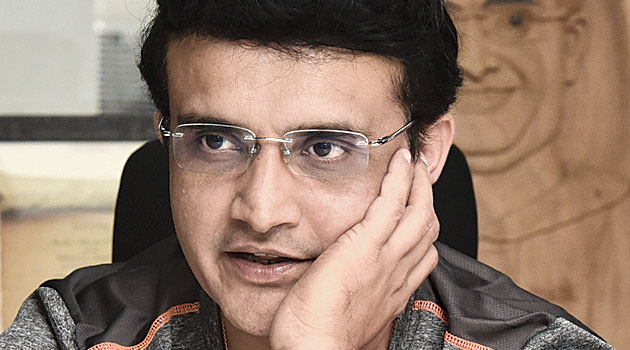 Sourav Ganguly
File picture
---
Calcutta
|
Published 06.05.21, 02:39 AM
|
---
The Board of Control for Cricket in India (BCCI) has been caught completely unawares by the sudden turn of events at this year's IPL with several positive Covid-19 cases within the bio-security bubble forcing the indefinite suspension of the money-spinning league.
BCCI president Sourav Ganguly on Wednesday told The Telegraph that the IPL would do a post-mortem of what led to this crisis.
He also said if the IPL can't be completed later this year, the BCCI would incur a loss of around Rs 2,500 crore.
"I really don't know what led to this situation inside the bio-security bubble. We will have to do a post-mortem and look into the reasons behind this. But travelling could have been an issue," Sourav said.
"Last year in the UAE, everything was restricted to three venues and within a limited area. There was no air travel involved. Here we had six different venues.
"You also have to look at the situation around the country. The way the number of people are getting affected on a daily basis is total madness. No one knows what is going to happen tomorrow. Things have gone out of control for everyone.
"When we started the tournament in Dubai, there were close to 700 cases in the UAE which increased by a few hundred in the later stages. Here it's close to 4 lakh today. This proliferation of Covid-19 cases has been a major issue," the BCCI president remarked.
Sourav doesn't think this suspension, with 31 games left, would be a blow to the brand value of one of the world's richest tournaments.
"I wouldn't say it's a blow... Don't forget last year we had no Wimbledon or Olympics. These are extraordinary times and we have to take it in our stride and move on. We can't do much in these situations. Perhaps we have to only wait for things to improve," he said.
The IPL's statement on Tuesday was unclear on the tournament resuming later this year. Sourav though is keeping his fingers crossed.
The BCCI is looking at a window after the completion of India's tour of England and before the T20 World Cup in October-November. That will give the BCCI enough time to sort out logistics and venues.
"There has got to be a lot of shuffling. Only a day has passed since we suspended the IPL. We have to speak to other boards and see if a window can be made available before the T20 World Cup... Lot of things are involved and we will slowly start working on them."
Sourav also spoke on the financial implications of the suspension.
"If we fail to complete the IPL, the loss will be close to Rs 2,500 crore. That is going by early estimates."
In hindsight would it have helped if the tournament was held at only one venue, say Mumbai, which has three international cricket stadiums? Sourav didn't agree.
"Hindsight is the easiest thing to do... You can't say like this. There are a lot of issues and any wrong step can always prove to be disastrous."
In that case would it have been better if the tournament was moved to the UAE like last year? Even some members of the IPL governing council wanted it that way but Sourav refused to buy that argument.
"These are very difficult to predict. England travelled to four venues during the Test and limited overs series earlier this year and not one positive case was reported. So you can't comment. There will be pros and cons behind every decision... No one expected this pandemic situation..."
Will the postponement of the IPL have an impact on India's hosting rights for the T20 World Cup? The BCCI had been utilising the IPL as a dry run for the showpiece event in the game's shortest format.
"Let's see what happens to the World T20. There's still some time left and we don't know how things will pan out a month later... Can't comment right now. But let's not assume things," Sourav said.
The BCCI has been more concerned about the safe return of the players and support staff, especially the foreigners, since Tuesday. Eight English players and the South Africans have already reached home.
"Yeah the players' return has been sorted out," Sourav said. "There are close to 40 Australians in the IPL comprising players, support staff and commentators. They will be flying to the Maldives today (Wednesday), be on a 10-day quarantine there and then leave for their country. These are non-issues and we will fulfil our commitments to all concerned."