Indian athletes finish Paralympics 2020 with 19 medals, script history in Tokyo
With five gold, eight silver and six bronze medals, the Indian contingent was on a roll as many records tumbled during the Games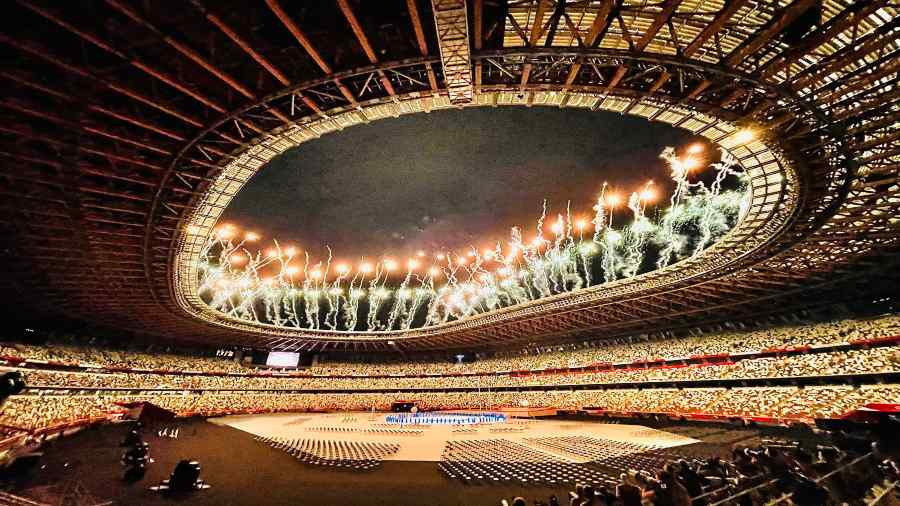 ---
Published 05.09.21, 02:43 PM
|
---
Before the Tokyo Paralympics started, India's Chef de Mission Gursharan Singh had said the Indian contingent will return with at least 15 medals. But the athletes have exceeded expectations with a record tally of 19 comprising five gold, eight silver and six bronze medals. 
Indian Paralympic Committee president Deepa Malik, who bagged a silver in shot put at rio 2016, was constantly by the contingent's side, keeping the world informed about the historic developments through her Twitter handle. And everyone in the country -- from the Prime Minister to Bollywood celebrities -- were prompt enough to heap praise on any athlete bringing laurels to the country.
Here's a look at India's exploits in Tokyo:
Avani Lekhara -- Shooting (Gold and Bronze)
19-year-old Avani became the first Indian woman to win two Paralympic medals by claiming the 50m Rifle 3 Position SH1 bronze to add to an unprecedented gold she had won in the R-2 women's 10m Air Rifle Standing SH1 event. On her way to the gold medal, Avani finished with a world record equalling total of 249.6, which is also a new Paralympic record. She's the fourth Indian athlete to win a Paralympics gold after swimmer Murlikant Petkar (1972), javelin thrower Devendra Jhajharia (2004 and 2016) and high jumper Thangavelu Mariyappan (2016). In the SH1 Rifle category, shooters are able to hold a gun with arms. The athletes have an impairment in their legs, for example amputations or paraplegia. Some athletes will compete in a seated position, while others will compete in a standing position.
19 🥇 🥈 🥉

India has won as many medals in#Tokyo2020 #Paralympics
as the total strength of the contingent
it had sent to the Rio Games in 2016 !

Phenomenal Rise of IndianParalympians!

A New Era has Begun !#Praise4Para pic.twitter.com/EYyMKYq0Z0

— Anurag Thakur (@ianuragthakur) September 5, 2021
Sumit Antil -- Javelin Throw (Gold)
Sumit Antil not only won gold, but also shattered the men's F64 category world record multiple times in a stunning Games debut performance. The 23-year-old from Sonepat in Haryana, who lost his left leg below the knee after he was involved in a motorbike accident in 2015, sent the spear to 68.55m in his fifth attempt, which was the best of the day by quite a distance and a new world record. In fact, he bettered the previous world record of 62.88m, also set by him, five times on the day. His last throw was a foul. His series read 66.95, 68.08, 65.27, 66.71, 68.55 and foul.
Manish Narwal -- Shootinig (Gold)
Manish Narwal smashed the Paralympic record to clinch India's third gold in the ongoing Tokyo Games. The 19-year-old Narwal, who holds the world record in the category, shot a total of 218.2, a Paralympic record, to claim the yellow metal in P4 Mixed 50m Pistol SH1 event in his debut Games. "I'm very happy," said Narwal who hails from Ballabhgarh in Haryana. In 2016, Narwal's family took him to a nearby shooting range and he instantly developed a keen interest in the sport and started doing practice regularly. But at that time he did not know about Paralympic Games and he was practising and competing with other athletes for fun. His talent was spotted by coach Jai Prakash Nautiyal and Narwal won an individual gold in P1 Air Pistol SH1 event in the 2017 Bangkok World Cup.
India, in #Paralympics 2020 has won 19 medals, including 5 gold medals. This is higher than cumulative tally of all medals ever won by India in the last 60 years. How did this happen?

1/n

— Varun Jhaveri (@Varun_Jhaveri) September 5, 2021
Pramod Bhagat -- Badminton (Gold)
Reigning world champion Pramod Bhagat claimed a historic gold medal in the men's singles SL3 class. Bhagat, who is also an Asian champion, humbled Great Britain's Daniel Bethell in the summit clash. In SL3 classification, athletes with lower limb impairment compete. With badminton making its debut at the Paralympics this year, Bhagat became the first Indian to win a gold medal in the sport. The top seed showed great mental fortitude as he prevailed 21-14 21-17 over second seeded Bethell in a thrilling final that lasted 45 minutes at the Yoyogi National Stadium. "This is very special to me, it's my dream come true. Bethell really pushed me but I just kept my calm and played to my strengths," said Bhagat after wining India's fourth gold medal in the ongoing Tokyo Games.
Krishna Nagar -- Badminton (Gold)
Krishna Nagar secured a second gold medal in badminton on the last day of the Paralympics. The 22-year-old Nagar, seeded second, defeated Hong Kong's Chu Man Kai 21-17, 16-21, 21-17 in the men's singles SH6 class final to retain his unbeaten run at the Games and join compatriot Pramod Bhagat in the gold medal-winning list. "This is a dream come true. I want to thank my father, mother, uncle, auntie, God, my coaches," said Nagar after winning India's fifth gold at the Games. "This is the first time that badminton has been added to the Paralympics and I hope that India will keep winning and doing their best at upcoming Games."
India has won more medals (19) in Tokyo Paralympics 2020 than it has won in the last many decades.

Despite COVID, the Government of India provided athletes with training, vaccination etc.: Union Sports Minister @ianuragthakur pic.twitter.com/RdCbaZB2DB

— Abhishek Lohia (@JuniorLohia) September 5, 2021
Bhavinaben Patel -- Table Tennis (Silver)
The Indian contingent opened its account with this medal. Bhavinaben Patel became only the second Indian woman to win a medal at the Paralympics, thanks to a historic silver following a 0-3 loss to world number one Chinese paddler Ying Zhou in the women's singles table tennis class 4 final. The 34-year-old Patel's impressive run at the Games ended with a fighting 7-11, 5-11, 6-11 loss to Zhou, a two-time gold medallist, in the women's singles summit clash which lasted 19 minutes. Patel, a wheelchair player, had also suffered a loss to Zhou, one of the most decorated para-paddlers of China, in her first group stage match.
Nishad Kumar -- High Jump (Silver)
Nishad clinched a silver medal in the men's high jump T47 event with an Asian record effort. Kumar cleared 2.06m to win the silver and set an Asian record. American Dallas Wise was also awarded a silver as he and Kumar cleared the same height of 2.06m. This was India's second medal of the Games after Bhavinaben Patel won a silver in women's singles table tennis class 4 event. "I could not believe that I had won a silver at the Paralympics. I asked four officials before I could actually believe it," he said in a release issued by the ministry. "I feel honoured that I have been invited by the Sports Minister and he has met me and felicitated me on the very first day of my return to India. I have never had this experience before and now the feeling of the win is really sinking in," he added.
From 1976 to 2016: India won 12 medal in Paralympics (Total). In 2020 Paralympics India scripts history at Tokyo and our heroes returns home with record tally of 19 medals. 👏😍
Congratulations to whole country 🙌🥳#Cheer4India#ParalympicsTokyo2020 #Paralympicsindia #IND pic.twitter.com/TETkolUCuf

— Himanshu Singh (@Himanshu_1508) September 5, 2021
Devendra Jhajharia -- Javelin Throw (Silver)
Two-time gold-winning javelin throw veteran Devendra Jhajharia clinched a stupendous third Paralympic medal, a silver this time. The 40-year-old Jhajahria, already India's greatest Paralympian after winning gold medals in the 2004 and 2016 Games, pulled off a new personal best throw of 64.35m for the silver.
Jhajahria, who lost his left hand after accidentally touching an electric wire while climbing a tree at the age of eight, bettered his own earlier world record (63.97m) but gold winner Sri Lankan Dinesh Priyan Herath Mudiyanselage (67.79m), who set a new world record, was too good for the entire field.
Yogesh Kathuniya -- Discus Throw (Silver)
Yogesh clinched a silver medal in the men's F56 event. The 24-year-old, a B.Com graduate from New Delhi's Kirorimal College, sent the disc to a best distance of 44.38m in his sixth and last attempt to clinch the silver. Son of an Army man, Kathuniya suffered a paralytic attack at the age of eight which left him with coordination impairments in his limbs. In F56 classification, athletes have full arm and trunk muscle power. Pelvic stability is provided by some to full ability to press the knees together. He won a bronze medal in the 2019 World Para Athletics Championships in Dubai with a best throw of 42.51m which also booked him a Tokyo berth.
Singhraj Adhana -- Shooting (Silver, Bronze)
It was a double delight for Singhraj, who clinched a silver in P4 mixed 50m pistol SH1 and a bronze in the P1 men's 10m air pistol SH1 event. The 39-year-old shooter, who is afflicted with polio and was making his Games debut, said, "I was delighted when I saw our flag being raised with the national anthem. I will always remember the Tokyo Paralympics with my bronze and silver. I always dreamt about seeing the Indian flag flying the highest, that dream has been fulfilled today. I will also remember everyone's blessings and love. A huge thanks to my coaches and staff."
Mariyappan Thangavelu -- Men's High Jump T42 (Silver)
The defending champion, Mariyappan Thangavelu, finished second in the men's high jump T42 event. Mariyappan cleared 1.86m while American gold winner Sam Grewe succeeded in soaring above 1.88m in his third attempt. "I could have won gold and claimed the world record. I came here with that aim. But the rain played spoilsport. It was a drizzle initially but after the 1.80m mark, it became heavy. The sock on my other leg (the impaired right leg) got wet and it was difficult to jump," Mariyappan said after the event. "In Rio, the weather was great and I won gold. I will try for gold and world record in Paris 2024," he added.
Praveen Kumar -- Men's High Jump T64 (Silver)
Praveen Kumar's high jump of 2.07m fetched him a silver medal in the men's high jump T64/T44 event of the Paralympics. But the high-jump bar was not the only obstacle the 18-year-old B.A. second year student of Motilal Nehru College in Delhi had to clear to achieve success. Praveen set a new Asian record with his jump but that was not enough to beat Great Britain's Jonathan Broom-Edwards, who notched up his season's best effort of 2.10m to take gold.
Suhas L. Yathiraj, Badminton Men's Singles SL4
Gautam Buddh Nagar (Noida) District Magistrate and shuttler Suhas Yathiraj's Paralympics run culminated with a silver medal for India, with the journey also earning him a place in the annals of Indian Administrative Service (IAS). The 38-year-old Suhas, who was outdone by his 23-year-old top seed French rival Lucas Mazur in a thriller of a final, became the only IAS officer to have not only participated but also won a medal in the Paralympics. "Congratulations Suhas L Y, IAS, DM G B Nagar (Noida) for winning the silver medal in men's singles SL4 para-badminton at Tokyo Paralympics. We and the entire nation are proud of you, the IAS Association," a group of serving and retired central administrative officers, tweeted.
The IAS Association's tweet also carried the hashtag #Cheer4Suhas, a trending buzzword on social media to rally support for Yathiraj during the showpiece event, along with #Cheer4India.
Sundar Singh Gurjar -- Men's Javelin Throw F46 (Bronze)
Sundar Singh Gurjar chipped in with a bronze, finishing behind Jhajharia in the men's javelin throw F46 final. The F46 classification is for athletes with arm deficiency, impaired muscle power or impaired passive range of movement in arms, with athletes competing in a standing position. The 25-year-old Gurjar, who lost his left hand in 2015 after a metal sheet fell on him at his friend's house, was third with a best effort of 64.01m. The Jaipur-based Gurjar had won gold in the 2017 and 2019 World Para Athletics Championships. He had also won a silver in the 2018 Jakarta Para Asian Games.
Sharad Kumar -- Men's High Jump T63 (Bronze)
Sharad Kumar won bronze in the same event as Mariyappan, with an effort of 1.83. Sharad had revealed he was considering pulling out of the competition due to a leg injury. "I had an injury on my leg, meniscus dislocated (a type of knee injury) yesterday (Monday). I thought of pulling out today but spoke to my family back home. They said just go ahead. They told me to focus on what I can do and not on what I have no control over," he said.
The T42 classification is for athletes with a leg deficiency, leg length difference, impaired muscle power or impaired passive range of movement in the legs. The athletes compete in a standing position.
Manoj Sarkar -- Badminton Men's Singles SL3 (Bronze)
The 31-year-old Sarkar, whose right leg was affected after he contracted polio at the age of one, displayed great resilience during his win. Sarkar had taken up badminton at the age of five but it was the passion to win against his elder brother that led him to pursue the sport seriously.
Harvinder Singh -- Archery (Bronze)
Harvinder Singh claimed India's first-ever archery medal at the Paralympics, holding his nerves to get the better of Kim Min Su of Korea in a thrilling shoot-off for the men's individual recurve bronze at the Games in Tokyo. World No. 23 Harvinder collected three shoot-off wins on the day starting with his triumphs in the opening rounds. A gold medallist at the Asian Para Games in 2018, Harvinder, who is pursuing a PhD in economics from the Punjabi University in Patiala, developed interest in archery after watching the 2012 London Olympics.