Teen's unreal run in haven of wild results
Unexpected but deserving finalist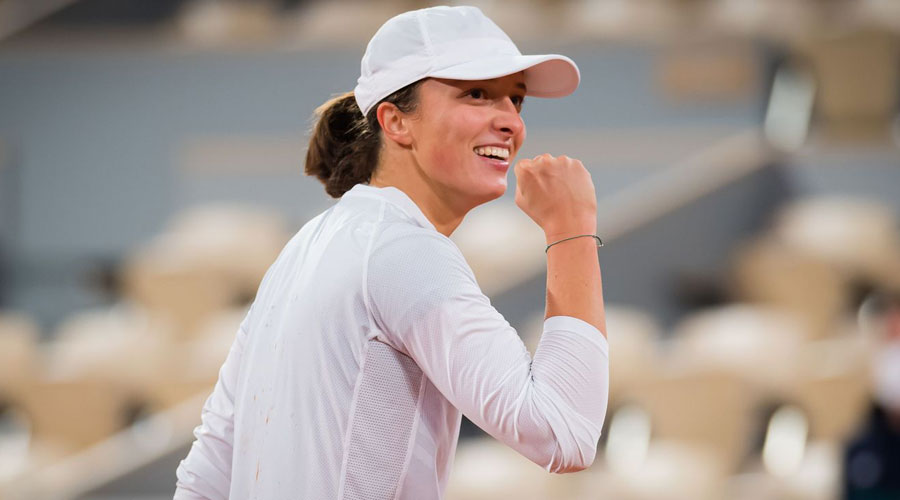 ---
---
Since they both lost in the opening round in Rome, at their only claycourt tournament before the French Open, Sofia Kenin and Iga Swiatek have taken radically different paths to their unexpected places in Saturday's final.
Kenin, the 21-year-old American who won the Australian Open in February, has had to scrap and improvise to avert defeat, fighting and drop-shotting through four matches that lasted three sets.
But she has worked her way into a much more authoritative place, as she demonstrated on Thursday with a 6-4, 7-5, semi-final victory over Petra Kvitova.
"She just has something you can't teach: The bigger the point, the more she wants it," said Lindsay Davenport, a former No. 1 who is now a Tennis Channel analyst.
Swiatek, an unseeded 19-year-old from Poland, has been a force of nature, constructing points and demolishing the opposition without losing a set, or more than five games in any match.
Swiatek, whose father was an Olympic rower, has yet to win a tour title. She has a surname that many tennis followers are still struggling to pronounce (try Shvee-ON-tek), yet here she is in her first Grand Slam final.
"It seems unreal," said Swiatek, who is ranked 54th in singles. "On one hand, I know that I can play great tennis. On the other hand, it's kind of surprising for me. I never would have thought that I'm going to be in the final."
The French Open, of course, has been something of a haven for wild results. Michael Chang won here at age 17 after serving underhand against No. 1 Ivan Lendl and then beating the great Stefan Edberg in the final. Gustavo Kuerten showed up in 1997 with a world ranking of 66 and a reservation at a two-star hotel, then cruised all the way to the trophy.
The women's tournament this year has been a dizzying succession of upsets and introductions, with players like Nadia Podoroska, a 23-year-old from Argentina who Swiatek beat in the semi-final, making their French Open debuts with rankings outside the top 100 and beating up on the veterans.
The match between the fourth-seeded Kenin and seventh-seeded Kvitova was only the fourth between seeded players in the women's singles tournament. The men will have 11 such matches.
But it is hard to call the Swiatek-Kenin final a fluke. Swiatek's game has been irresistible, and Kenin has already shown she belongs at this lofty level, winning her first major title at the Australian Open by defeating the local hero Ashleigh Barty and the two-time major champion Garbiñe Muguruza.
Swiatek has only recently focused fully on tennis, after graduating from high school this year. But she already has a big support team, which includes Daria Abramowicz, a sports psychologist.
In Swiatek's view, Abramowicz has helped her manage her emotions under duress and helped her focus on the point at hand rather than the prize at stake. So far everything seems to have worked in her charmed 12-day run at Roland Garros.
But Kenin is not the sort to step quietly aside and let another youngster pass her by.
When asked this week if she could pick one word to express what she loved most about tennis, she answered quickly: "Winning, definitely."
Believe it.
New York Times News Service