The Pakistan hockey team on Monday put behind the bitter memories of the Champions Trophy in 2014 and was effusive in its praise of the city and its spectators.
Talking to reporters during their visit to the Fan Village, former captain and the manager of Pakistan, Hasan Sardar, said they wanted to forget what had happened here in 2014.
After their semi-final victory against India in the Champions Trophy, some of the Pakistan players had made obscene gestures at spectators at Kalinga Stadium.
The incident had led to India blocking Pakistan's participation in tournaments played here till things changed and the neighbour was to take part in the World Cup.
"We have forgotten about it and don't want to discuss the incident. The love of the home crowd has been fantastic here. We had not imagined getting this kind of hospitality. The city is indeed beautiful, clean and green," said Sardar.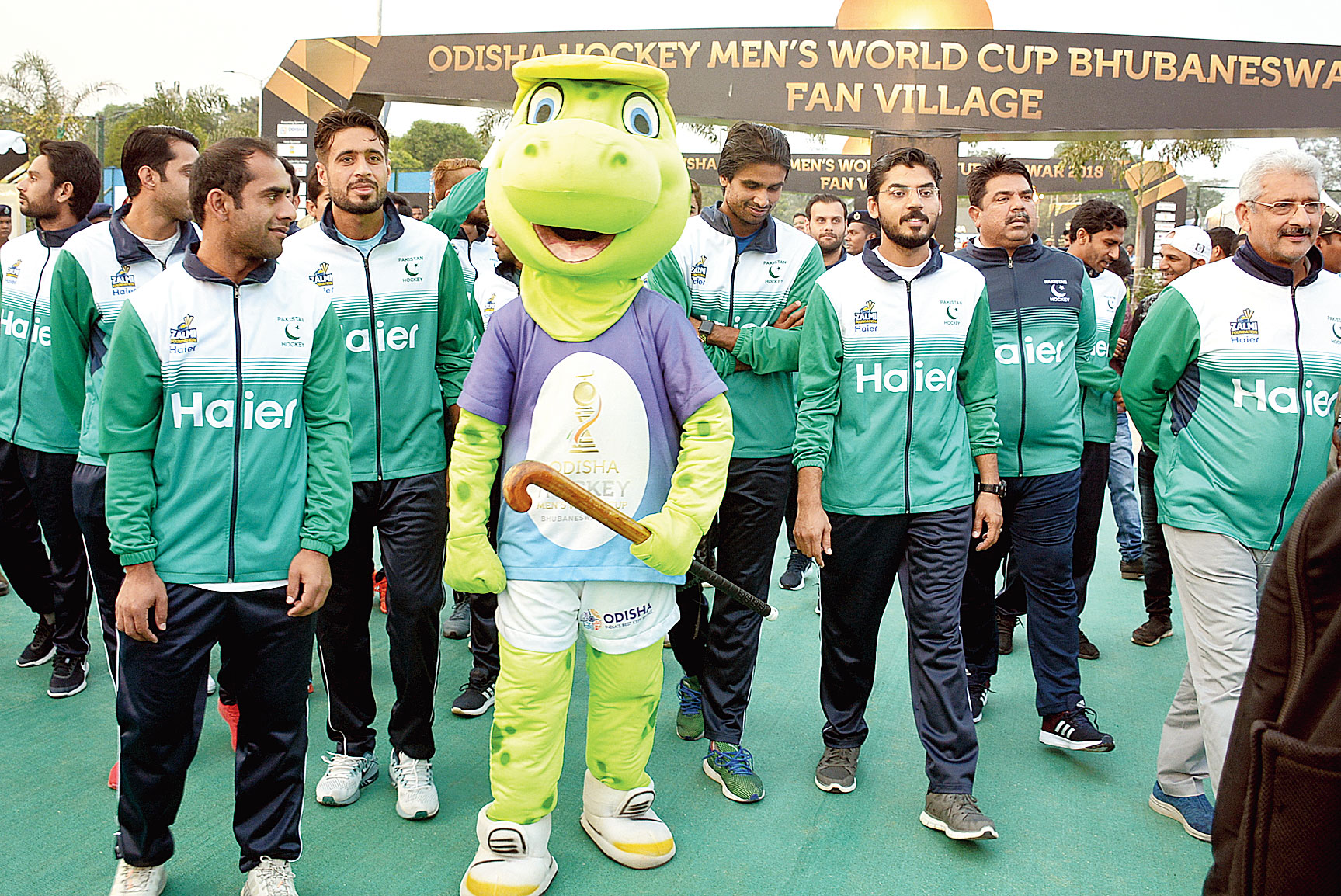 Pakistan team members pose with Olly, the mascot for sport events in Odisha, at Fan Village in Bhubaneswar on Monday. Picture by Ashwinee Pati
Sardar acknowledged the support Indian fans during the Asian Games and World Cup held in Mumbai in 1982.
"The love and affection of the home fans will remain with us. Being the neighbouring county, we will definitely support India's bid to host the Olympics in future," he said.
While a police band played to welcome the team, director general of police R.P. Sharma handed over Raghurajpur pattachitras to the visiting team. The Pakistani players visited the kiosk displaying sophisticated arms used by the state police and interacted with senior police officers.
"The motive of inviting the team was to make them feel comfortable and give them an unique experience of hospitality of the police. I have also assured the team to provide all kinds of police support during their stay here," said Sharma.
"I hope both India and Pakistan feature in the finals, which will be a delight for the spectators. We will also invite other participating teams to our stall," he added.
The visiting team expressed happiness about security arrangements.
"We have been to malls and other shops after reaching the city. Our players have also visited a mosque and the police have provided us all kinds of security. Even the police
are providing security to individual players when they step out. We have looking forward to visit some of the tourist destinations," said Mazhar Abbas, member of the Pakistan team. The team, which lost its first group match against Germany on Saturday, was hopeful of making a comeback in the remaining matches.
"We made several attempts to score against Germany, but failed. But with the support of the fans, we are looking forward to enter the quarter-finals," said Sardar.