For Azarenka, disappointment again, but plenty of hope
I thought the third time was a charm, but I guess I will have to try again, says former No.1 after loss to Naomi Osaka 6-1, 3-6, 3-6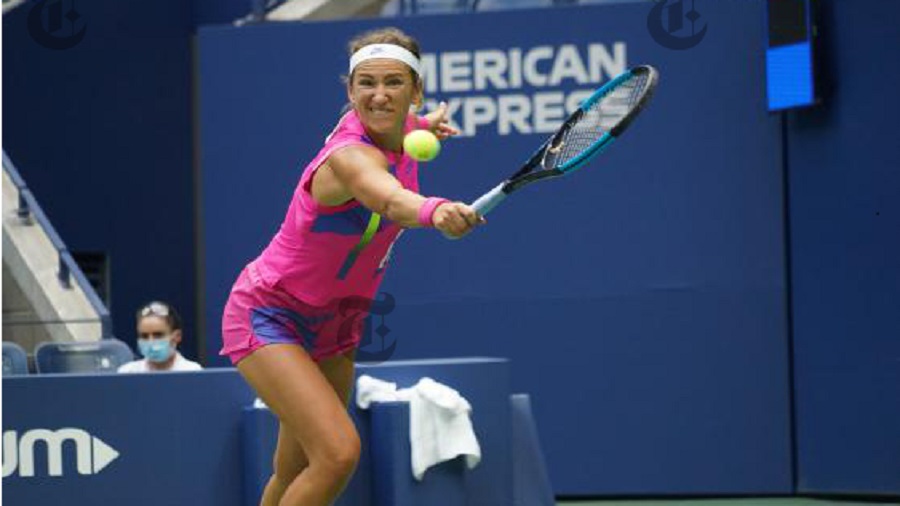 ---
---
For Victoria Azarenka, a surprise U.S. Open run began to unravel in the seventh game of the second set, the 14th game of a Saturday afternoon final that had been nearly perfect for her from the start.
Her flawless first set began and ended with service breaks as Naomi Osaka came out looking like a shadow of the player who had blasted her way through her first six matches.
Tentative? Scared? Who knew?
To Azarenka, it mattered little.
The tennis court has been a place of calm over the past month for Azarenka, 31, in a life that has been full of tumult. She has spent much of the past two years embroiled in a custody fight for her 3-year-old son. Her country, Belarus, has descended into chaos after an election, criticized as fraudulent, in which the longtime president, Alexander Lukashenko — a leader Azarenka has been close with — claimed to have won 80% of the vote.
Azarenka did not touch her racket for five months and had no intention of playing in this tournament if her family situation had not been settled. "I was ready to stop," Azarenka said of her tennis career.
In New York, though, she spent her time at the USTA Billie Jean King National Tennis Center with an all-business approach she hadn't displayed in years. She won 11 straight matches after not having won in a WTA Tour competition in a year. She won the Western & Southern Open, the U.S. Open tuneup, when Osaka pulled out of the final with a sore hamstring.
At night, Azarenka retreated to a home she had rented on Long Island. Her mother cooked dinner. Her coach, Dorian Descloix, talked to her about life and parenting. She played in the backyard with her son, Leo. She spoke of finding joy in a game that had once left her with mostly anger and frustration and disappointment, even as she won two Grand Slam titles and ascended to the world No. 1 ranking.
And early Saturday, it looked as if this was going to be a coronation for the unseeded Azarenka, more than seven years removed from her last Grand Slam title. She had been so close at the U.S. Open before, twice losing three-set finals to Serena Williams, once when she was just two points from the championship.
"I thought the third time was a charm, but I guess I will have to try again," Azarenka said.
Azarenka dominated the first set, 6-1, giving Osaka few openings. Instead of slugging away as she had against Williams in the semifinal, Azarenka befuddled Osaka with a mix of spins and cut shots, even the occasional moon ball, and a series of deadly angled winners that kept Osaka from digging in and playing the power-against-power game she loves.
Osaka's first serve, so powerful and accurate in the semifinal against Jennifer Brady — and for much of the tournament — was missing in action. For a set and a half, Osaka won just 40% of points on her first serve. She swatted forehands long and batted backhands into the middle of the net. The wheels that sent her jetting across the baseline and chasing down drop shots could never get out of first gear.
And then came the seventh game of the second set. Like someone turning out the lights, the consistency that had brought Azarenka 12 points from the championship was gone. On break point, with an easy floating forehand in the middle of the court, Azarenka pushed the ball wide.
For the first time, Azarenka was on her back foot. That steady flow of free points from Osaka was gone. Osaka's aggression was back. She aimed for the sidelines and began hitting her targets far more than she missed them. Now Azarenka was the one giving chase from corner to corner.
Two games later, it was even. Azarenka would not lead again.
Two nights earlier, it was Azarenka who had come out flat. She was behind a set against Williams in less than 30 minutes, only to storm back and knock off the 23-time Grand Slam singles champion. Now Azarenka was the one whose fist pumps and high-volume self-talk could not reverse the tide.
In defeat, Azarenka was philosophical in a way that she had not been in the past, when losses ate at her self-esteem. She played hard, missed some shots she wished she had made and got beat by Osaka, now a three-time Grand Slam champion. This result, she said, does not hurt her belief in what she is capable of.
Next up is the Italian Open in Rome. She leaves New York on Sunday. After that, it's Paris for the French Open, which begins in three weeks. She is hopeful, even if clay has never been her best surface.
"I'm very proud of the last three weeks," she said. "I'm not going to sit here and be miserable."
New York Time News Service