Vegan Sunil Chhetri hungry for success
Is that the reason why he is proving time and again that age is just a number?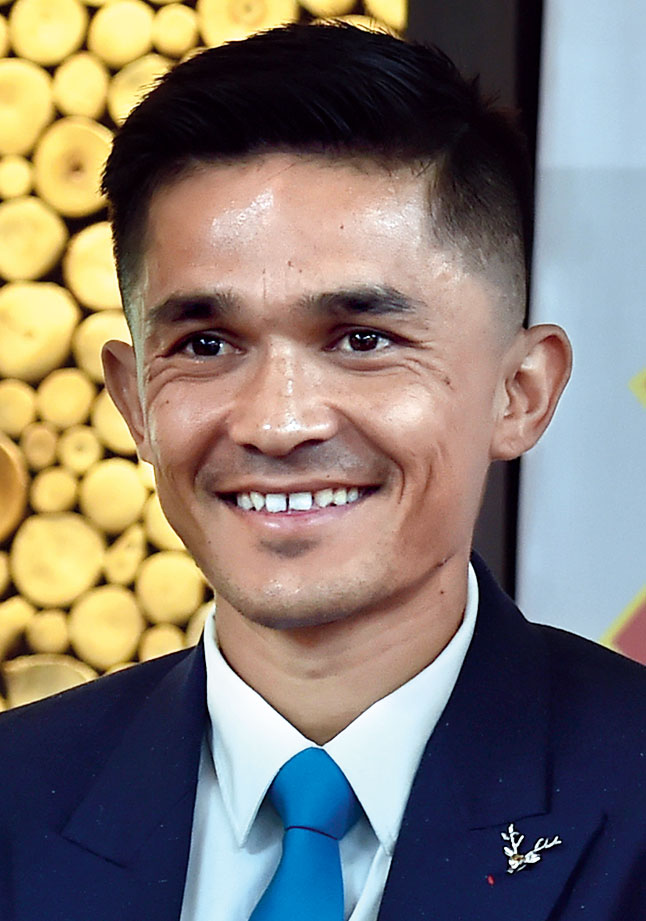 ---
|
Calcutta
|
Published 03.08.19, 08:23 PM
---
Diet is the most important part of a sportsperson's life, especially if he is in his 30s. Roger Federer, Serena Williams, Rafael Nadal, Lionel Messi or Cristiano Ronaldo — all these superstars who have altered their diet to stay fit. So has India football team captain Sunil Chhetri.
"Over the last few years, diet has been a very integral part of my career and I can safely say it makes a very big difference. It's been a few months since I've turned vegan now and I feel as healthy as I will ever be. I am a lot more conscious of what I am putting inside my body and I feel it's really important as an athlete to understand how diet works," Chhetri, who turned 35 on Saturday, told The Telegraph.
Is that the reason why he is proving time and again that age is just a number?
"See, age does its fair share of damage. But athletes like Federer, Nadal, Ronaldo keep debunking the myth that age always slows you down. It's the hunger to succeed that keeps me going. The desire to go out and train and play and win trophies is what keeps me going. I am enjoying myself. Of course I have to take more care of myself than I did when I was a youngster, but that hunger hasn't lessened," was Chhetri's take.
The highest scorer for the national team with 71 goals in 111 matches, Chhetri hasn't yet started measuring success. "I still haven't gotten down to measuring what success is. When I started, I was happy to simply turn up on a pitch and play the game I love. That hasn't changed. But I have altered the way I train and more importantly, the way I recover."
Chhetri has stayed more or less injury-free in his career. But the face of Indian football says there is only so much one can do to control injuries. "Staying clear of injury is never really in your hand once you're on the pitch.
"But taking care of yourself off the pitch does go a long way in preventing injuries to a certain extent. Also, once injured, the recovery process is key in terms of how you go about fixing yourself."
Clubbed with Qatar, Oman, Bangladesh and Afghanistan, India have a relatively easy group in the World Cup qualifiers. Does Chetri buy that fact? "We shouldn't forget we are in a transitional phase, so the only thing I am thinking about it is how well we get our shape and rhythm together. Also, I always think it's about what you do on the pitch on that given day. If we put our heads down and keep working hard, the results will come," said the Bengaluru FC captain.
Chhetri was also effusive in praising newly-appointed national coach Igor Stimac.
"He comes with a great pedigree, as both a player and a coach. It shows in the way he goes about things. He is the kind of coach who, if he likes what he sees of you in training, will give you a chance. It gives everyone in the team – junior or senior – a lot of confidence."
When Bengaluru FC were in I-League they had some great matches against Mohun Bagan and East Bengal. Mohun Bagan won the I-League in 2015 after getting an injury-time equaliser against the Bangalore team. "Yes, our rivalry – albeit short – was one of the fiercest with these two clubs. The games were always high-tempo on the pitch and electric in the stands."
The winners of ISL V, Bengaluru FC's cabinet is trophy-laden. Chhetri says the reason behind the success is professionalism.
"Right from the coaching staff, the office staff, the arrangements for the players, the diet, and the travel – everything is given attention to. Everyone walks into the club wanting to succeed. When you walk into the club office, you're greeted with a bag full of trophies. That reminds all of us of the reasons why we have achieved this success."
When asked about his father-in-law Subrata Bhattacharya, who is a legend himself, Chhetri said: "It's fantastic to have a father-in-law who understands why you react, how you react after a game! Yes, he is a legend in his own right and I have nothing but respect for what he's done and achieved. However, we try hard to keep our conversations away from football."