World Cup: Croatia face dance of the dribblers
Goal is the most important moment in soccer, not only for those who score them, but for the entire country, says Vinícius Júnior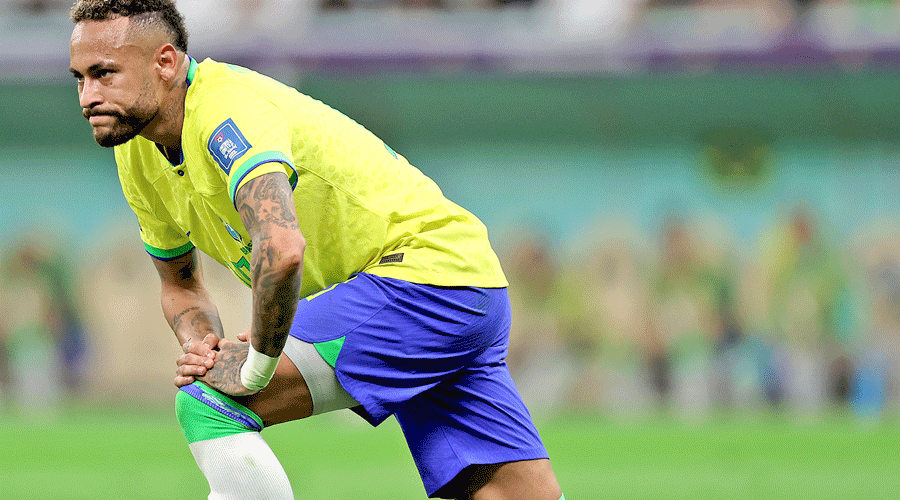 ---
Doha
|
Published 09.12.22, 03:58 AM
|
---
The debate ahead of the Brazil-Croatia quarter-final match at the Education City Stadium is less about tactics and more about whether the South American team, who are playing the game as if they are sketching dreams on the green fields of Qatar, will again celebrate their goal, or goals, with the dance that caught the eye of the world during their Round-of-16 win over South Korea. 
It is as if it's a given that Brazil will be scoring goals and Croatia will be defending. Such is the general perception among the fans, including most of the neutral ones, that it would be an effort in futility trying to establish who will be the favourites for Friday's late game.
Of course, Croatia, with their coach Zlatko Dalic reminding the world every now and then how ambitious a footballing nation they are, will have to turn a deaf ear to all the praises that the Brazilian artists have been getting for their terrifyingly beautiful game. 
Some have criticised Brazil's dancing celebrations, but Tite's team has dodged past all those, just like their forwards do to rival defenders.
"It's (dancing) part of the Brazilian culture," Brazil coach Tite said on Thursday. "It's not about disrespecting our opponents. It's just who we are."
Vinícius Júnior, while echoing Tite, also let the world know of their ambition. "The goal is the most important moment in soccer, not only for those who score them but for the entire country... We still have many celebrations left, and, hopefully, we can keep scoring and dancing like this until the final."
Are the Croatians listening? Maybe, maybe not. They would rather listen to Luka Modric, who knows a thing or two about the Brazilians. The veteran Croat plays withVinícius, Rodrygo and ÉderMilitão at Real Madrid, which also had Casemiro in the squad until recently.  
"He (Vinicius) has made progress since joining RealMadrid and has been showing that at the World Cup. We have a difficult task to try to stop him. If I can give my teammates a tip or two on how to neutralise him and on how to make his job more difficult, of course I'll do it," Modric said.
Problem is, Brazil is not just about Vinicius Junior. What about Neymar, who has been the conductor of the Brazilian orchestra? The PSG player is set to start again after returning to the line-up against South Korea following a right ankle injury sustained in the opening win against Serbia.
Danilo, who also had been nursing an ankle injury, is expected to start as well, but left-back Alex Sandro, who was returning from a hip injury, isn't likely to be in the mix against Croatia.
The world expects Brazil to have another waltz on Friday, despite Croatia promising to be more dogged in defence than any of the team the Neymars have faced so far.
Written with AP/PTI inputs Brazil VS Croatia
HEAD TO HEAD ⚫ Mts 4 ⚫ Croatia 0 ⚫ Brazil 3 ⚫ Drawn 1
Talking tacticsCroatia: Fight, fight, fight and don't concede goals. Zlatko Dalic's brave men have had a simple mantra in this World Cup. Their dogged defence, which has let in only two goals in the tournament so far, will face their ultimate test against Brazil's explosive attackers. Josko Gvardiol's youthful energy will hopefully help the Croatians tackle Brazil's flair to some extent. The rest is pretty simple for Croatia — Luka Modric, the grandad of many a big battle, will have to play out of his skin, Ivan Perisic and Andrej Kramric will have to put on their scoring shoes because they lack goalscorers and if it comes to a shootout, Dominik Livakovic will once again have to play the Superman. Brazil: Tite's strategy to spread the opposition defence and allow Vinicius Junior and Raphinha to storm the rival box from both sides has worked very well so far. With the wide players hovering around the touchline and Richarlison making those darting runs inside the box, Brazil have looked terrifying in Qatar. And playing as the mastermind and distractor in the four-pronged attack, Neymar looks to be a constant headache for defenders of all shapes and sizes. If that was not enough, Casemiro and Paqueta's smooth transition from the midfield to attack make Brazil look unstoppable at times. However, with a defence not tested seriously so far, Brazil will have to be alert against a Croatia team who don't lack in class.
Short passes
⚫ Brazil have reached the World Cup semis only once since 2002, when they were the champions.
⚫ Neymar has been involved in 15 goals in his last 11 appearances for Brazil in all competitions (8 goals, 7 assists).
⚫ Seven of Croatia's last eight knockout stage games at major tournaments have gone to extra time.