Cristiano Ronaldo vs Lionel Messi
Mirror, mirror on the wall, who's the greatest of them all? MESSI or RONALDO? a t2FACE-OFF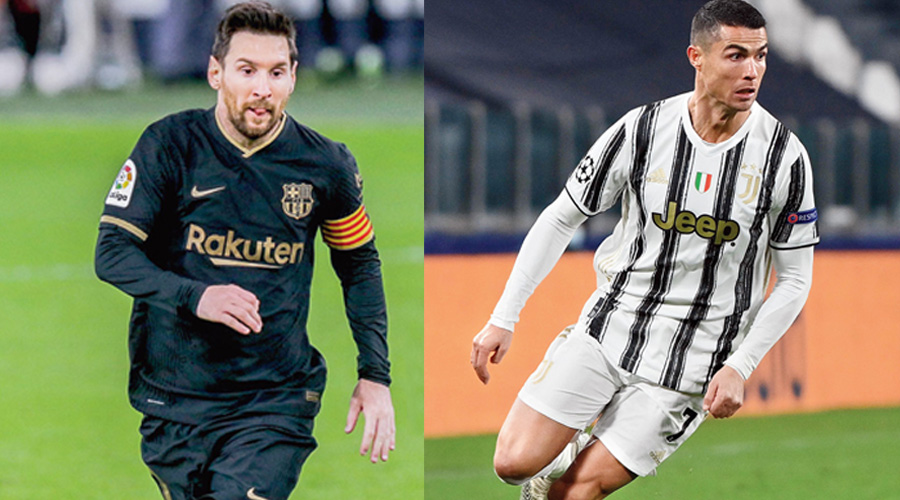 ---
|
Calcutta
|
Published 08.12.20, 12:14 AM
---
As the two greatest footballers of their generation do battle for the first time in 31 months with Barcelona hosting Juventus in the UEFA Champions League, t2 revisits the most memorable moments from this epic rivalry.
MAY 27, 2009: MESSI DETHRONES RONALDO IN ROME
Having squared off for the first time in the semi-finals of the 2007-08 Champions League (when neither scored but Ronaldo's Manchester United prevailed), Messi and Ronaldo were pitted against one another in the 2009 Champions League final, as the former's Barcelona and the latter's Manchester United locked horns at the magnificent Stadio Olimpico in Rome. Ronaldo, the reigning Ballon d'Or, started his last game for the English champions strongly, and even came close to breaking the deadlock, before a goal against the run of play from Barca's Samuel Eto'o turned the tide of the match. A frustrated Ronaldo could only watch from afar as Messi doubled Barcelona's lead midway through the second half with an unforgettable header. Towering over Rio Ferdinand, Messi ascended into the Roman skies before meeting Xavi Hernandez's pass with such precision that it zoomed across a hapless Edwin van der Sar in the United goal. It was mission accomplished for Messi, who went on to win his first Ballon d'Or later in the year, officially unseating Ronaldo as the best player in the world. Days after the match, Ronaldo left Manchester to become the most expensive player on the planet at the home of Messi and Barcleona's fiercest rivals, Spanish giants Real Madrid.
APRIL 20, 2011: COPA DEL RONALDO
In a series of compelling Clasicos, Messi and Ronaldo went toe-to-toe four times in the space of 17 days across all competitions in the spring of 2011. The run of eagerly anticipated showdowns started with Barcelona and Real Madrid drawing 1-1 in a sedate La Liga encounter. But matters heated up at the next meeting, the Copa Del Rey final at Estadio Mestalla in Valencia. As Jose Mourinho's Real tried to suffocate Barcelona's effusive football, Messi carved out a mazy dribble to set up teammate Pedro for what appeared to be the match winner, before the linesman's offside flag intervened. Still in the midst of dead heat, the game went into extra time, crying out for a hero to step up and seize the moment. Ronaldo answered the clarion call on 103 minutes with a bullet header that gave Barcelona's second choice goalkeeper, Jose Manuel Pinto, no chance. Ronaldo's first goal from open play against Barcelona proved to be the difference on the night, as Real scooped the trophy and went on a rampage of celebrations, which ended with Sergio Ramos dropping the cup while on an open-air bus parade!
APRIL 21, 2012: RONALDO SILENCES THE CAMP NOU
League leaders Real Madrid entered the Camp Nou knowing that victory would deny their hosts, Barcelona, the chance to win a fourth successive La Liga championship. After Real opened the scoring somewhat fortuitously through Sami Khedira, Barcelona huffed and puffed their way to an equaliser, provided by Alexis Sanchez. With the game on a knife-edge, Messi cut a forlorn figure, unable to weave his way through a well-drilled Real unit. At the other end, following a decisive turn-over in play, Ronaldo put on his afterburners as he sprinted to collect a delectable through-ball from Mesut Ozil, with the game approaching its final quarter. After a soft-as-a-feather first touch, the Real number seven effortlessly skipped past the onrushing Victor Valdes and slid the ball dexterously into the Barca goal. Real were 2-1 up, virtually unassailable in La Liga. As Ronaldo wheeled away in ecstasy, he gestured to the irate Blaugrana fans to calm down, in an iconic display of braggadocio that made the visitors' star player a symbol of scorn for thousands of heartbroken Cules.
OCTOBER 7, 2012: A SUBLIME STALEMATE
Perhaps no other match summed up the otherworldly abilities of two athletes at their peak better than the first La Liga Clasico of the 2012/13 season. Barcelona were at home for this game, having made a superb start to their league campaign. Real Madrid were not on a vintage run of form but still very much capable of pulling out all the stops for the biggest game of the year. And it was Real that drew first blood, with Ronaldo firing in a glorious left-footed shot to open the scoring on 23 minutes. Messi emerged with a prompt reply some eight minutes later, acting on his poacher's instincts to benefit from sloppy Real defending. The Argentine then turned on the style with a sumptuous free kick in the second half to put Barcelona in the lead and in command. But Ronaldo still had to have his final word, and came up trumps with a vital equaliser (again from a Mesut Ozil pass) to lock the game at 2-2. Apart from an exhilarating face-off that only had two names on the scoresheet, the most poignant scene from the match came when Ronaldo, struggling with a bruised shoulder, was checked on by Messi, reminding one and all that even in the full-throttle intensity of the competition, neither player had relinquished their immense respect for the other.
APRIL 23, 2017: MESSI MANIA AT THE BERNABEU
In a topsy-turvy affair, it was Real Madrid who took the lead, before Messi, with a bloodied nose and clutching a piece of dressing in his mouth, jinked through the Real defence to restore parity. In the second half, Ivan Rakitic gave Barcelona the advantage with a sensational strike before substitute James Rodriguez pegged matters back with an exquisite finish. With stoppage time underway, it seemed as if Barcelona would have to be content with a draw, but Luis Enrique's resilient outfit had one last gasp, one final attack to conjure. Breaking from the back with breathtaking speed, Sergi Roberto set Barca on a rapid counter-attack before finding Andre Gomes, who wisely spotted Jordi Alba on the overlap and fed the left-back. When Alba executed a trademark cut-back into the penalty area, a dooming sense of inevitability gripped the Bernabeu, for waiting on the edge of the box to meet Alba's assist was the scourge of Los Blancos, Lionel Messi. Barca's number 10 unleashed a perfect side-footed finish to find the back of the net and steal all three points for his team, before marking the 500th goal of his career by taking off his shirt and hoisting it with a bowed head in front of the entire stadium. As a furious Ronaldo brought out the histrionics, Messi immortalised his goal with the most spine-chilling of celebrations, a testament to the whirlpool of emotions two individuals can create for themselves and a planet full of lesser mortals.
THE NUMBERS' GAME HEAD TO HEAD:
Total games played: 35
Wins for Messi: 16
Wins for Ronaldo: 10
Draws: 9
Goals for Messi: 22
Goals for Ronaldo: 19
Messi and Ronaldo have not faced each other since Barcelona and Real Madrid drew 2-2 in a La Liga fixture back in May 2018.
It took Ronaldo seven games to bag his first goal against a side featuring Messi, when the Portuguese scored for his nation in a 2-1 defeat to Argentina in February 2011.
Between January and October 2012, Ronaldo netted in six consecutive games for Real Madrid against Messi's Barcelona. Messi's longest scoring streak against Ronaldo's teams is three, which also came in 2012.
Only once has either Messi or Ronaldo scored a hat-trick against the other, with the special occasion arriving in March 2014 as Messi registered a treble at the Santiago Bernabeu.
UEFA CHAMPIONS LEAGUE ALL-TIME STATS:
Cristiano Ronaldo: Games: 173, goals: 132, hat-tricks: 8, titles: 5
Lionel Messi: Games: 146, goals: 118, hat-tricks: 8, titles: 4