Flop to Klopp, resurgence of Liverpool
'My message is: it's for you out there ... I hope you feel it'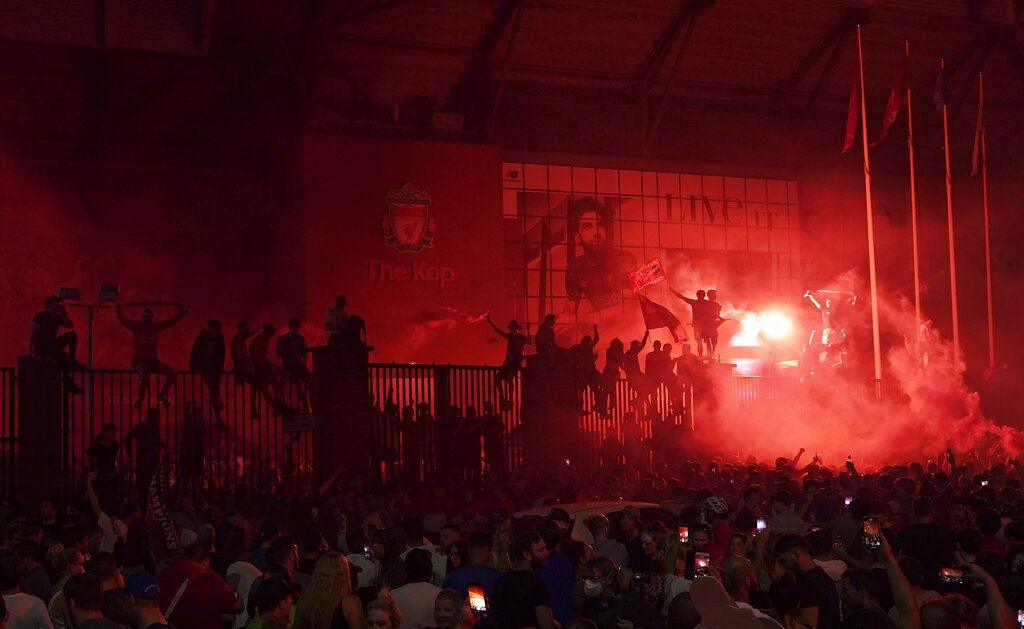 Supporters celebrate at Anfield Stadium after Liverpool clinched the English Premier League title.
(AP)
---
London
|
Published 27.06.20, 02:14 AM
|
---
Liverpool's Premier League triumph will forever be associated with the charisma, drive and passion of their manager Juergen Klopp yet those individual qualities belie a style of management that shuns autocratic control.
"My message is: it's for you out there ... I hope you feel it," Klopp told the fans on Liverpool's website hours after the title win.
"It's for so many people. Kenny Dalglish and Graeme Souness spoke to me ... they were very positive. That's nice but it's thanks to them because this club is built on what they did.
"It's built ... on (Bill) Shankly, (Bob) Paisley and (Joe) Fagan and all the others, but on these players... Steven Gerrard — this club's built on, in the last 20 years, on Stevie's legs. He had to carry all the pressure. He did that exceptionally.
"The boys love being part of this club, they love being part of the story of this club and the history. It's so nice how we learned how to deal with the history, how we learned to use the history in the last two years."
Klopp, 52, took over a club without a league title since 1990 and still shaken by the way they allowed what would have been a maiden Premier League crown slip out of their hands under Brendan Rodgers in 2014.
The German's instant impact was to inject much-needed confidence, belief and enthusiasm into the club.
Klopp's back-slapping, laughter and positive thinking won over the fans, behind the scenes he was putting in place an approach that went way beyond soundbites about "heavy metal football", a phrase he coined at previous club Borussia Dortmund.
It was a combination of a traditionally English focus on the manager as leader and frontman with German coaching's attention to detail and allied with a management style more akin to the ultra-specialised world of American football.
He made clear that he was not going to micro-manage every aspect of the club. When an official asked him what time he wanted the bus to leave with the team before a game, his response was: "Why are you asking me?"
Previous managers may have always decided such matters but Klopp was saying two things with that response:
First, he had bigger things to worry about but, more important, other people better knew the answer to that question.
As captain Jordan Henderson said: "From day one he (Klopp) came in the door and just changed everything and everybody followed him and so far it has been pretty special and it has been an amazing journey.
"Obviously he as got more of a personal side with the players, but he has got a balance of having a relationship with the players and being a friend but also being a bit ruthless when he needs to be. He is a great leader and a great human being and we all believe in him."
Very true.
Klopp is both — friend and drill sergeant. It is a winning combination.