Fifa urges 'football great' Maradona to be respectful
Diego Maradona may be a giant of the game's history, soccer's governing body Fifa said on Friday, but even he must show respect to other fans at World Cup stadiums.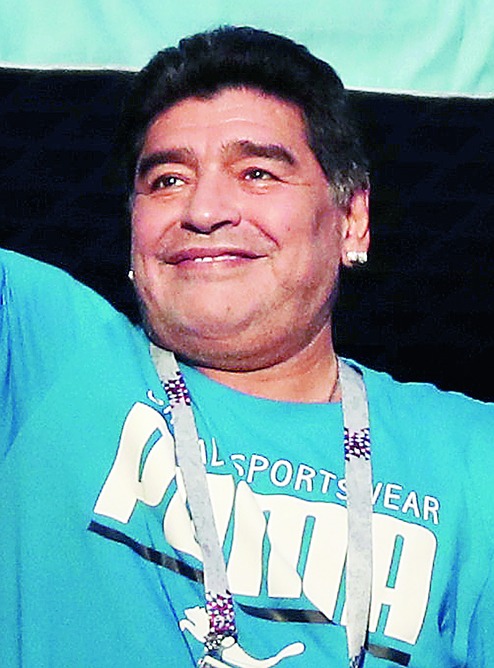 ---
Moscow
|
Published 30.06.18, 12:00 AM
|
---
Moscow: Diego Maradona may be a giant of the game's history, soccer's governing body Fifa said on Friday, but even he must show respect to other fans at World Cup stadiums.
Asked about complaints that the 57-year-old had made an obscene gesture at other spectators after Argentina snatched a late win on Wednesday, Fifa's World Cup chief executive Colin Smith told reporters that the former Argentine player was a valued part of its Legends programme to promote the game.
"The players who helped write the history of football have a part to play," Smith said. "Diego Maradona, obviously one of the greatest footballers who ever lived, is a part of that."
But, saying Fifa was aware of incidents such as that during Argentina's vital group game against Nigeria in St Petersburg, he added: "We would expect all players, former players, staff, fans, everyone to behave in a respectful manner."
During the game, Maradona drew attention with his antics in the stands, lapping up adulation from fans, unveiling a poster of himself and seemingly falling asleep at one point. Then, after Marcos Rojo's 86th-minute winner secured Argentina's place in the last 16, he made a middle-finger gesture with both hands.
"From the hands of God, to the fingers of shame", read one headline in Latin America, referring to Maradona's "Hand of God" goal against England at the 1986 World Cup.
The Argentine is no stranger to controversy, having once shot at journalists with an air rifle, and he has battled cocaine and alcohol addictions.
As well as providing a colourful presence in the stands during Argentina's games, Maradona has been fronting a television programme on the Telesur network at the World Cup alongside legendary Uruguayan commentator Victor Hugo Morales.
He has used the platform to voice strong criticisms of his national team, who were on the verge of elimination following a draw against Iceland and defeat to Croatia before sealing their place in the last 16.
Of Sampaoli Maradona has said: "His game plan was a disgrace. I don't blame the players. I blame a lack of preparation because there obviously hasn't been any. If he carries on like this, Sampaoli can't come back to Argentina."
Lionel Messi, however, has won the backing of his predecessor at No. 10. "To Leo, I would like to talk to you and tell you that you are not guilty of anything, of absolutely nothing," he said. "I love you as always, I respect you as always."
Maradona had issued a bounty worth $10,800 to find the journalist responsible for reporting fake news regarding his death.
Two Spanish-language audio clips claimed Maradona had suffered a heart attack and died. An ESPN Deportes Radio journalist tweeted that Maradona was hospitalised - something the 1986 World Cup winner vehemently denied in an Instagram post, where he said he was "fine" while aboard a private jet. He had apparently just had neck pain and one too many glasses of white wine.
But the fake news did not stop there - and the audio clips appeared to claim that Maradona was dead.
Now, Maradona's lawyer is trying to track down those responsible. "I have made public the decision to give a reward of 300,000 pesos for anyone who can provide accurate information on the person who put the audio together," the lawyer said. Agencies