Dominic Thiem comes back from two sets down to beat Alexander Zverev and win the US Open
A four-hour marathon ensured both had equal opportunities to win but the Austrian held on to his nerves in the 5th set tie-breaker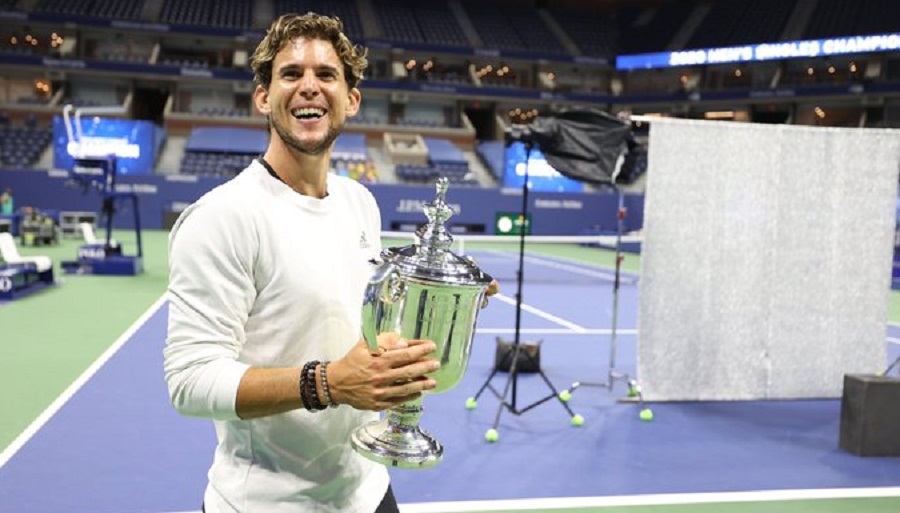 ---
|
New York
|
Published 14.09.20, 10:12 AM
---
In a wild comeback that seemed improbable and predictable, Dominic Thiem battled from two sets down to win the United States Open on Sunday night over Alexander Zverev, 2-6, 4-6, 6-4, 6-3, 7-6 (6).
Thiem edged Zverev in a fifth-set tiebreaker that capped a four-hour marathon that included golden opportunities for Zverev to win and left both men battling cramps in the final moments.
Thiem, a 27-year-old Austrian, won his first Grand Slam tournament in his fourth major final. A critical factor was that this time neither Roger Federer, Rafael Nadal nor Novak Djokovic stood on the other side of the net.
The game's ultimate pressure cooker, a fifth set tiebreaker, was a microcosm of the match itself. Zverev took an early lead, Thiem battled back to take control, then Zverev fought off two match points to knot it at 6-6. But Thiem slammed one last searing forehand winner and Zverev sent one last backhand wide to give Thiem the championship.
Thiem collapsed when it was over. Minutes later, Zverev broke into tears during the trophy ceremony as he thanked his parents. "It's just tough you know," he said. "I wish one day that I can bring the trophy home."
"We both deserved it," Thiem said.
Because of the pandemic, the U.S. Open went from a raucous celebration of the game to a quirky display of tennis purity, played without ticket-buying spectators in cavernous empty stadiums. Without crowds creating the usual ambient rumble, matches played out amid the rattle of Long Island Rail Road trains roaring past the stadium and the beep-beep-beep of trucks going in reverse in the parking lot.
Thiem, who had cruised through the tournament with frightening precision, struggled to find his rhythm at the start of the match, missing long and wide on shots that had pasted the lines for nearly two weeks.
And then everything began to go sideways for Zverev.
Zverev's game began to show cracks late in the second set, when he served for the set and missed an easy volley and then double faulted. He took the set on his next service game, but the faltering reminded Thiem (if he indeed needed reminding) that Zverev had never closed one of these Grand Slam finals before. In fact, he had not played one.
Early in the third set, Zverev missed another easy volley on a break point and Thiem had his lifeline. Swinging with the freedom of someone with his back against the wall and nothing to lose, he began finding his targets and forcing Zverev to win points on his own.
Eight games later, Zverev double faulted at deuce and sent a soft forehand into the middle of the net that allowed Thiem to serve for the fourth set.
Quickly, it was tied up. But just when it looked like Thiem was going to run away and hide, breaking Zverev in the first game of the fifth set, he struggled with prosperity, as Zverev battled then seemingly broke away, giving himself a chance to serve for the match at 5-3. The fun of course was just starting. Capitalizing on Zverev's twitchy serve and tentative play from the baseline, Thiem knotted the match at 5-5.
What ensued was that mix of grace and tension, of power and nerves that few other sports provide. The only question remaining was who would crack last.
With a soft ball floating around his eyes along the left sideline, Zverev did what all modern players do, running around his backhand and aiming a big forehand straight down that line. Once more, he fumbled the chance, sending the ball far beyond the baseline.
Now it was Thiem's chance to finish it off, serving at 6-5. He did not handle prosperity all that well either, dropping the first two points and giving Zverev two chances to force a tiebreaker. He needed both, and on the second one he ripped a forehand winner to send this match to its fitting end.