Deepak Chahar's leap of faith for berth
Venkatesh Prasad recalls how Greg Chappell rejected Chahar for his height and asked him to look for another occupation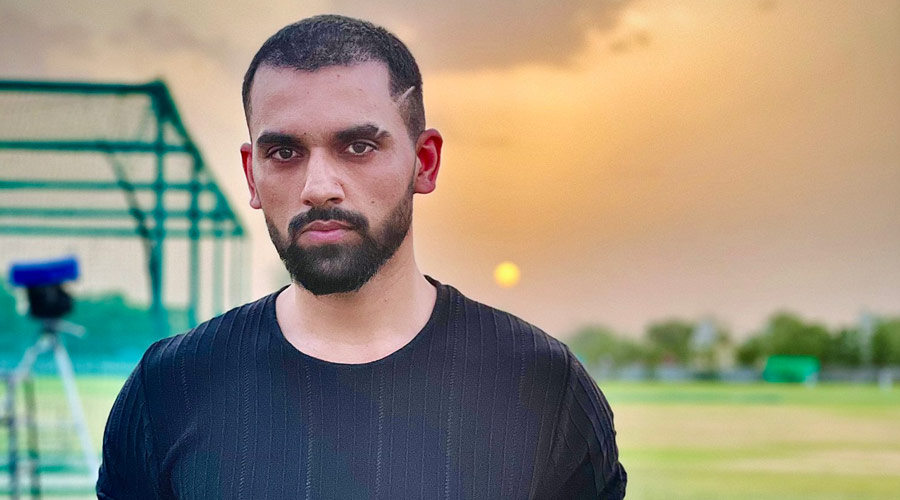 ---
|
Calcutta
|
Published 22.07.21, 03:32 AM
---
Greg Chappell, during his stint as an adviser at the Rajasthan Cricket Association academy in Jaipur (from late 2007 till January 2009), had "rejected" Deepak Chahar for his height and asked him to look for another occupation. This was revealed by former India pacer Venkatesh Prasad on his Twitter handle.
The RCA though hadn't paid much heed to Chappell's views. It showed faith in Chahar, who then a teenager, finished with staggering figures of 8/10 on his first-class debut, a Ranji Trophy Plate group game versus Hyderabad in November 2010.
At present, more than a decade since that superb piece of bowling, Chahar has certainly made a fair attempt to make a place for himself in the Indian team. And his unbeaten 69 in Tuesday's second ODI in the ongoing tour of Sri Lanka, underlines that he's well on his way to do so.
Deepak Chahar Was rejected by Greg Chappell at RCA for his height and told to look at a different occupation.
And he single handedly won a match with not even his primary skills.
Moral of the story- Believe in yourself and don't take overseas coaches too seriously. pic.twitter.com/cByzg9uorj

— Venkatesh Prasad (@venkateshprasad) July 21, 2021
Chahar's effort with the bat obviously hogs the limelight as he got those runs when India were in danger of losing the game. But what also stands out is the four wickets he has taken from these two ODIs on a Premadasa track that had a little bit of assist only for the spinners.
Bowling at the death or with the old ball has been an issue for him, but in this ODI series against the Sri Lankans, all his four wickets came when the ball had lost its shine. If Chahar can keep getting it right with the old ball, he could be a perfect back-up for the likes of Bhuvneshwar Kumar and Jasprit Bumrah in limited-overs matches, believes former national selector Devang Gandhi.
Devang also pointed out that bowling is Chahar's primary skill. "Death bowling has been his concern, but he's looking to address it.
"Focus should be on the primary skill, which is Deepak's bowling. Now if he can keep batting well, it will of course be a boost to India's lower order," Devang told The Telegraph on Wednesday.
"However, in T20Is, Deepak will be my first choice, especially when compared to someone like Shardul Thakur, because he can swing the ball," Devang added.
Importantly, when he registered the best T20I bowling figures of 6/7 versus Bangladesh in late 2019 (including a hat-trick), four of his scalps came when the ball had lost its shine. Besides, he had achieved that feat on a flat deck in Nagpur.
Lakshmipathy Balaji, bowling coach of Chennai Super Kings — Chahar's current IPL team — pointed to the latter's eagerness to work on his variations, the knuckle ball and the slower delivery being among those which he has used to good effect so far in Sri Lanka.
"There's always a question when a pacer is a little short on pace, which requires him to add to his variations. But Deepak has had a good amount of learning over the years and is slowly developing into a good old-ball bowler.
"We, at CSK, create situations for him to allow him to express himself because his model is not about pace. It's all about new-ball skill-set for attacking and old-ball skill-set for defending along with essential variations for wicket-taking opportunities.
"He's also trying to bring the (aspect of) skiddy bowling into his armoury," Balaji, also a former India quick, explained.
'Serious' with the bat
Former India all-rounder Hrishikesh Kanitkar, also Chahar's first captain at the first-class level, isn't at all surprised to see him bat so well in a tough situation. "He used to bowl so well throughout that nobody really paid much attention to his batting.
"I'm not surprised because right from the beginning, I've seen him bat well and with seriousness.
"His ability was always there, but he used his mind very well in Tuesday's game, which was very important, and played a mature innings," Kanitkar said.
The call to send Chahar ahead at No. 8 though was taken by head coach Rahul Dravid.
"Look, Deepak has played under Rahul Dravid's coaching before in India A and scored runs there too. He (Dravid) knew that Deepak can bat and hit a few balls, so that was his (Dravid's) call," vice-captain Bhuvneshwar Kumar said during a virtual media interaction.
"If he continues this way, of course, India will have another all-rounder," Bhuvneshwar added.