Virat Kohli open to a break in 'happiest phase'
'I was disappointed that I haven't done much for my team and that is what bothers me'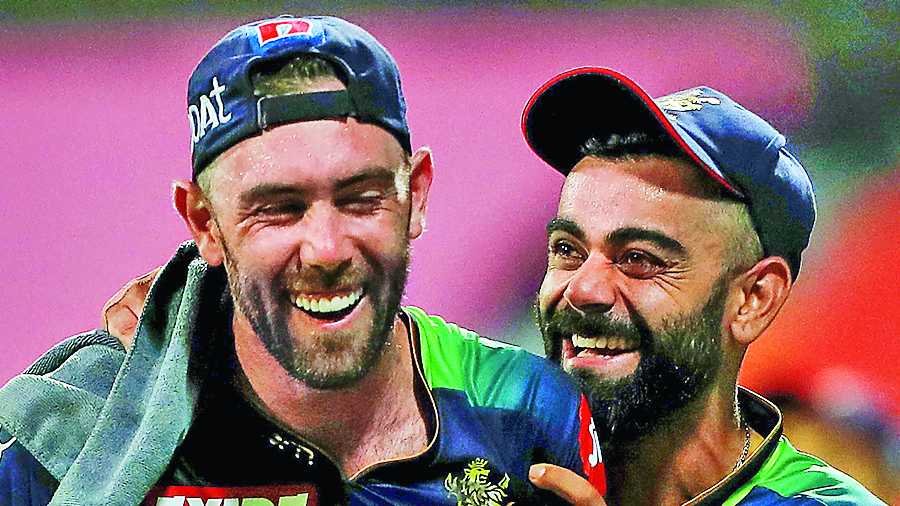 Virat Kohli with Glenn Maxwell
File Photo
---
Published 20.05.22, 01:06 AM
|
---
Virat Kohli is open to the idea of taking a break from cricket to "rejuvenate" himself mentally following the lean patch he has been going through. 
In an interview to Star Sports, the former India captain also said that he was going through the "happiest phase" of his life and was "batting well" despite struggling for consistent starts across formats. 
Kohli, 33, last scored a century in any format in November 2019 and currently averages 21.45 in the ongoing IPL, his lowest in the tournament since 2008, when he averaged 15. 
The 33-year-old said he had heard Ravi Shastri saying on air that Kohli was "overcooked" and advised him to go on a break. Kohli agreed that a break was a "healthy" option for him. He said he would "definitely discuss" it with the Indian team management, including head coach Rahul Dravid.

Winning the Asia Cup and T20 World Cup were his two main goals for 2022, Kohli said.
"It's not a lot of people who mentioned it (taking a break)," Kohli said. "There is one person precisely who has mentioned it which is Ravi bhai and that's because he has seen from close quarters over the last six-seven years the reality of the situation that I have been in. 
"It is definitely a thing that one needs to consider because you don't want to do something which you are not a part of 100 per cent and I have always believed in that in my life. So to take a break and when to take a break is obviously something that I need to take a call on, but it is only a healthy decision for anyone to take some time off and just rejuvenate yourself mentally and physically."
Kohli also stressed that he will not be bogged down by his performance on the field because he has started to value his "well-being" more.
"My experiences are sacred to me — whatever I have experienced in this phase or in the past as well. One thing that I can vouch for is that I have never valued myself more as a person.
Because I'm experiencing now that there is a big sense of identity that is created by the world for you, which is far more different, so far away from the reality of you as a human being. 
"So I am experiencing now that I value myself and I care for my own well-being way more than I would have in the past. And actually, contrary to a lot of belief or a lot of perceptions as I mentioned on the outside, I'm actually in the happiest phase of my life."