Take a break, return and take fresh guard: Sachin Tendulkar
'I had a strong support team and that helped me a lot. There was pressure no doubt and everyday didn't go according to plan'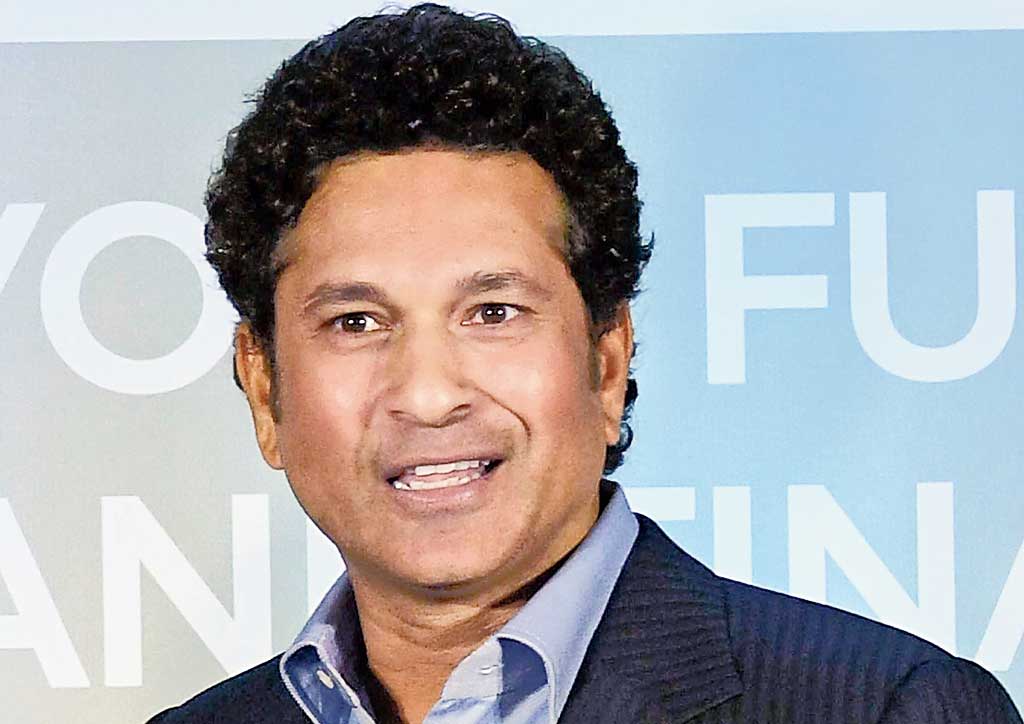 ---
|
Calcutta
|
Published 14.11.19, 08:25 PM
---
A day after Virat Kohli came out in support of Glenn Maxwell following the Australian all-rounder's forced break from the game over mental-health related issues, Sachin Tendulkar has said that such decisions need to be "respected".
Depression and mental health issues in sport are considered a taboo and haven't been openly discussed in the context of Indian sport. The sense of insecurity also often prevents a player from admitting such illness.
"Mental health is an issue that we don't take much note of. It is neglected because we can't see it physically. There are no bandages, no torn hamstring, no stitches, no swelling, no injuries," Sachin told The Telegraph on Thursday.
"To do anything we need to be physically and mentally fit. If one is missing, the other can't function alone. At times players feel drained, take a break and come back as a new person. That helps.
"Maxwell has been extremely brave to openly admit it. People should respect that. We sometimes try to cover it up. That is when it affects the person the most," the former India captain said during a freewheeling chat with the paper.
But did he face a similar situation during his playing days? "Luckily, I had a strong support team and that helped me a lot," he said.
"There was pressure no doubt and everyday didn't go according to plan. So many things could have gone wrong. Personally, I may have done well but the others may not have fared well. That has an impact in a team game like cricket.
"Sometimes umpiring decisions may go against you and during my playing days, there were no referrals for bad decisions. There were a number of times when such situations have affected me though I may not have shown it on the field. Having to pay for a third person's mistake when the country's pride is involved is not an easy task to deal with," Sachin explained.
Earlier this year, England's Sarah Taylor, one of the biggest stars in women's cricket, retired at 30 after struggles with long-term anxiety. Australians Nic Maddinson and Will Pucovski have joined Maxwell in opting out of the game over mental health issues.
On the eve of the Indore Test, Kohli spoke of a similar situation during the England tour of 2014. "I didn't know what to do, what to say to anyone, and how to speak and how to communicate. And to be honest, I couldn't have said I'm not feeling great mentally. Because you never know how that's taken," Kohli said on Wednesday.
He had failed miserably scoring 134 runs in 10 Test innings on that tour.
Sachin also sounded despondent at the lack of quality Test teams after Bangladesh were bundled out for 150 on the opening day of the Test. The Master felt that the "standard of Test cricket has gone down" considerably as there are hardly any on-field rivalries.
"The standard of Test cricket has gone down quite a bit and there are lesser rivalries. Remember, rivalries from different generations kept Test cricket alive. If you take it from the day it started there was the Don Bradman vs Harold Larwood battle which made cricket exciting. There was also Sunil Gavaskar's tussles with the West Indies pace battery.
"Be it Brian Lara or Steve Waugh, they too had their famous rivalries with Glenn McGrath and Curtly Ambrose, respectively. I remember, in 1998 when Australia came here, it was billed as the Sachin vs Warne contest. Those things have to exist to take Test cricket to the next level. The quality has definitely gone down, we need to look at it."