India did not let their spectacular success against Pakistan in their last match make them complacent in any way and played a near-perfect game to outclass The Netherlands by 56 runs in their second appearance of this T20 World Cup at the Sydney Cricket Ground on Thursday.
An easy win for the Rohit Sharma-led side was certainly expected given the massive qualitative difference between the two teams. The batsmen and the bowlers got their basics right, committed as few errors as possible and kept the rivals on a leash right through to register a comfortable victory that took India to the top of Group 2.
After India won the toss and opted to bat, the back-inform Virat Kohli hit his second straight half-century (62 not out off 44 balls), remaining unbeaten together with Suryakumar Yadav (51 not out 25 balls). The duo's unbroken 95-run third-wicket stand propelled India to a respectable 179 for 2.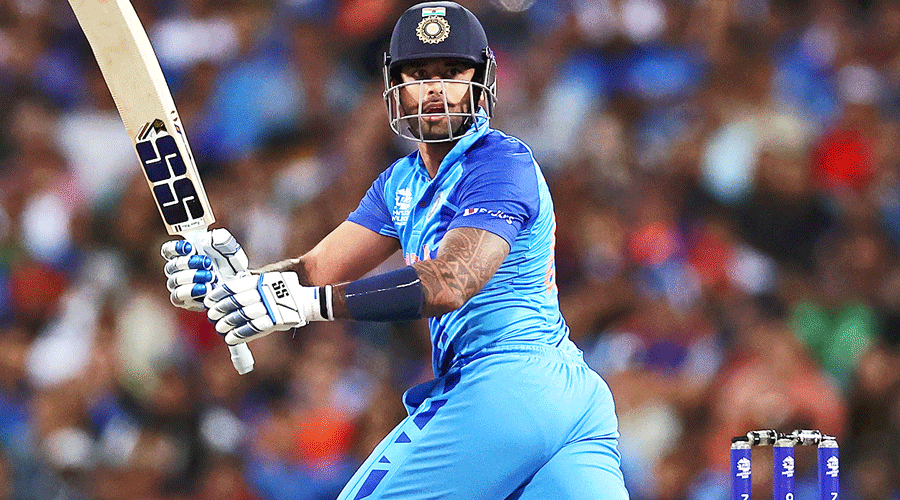 Man of the Match Suryakumar Yadav during his 25-ball 51 not out against The Netherlands in India's T20 World Cup match at the Sydney Cricket Ground on Thursday. Getty Images
India were scoring at seven an over, having reached 84 for 2 after 12 overs when Suryakumar arrived at the crease. As he does most of the time, Suryakumar took no time to bring his 360-degree game into play. With Kohli too having upped his strike rate by then, both batters gave the much-required lift to India's scoring rate in those last eight overs of the innings.
What should be of more relief to the Indian camp is their captain finally getting a 50-plus score after a somewhat lean patch. Rohit's 39-ball 53, comprising four boundaries and three maximums, should make him feel much better and warm him up for something bigger in the matches ahead.
India have had to adjust with their ultra-aggressive approach with the bat so far in this World Cup. Against Pakistan in Melbourne as well as in Sydney against the Dutchmen, their run rate after the Powerplay has been short of six runs per over. KL Rahul's inability to get a double-digit score once again is one of the reasons for the slow start.
With the ball, barring Hardik Pandya, who bowled just one over, all the other bowlers picked up a wicket or two, limiting The Netherlands to 123 for 9.
Talking points
Surya factor
The Netherlands might not be the toughest challenge, but Suryakumar Yadav finding his shots on Thursday at the SCG is good news for India going forward. He was out cheaply against Pakistan, but this time, "SKY" was in his elements, playing his natural, aggressive game.
Seven fours and a six adorned his 51-run knock that came at a strike rate of 204 and took India closer to the 180-mark. It's the thrust that Suryakumar provides to the innings with his batting that is invaluable.
Along with Virat Kohli, Surya would probably play the fulcrum for India's batting in this World Cup. So an in-form Surya is an asset to captain Rohit Sharma and coach Rahul Dravid in their mission Down Under.
Maiden man
Many were apprehensive about how Bhuvneshwar Kumar, despite all his experience, would fare at this World Cup. But so far, Bhuvi has been spot-on in terms of accuracy.
That is crucial for India, as was evident in the game against Pakistan at the Melbourne Cricket Ground on Sunday. On Thursday too, the senior seamer was disciplined at the SCG. He even bowled two maiden overs!