Smith doffs hat to Kohli, king of ODIs
Despite being fierce competitors on the field, the two have often displayed immense respect for each other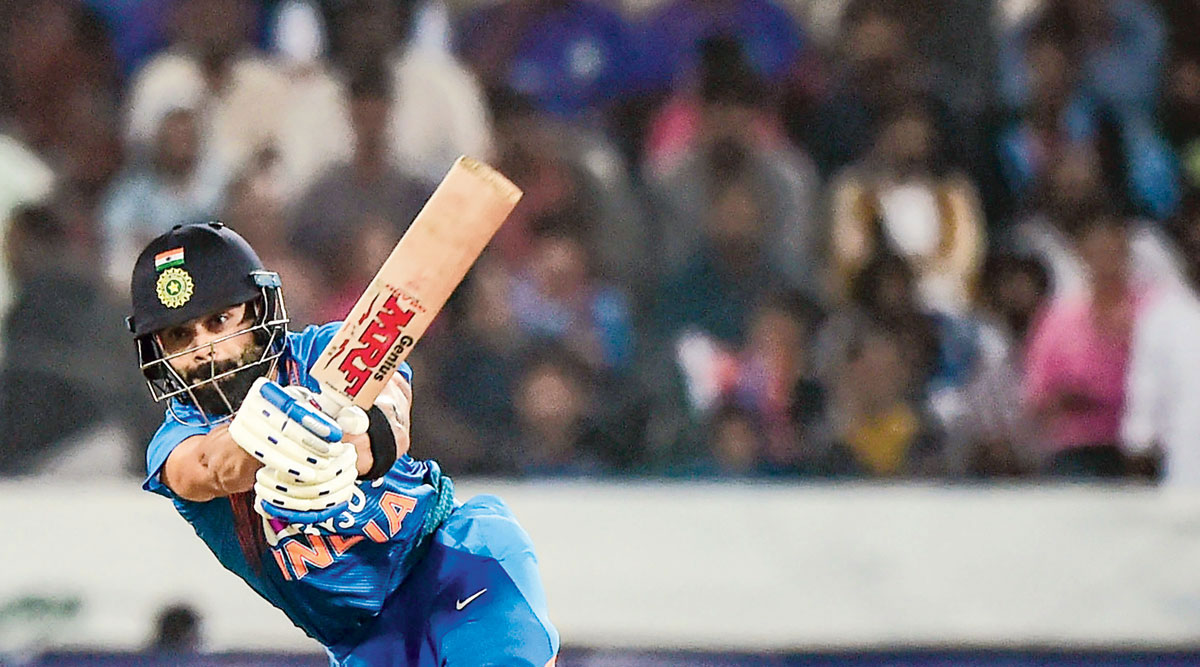 ---
|
Calcutta
|
Published 11.09.20, 03:38 AM
---
Comparing greats in sport is for many a lifelong vocation, there often is no end to it. Like Kylian Mbappe once said when asked to choose between Lionel Messi and Cristiano Ronaldo, "From one year to the next, my choice changes between Cristiano and Messi…"
Similarly, picking the better batsman between Virat Kohli and Steve Smith is a tough job. Both are modern-day greats, game-changers, have superb control over their skills and have a good few years of cricket left in them, which means they should scale even greater heights. Both are 31 years of age.
But when one of them calls the other "the best", then there's little space for argument. So when Smith, during an Instagram session with fans, called Kohli the best ODI batsman in world cricket currently, we know there's enough substance in it.
Smith, who is currently in England for a limited-overs series, hosted an Instagram "Q&A" with his followers as he was "bored on the bus". When a fan asked him who is the best ODI batsman, Smith had no hesitation in answering, "Virat Kohli at the moment".
Despite being fierce competitors on the field, Kohli and Smith have often displayed immense respect for each other. A case in point was Kohli asking the fans not to boo Smith during the India-Australia game at last year's World Cup. And now, Smith picking Kohli as the best is perhaps in the same tune.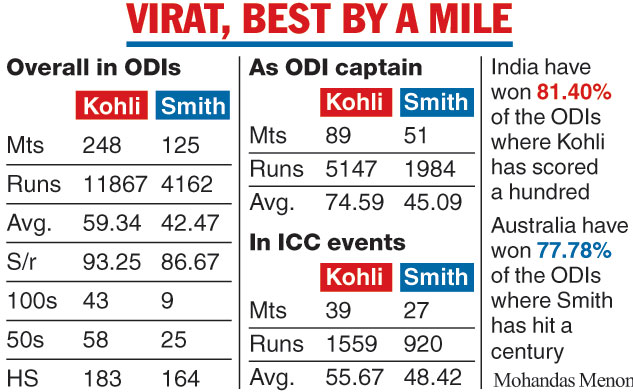 In cricket, more so than other sports, statistics have a significant weightage. Numbers often narrate most of the story and in the India captain's case, one can simply say that statistically, Kohli is the king of ODIs, at least.
With 11,867 runs at an average of 59.34, Kohli is currently the leading scorer in ODIs among all active cricketers.
Kohli already has 43 hundreds in the 50-over format. Another way of looking at it is that he is just six short of Sachin Tendulkar's record tally of 49 ODI centuries. Barring a catastrophe, it's a matter of time before Kohli surpasses his idol.
Smith, on the other hand, has 4,162 runs in ODIs at a more modest average of 42.47, though he has played only about half the number of ODIs that Kohli has featured in.
During the Q&A, Smith also called South Africa great AB de Villiers "a freak" for his unique batting, chose KL Rahul and Sanju Samson as the two players to watch out for and complimented Jos Butter as a "terrific player".
The world will have another chance of relishing Kohli and Smith's batsmanship, and comparing too if one so chooses, when they take the field in the upcoming IPL. Kohli is the Royal Challengers Bangalore captain, while Smith represents the Rajasthan Royals.