Rodney Marsh: Conscience keeper & 'spiritual leader'
The veteran wicket-keeper was on his way to a charity function in Queensland on February 24 when he suffered a massive heart attack that ultimately proved fatal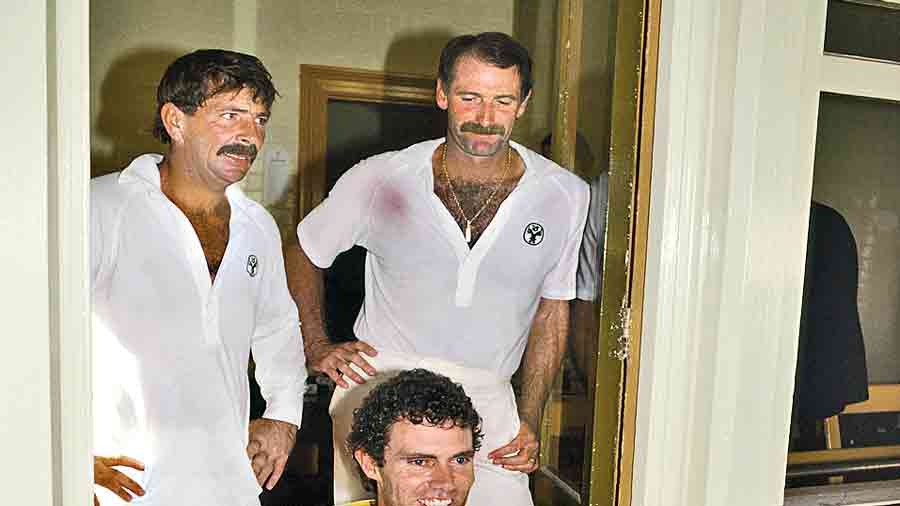 Rodney Marsh and (right) Dennis Lillee during the Sydney Test of 1984, which was their last.
Getty Images
---
Published 05.03.22, 02:16 AM
|
---
Former wicket-keeper Rod Marsh, who has died at the age of 74, was an iconic presence behind the stumps for Australia in Test matches of the 1970s and early 1980s who combined with pace great Dennis Lillee to form one of cricket's most legendary partnerships.
Marsh was on his way to a charity function in Queensland on February 24 when he suffered a massive heart attack that ultimately proved fatal. He was flown to Adelaide where he passed away on Friday. Marsh leaves behind his wife, Ros, and children, Paul, Dan and Jamie.
Marsh was half of a catchphrase that was synonymous with the era of Test cricket: caught Marsh, bowled Lillee appeared on Test scorecards 95 times. The moustachioed Western Australian combination wreaked havoc on opposing batting orders in a golden era for cricket Down Under.
Both finished their careers in 1984 with 355 dismissals, records at the time for a wicketkeeper and for a fast bowler.
Marsh, teak tough and a fierce competitor, also played fair. As the cricketing world looked on in disbelief when captain Greg Chappell asked his brother Trevor to bowl underarm at New Zealand's Brian McKechnie to prevent a six in an ODI in 1981, it was Marsh who showed dissent. Marsh crossed his arms and shook is head at his captain, mouthing "Don't do it" as the underarm ball rolled down.
Marsh's burly physique belied a great athleticism and he figures fourth on the all-time list of dismissals behind the stumps. He was an entertaining left-handed batsman who rescued Australia from top-order collapses. He was the first wicketkeeper to score a century for Australia when he made 118 against Pakistan in 1972, and added two more hundreds amongst 3,633 Test runs in 96 matches. Marsh could have scored his maiden century as early as his fourth Test had a declaration by skipper Bill Lawry not left him stranded on 92 not out.
Marsh's 14-year Test career began in Brisbane against England in the 1970-71 series. A few dropped catches earned him the unkind nickname "iron gloves".
The name was quickly forgotten, not least once Lillee joined him in the team in the final match of that series.
Greg Chappell too made his debut in the same series and the trio would go on to dominate Australian, and world, cricket for more than a decade. All three ended their Test careers on the same day, in Sydney on January 6, 1984.
Chappell said Marsh's contribution to the team went further than catches, stumpings and runs. "Rod was the spiritual leader of the group," he told Nine Media. "He gave everything to the team.
He loved a win more than any of us, hated a lose more than any of us...
"And if you needed to be told something, he was generally the bloke who told you."
Marsh's career also encompassed the birth of one-day cricket. Marsh played in the first one-day international on January 5, 1971, at the MCG and retired from top-level cricket after his 92nd ODI, against the West Indies in February 1984. He was also involved in Kerry Packer's World Series Cricket, which polarised international cricket in the late 1970s before revolutionising the sport for professional players and fans.    
Marsh, who was born in Perth on November 4, 1947, learnt his trade by playing in the backyard with his brother Graham. His first-class debut was for Western Australia against the West Indies in 1968-69 where he started out with a duck before making 104 in the second innings.
After retiring, Marsh held a variety of coaching and administration roles across Australia and England. In 2005, he was inducted into the Cricket Australia's Hall of Fame and was head of the Australian Cricket Academy in Adelaide nurturing young talents such as Ricky Ponting, Glenn McGrath and Brett Lee. Marsh's final role in the game was as chairman of Australia's selection panel from 2014 to 2016.
His former teammate, the pacer Rodney Hogg, said Marsh was the embodiment of what it means to represent Australia. "No one epitomised what the Baggy Green was all about more than Rod Marsh."
(Written with inputs from agencies)