Good chance for Lucknow Super Giants: Quinton de Kock
In 14 matches, the South African has 502 runs at a strike rate of 149.40, and LSG's fortunes on Wednesday will largely depend on him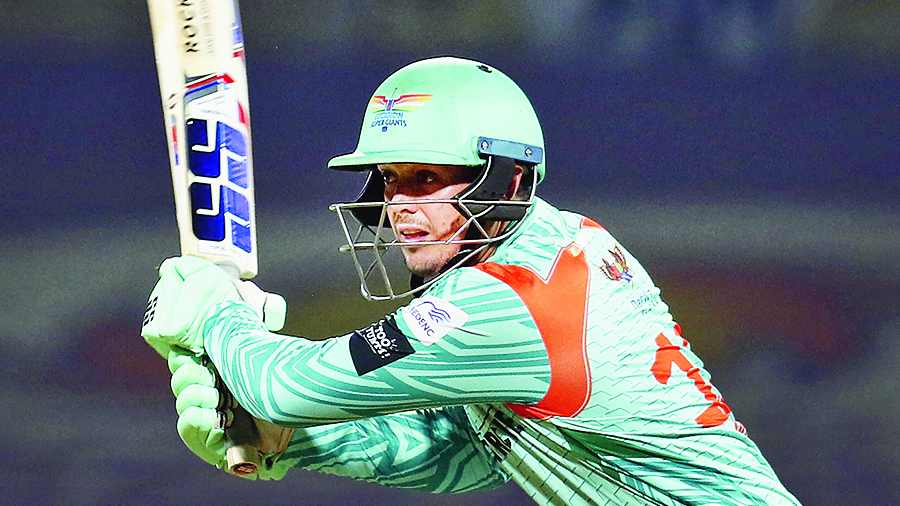 Quinton de Kock in action against KKR last week.
PTI
---
Published 24.05.22, 02:16 AM
|
---
Quinton de Kock has been in sizzling form for newcomers Lucknow Super Giants in IPL 2022. In their concluding match of the group league, the South African almost single-handedly fashioned their victory against Kolkata Knight Riders with a 140 not out off 70 balls.
In 14 matches, he has 502 runs at a strike rate of 149.40, and Lucknow's fortunes on Wednesday will largely depend on his ability to propel the innings in their Eliminator against Royal Challengers Bangalore at Eden Gardens.

The 29-year-old De Kock spoke to The Telegraph recently. Excerpts:
You have played for RCB, SRH, Mumbai Indians and now Lucknow Super Giants. Is there any T20 template for success in franchise leagues around the world?
Yes, obviously there is a T20 template around the world but in every game things are different and ever changing. So it's hard to say what the template is. Obviously guys are getting better at their skills and there is more emphasis on certain aspects of the game because of T20 cricket.
How do you see Lucknow Super Kings' chances in the playoffs?
We are in a very good position this year. We are absolutely happy with the way we have performed and where we are at this point. I think we have a good chance going forward.
Did you admire any cricketer in the T20 format and wanted to imbibe some of his aspects in your game? Can you explain the reasons for such admiration.
Not any T20 cricketer as such... I am not worried about how others play. I have never tried to imbibe aspects of any other cricketer into my game. I've just tried to make my game stronger. I haven't looked at anyone... Obviously there are one or two guys doing really well but I wouldn't say I would imbibe any of those aspects into my game.
You have held the innings together batting at the top of the order for Mumbai Indians and Lucknow Super Giants. Your getting runs often makes the difference between winning and losing. Do you enjoy such a responsibility and excel in such a role ?
After being around for so long, it now comes naturally to me. I have always been an opening batter in the shorter formats... that responsibility has always been there for any team that I have played for. I enjoy it since I get lot more time to bat compared to say at No. 6 or 7, especially in T20 cricket, where you have a handful of balls to face. When opening, you get a lot more opportunities. That is just about why I prefer opening.
Given a choice would you try the role of a finisher, maybe batting a bit lower down the order? What would your approach be, if say 35 is needed off the last two overs?
No, I definitely would not prefer batting down the order. There are a lot more guys suited for that role. I would prefer batting where I suit best. If say 35 is needed off the last two overs, then like everyone I would hit most balls for a six.
Your retirement from Test cricket came as a shock. Has that been influenced by the proliferation of T20 leagues and its growing relevance?
Not really... It's just a matter of a lot of cricket and time spent away from home. But obviously retiring from Test cricket has opened up opportunities and I will take them if I am available… I will sit down and discuss with the family if I will play in different leagues or not... I'm not 30 yet and wish to play as long as I can. So it's just about managing myself.
Do you think more players will switch to franchise leagues and give up playing for their country considering the lucrative deals available?
Yes, I definitely think so. I think anybody in these sort of situations would do it. It's hard to say 'no' to some of the contracts that are put forward compared to what your country gives you. So it's natural that this will happen. That's the way it's going to go.
Do you think in another 10 years, Test cricket will lose relevance and T20 and ODI cricket will attract the players?
To be honest, I am not too sure. We as players try not to say no to Test cricket. You see the English guys put a lot of emphasis on Test cricket. And they are not the only ones... There are a couple of others too trying to put a lot of emphasis on Tests. As long as the players and the people supporting Tests are together in it, I am sure it will stick around for longer than we think.