Family moments in almost-final
Snippets from ground zero as Asia Cup nears completion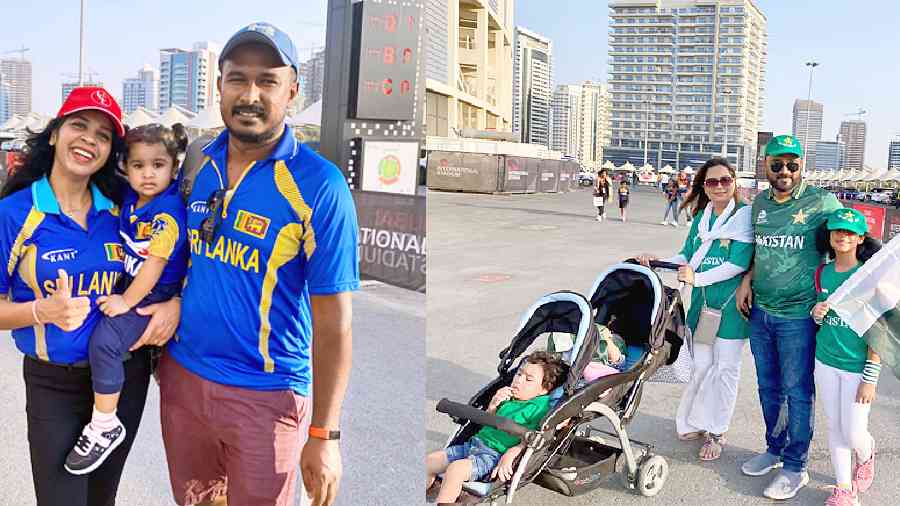 Sri Lankan and (right) Pakistani families have a day out at the Asia Cup in Dubai on Friday.
KR Nayar
---
Dubai
|
Published 11.09.22, 03:20 AM
|
---
The Sri Lankans are mighty sure of their chances to lift the Asia Cup, even more so after their five-wicket win over final-match opponent Pakistan here on Friday.
The supporters sang Sinhalese songs to celebrate and one of them wearing a Lasith Malinga wig proclaimed, "We will win the final too", while another said: "This is our tournament, it was to be held in our country, so we will carry the trophy to our country."
The inconsequential match was, however, a nice treat for Pakistani and Sri Lankan fans who reached the Dubai International Stadium to watch the finalists in action.
For the first time in a long time, there were many children in the stadium. Dressed in their country's team jerseys, some even had their faces painted.
Memento for home
A Pakistan photographer managed to get the autographs of all team players on a bat during the tournament.
He told The Telegraph: "My brother had requested me to get the autographs of every player in the Pakistan team and I managed to get them one by one throughout the tournament."
Like dad, like son
There might be only a few cricket fans in the UAE to have watched the first edition of the Asia Cup in 1984. One among them is Shyam Bhatia, a businessman and cricket enthusiast.
Usman Qadir, son of legendary Pakistan leg-spinner Abdul Qadir, bowled against Sri Lanka on Friday.
Bhatia remembers watching another Pakistan-Sri Lanka match on April 6, 1984, where Abdul Qadir bowled against the then Lanka team.
Bhatia told The Telegraph: "It's a special feeling to have first watched the father, who is a great bowler, and then to watch his son play the same tournament. I consider it a rare honour to have witnessed his father bowl against Sri Lanka in the Asia Cup in 1984. After 38 years, I am seeing the son bowl against the same opposition in the same tournament."
Bhatia recalled that Abdul took the wickets of skipper Duleep Mendis and future Sri Lanka skipper Arjuna Ranatunga. Sri Lanka beat Pakistan by five wickets in the 1984 game too, the first match ever of the Asia Cup tournament.