Sourav Ganguly puts words to action
Sourav Ganguly Foundation's endeavour will help Iskcon feed over 20,000 needy persons everyday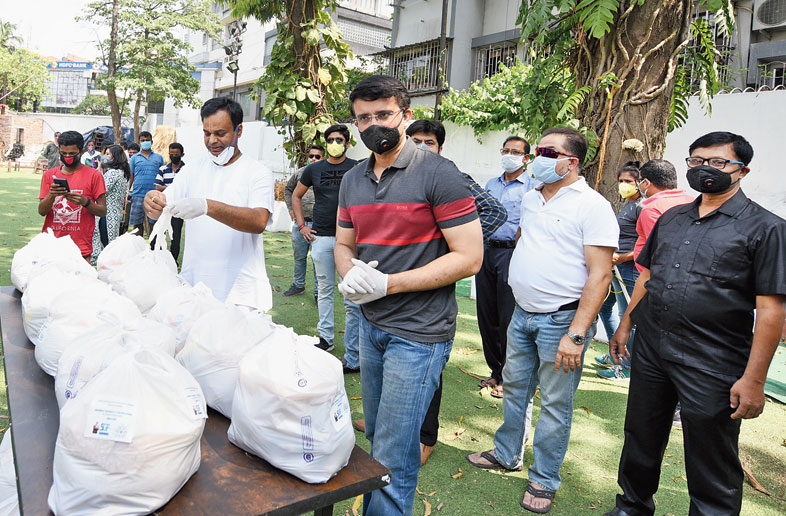 Sourav Ganguly at Iskcon on Saturday.
Picture by Gautam Bose
---
Calcutta
|
Published 04.04.20, 07:49 PM
|
---
Sourav Ganguly Foundation has come forward to help the destitute following the crisis arising out of the Covid-19 pandemic.
A day after telling Prime Minister Narendra Modi that everyone should pitch in to help the poor with food and other essentials, the former India captain took the initiative and visited Iskcon, a religious and charitable organisation in the city.
The Foundation's endeavour will help the organisation feed over 20,000 needy persons everyday.
"Iskcon has already been catering to the needs of 10,000 people on a daily basis. Now they can help feed another 10,000 in this time of distress. The Foundation has been working closely with several other organisations to provide food. Our volunteers have also been visiting local orphanages and old age homes," Sourav told The Telegraph on Saturday.
"I am planning to distribute around 1.5 lakh kg of rice, besides other items, to the various organisations. On Wednesday, I donated 2,000 kilo of rice at Belur Math, the headquarters of the Ramakrishna Mission. I would take a similar initiative with Bharat Sevashram Sangha and in other districts of the state," the president of the Board of Control for Cricket in India said.
"I have also decided to donate 10,000 protective kits for doctors and nurses who are fighting this battle from the forefront. Media personnel have also been visiting hospitals and will be provided with such kit. It pains me when I read and hear that there is a shortage of such gear.
"These are difficult times and we should all come forward to help the society in our own way. We should always remember that every small contribution will help several thousands who aren't that fortunate," Sourav remarked.
"With the support of everyone and by staying disciplined, we can win this battle. The Prime Minister also sent out this message yesterday (Thursday)."
The Foundation, which was set up a few years ago, has been working at the grassroots level, helping talented youngsters in the districts. "We undertake various projects to help the promising players and coaches. They take part in tournaments in different parts of the state."
A few years ago, the Foundation had also come forward to help a boy from Siliguri who had to undergo a complicated heart surgery and needed around Rs 70 lakh. "We raised funds for his treatment. The Foundation is always there to help the deprived and we try in whatever way possible," he said.
For Sourav, it is not just about wielding the willow or managing the affairs of Indian cricket, he is always there for the underprivileged in these times of hardship.