Class of Virat and Dhoni too hot for Aussies in Thar-like Adelaide
Virat's in a different league, he's so pure: Michael Vaughan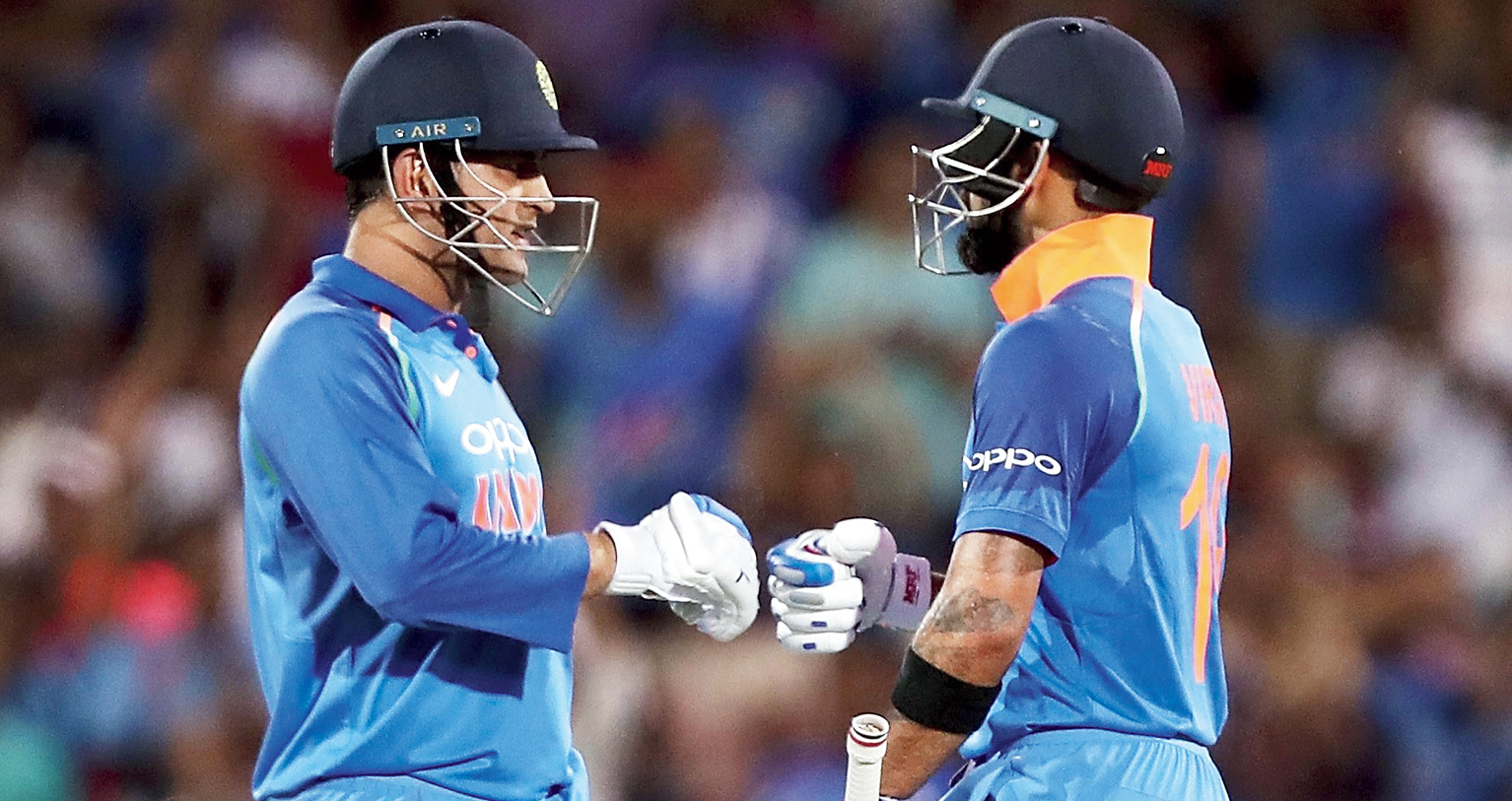 Mahendra Singh Dhoni and Virat Kohli during their 82-run partnership in Adelaide on Tuesday.
AP
---
Adelaide
|
Published 15.01.19, 09:48 PM
|
---
From the blowing of a conch to spontaneous singing of "hum jeet ke liye diwane hain," fans with roots in India made Virat Kohli's team feel as if they were returning to the InterContinental as conquerors of the world.
Of course, it wasn't that.
However, having beaten Australia in a tight ODI in Thar-like conditions — at the break, the on-wicket temperature was 46 degrees! — at the Adelaide Oval was reason enough to get carried away.
That the two superstars, captain Virat and predecessor, Mahendra Singh Dhoni, were the architects of the six-wicket win (with four balls remaining) only added to the josh generated.
India did well to restrict Australia to under 300 when, at one stage, it appeared the target would be in the region of 320-325.
Shaun Marsh, who now has four hundreds in his last eight ODIs, and Glenn Maxwell did the star turn with a 94-run partnership when conditions were actually most harsh.
The 35-year-old Shaun scored a quality 131 (123 balls, 11x4, 3x6), while Maxwell got out on 48.
Shaun and his brother Mitch have been dropped for the upcoming Tests against Sri Lanka, but the eldest son of Geoff Marsh has shown an excellent attitude by keeping aside that obvious disappointment.
Bhuvneshwar Kumar and Mohammed Shami picked up four and three wickets, respectively, but the move to drop Khaleel Ahmed and cap Mohammed Siraj wasn't the wisest as the debutant went for a confidence-shattering 76 in his 10 overs.
Requiring 299 to draw level in the three-match series, India had a decent start but began inching towards taking control when Dhoni joined Virat — on 160 for three.
The pair put on 82, before Virat got out to Jhye Richardson. After getting yet another International hundred at the Adelaide Oval, that is.
To talk in numbers, Virat has three Test and two ODI hundreds.
It was only when Virat was a few runs away from his 39th ODI hundred that he played a couple of false shots.
Till then, it was another innings bordering on the classic. Moreover, while chasing.
"Virat's in a different league, he's so pure. I place him among the greatest I played against... Brian Lara, Sachin Tendulkar, Ricky Ponting... There's so much class about Virat," an admiring Michael Vaughan, a distinguished former captain of England, told The Telegraph.
Vaughan continued: "Virat goes about the job of getting runs in a composed manner and, believe me, I haven't seen a better batsman across all three formats."
Statistically, Virat took 112 balls for his 104 (5x4, 2x6).
While Virat set the agenda, Australia's captain, Aaron Finch, failed yet again. His contribution so far has been to win both tosses!
Despite cramping severely in the last 45 or so minutes of his innings, Dhoni took seven off the first two balls of the 50th over, bowled by the inexperienced Jason Behrendorff, to set up Friday's decider, at the MCG.
An entire industry has come up to consistently try and find fault with Dhoni. Well, the icon showed that, cramps or not, he can still be counted upon to finish matches.
The 37-year-old Dhoni remained unbeaten on 55 off 54 balls, with two maximums. At the SCG, in ODI No.1, Dhoni scored 51.
After Virat's departure, Dhoni found a partner who complemented his effort — Dinesh Karthik.
Dhoni and Karthik, who has been assigned a clear role in the year of the World Cup, stayed unseparated for 57 runs.
"MS has answered some questions, hasn't he? Such a legend, so calm under pressure," applauded Adam Gilchrist in an exclusive interaction with this Reporter.
Australia's head coach, Justin Langer, stopped short of saying "wow," but conceded that his players had the best seats in town to learn from the two masters — Virat and Dhoni.
"Class always comes out on top. You hate being on the losing team, but can appreciate how great Virat and Dhoni are...
"Wise heads are needed in tough situations and both showed that yet again...
"My players would be better off for today's experience," Langer observed.
On the India captain, Langer said: "Virat has the 360 (degrees) range. Such a calm competitor, with enormous powers of concentration. Reminds me of Sachin who, it seemed, would meditate at the crease."
Actually, among batsmen, Tuesday belonged to those who are past their 30th birthday: Dhoni, Marsh, Karthik (33), Virat and Maxwell. The last two are both 30.
Talk about a point being made.