Bhuvneshwar Kumar hinted that Team India might limit the use of saliva to shine
The 31-year-old Indian pacer said a decision on coronavirus outbreak would be taken by the team doctor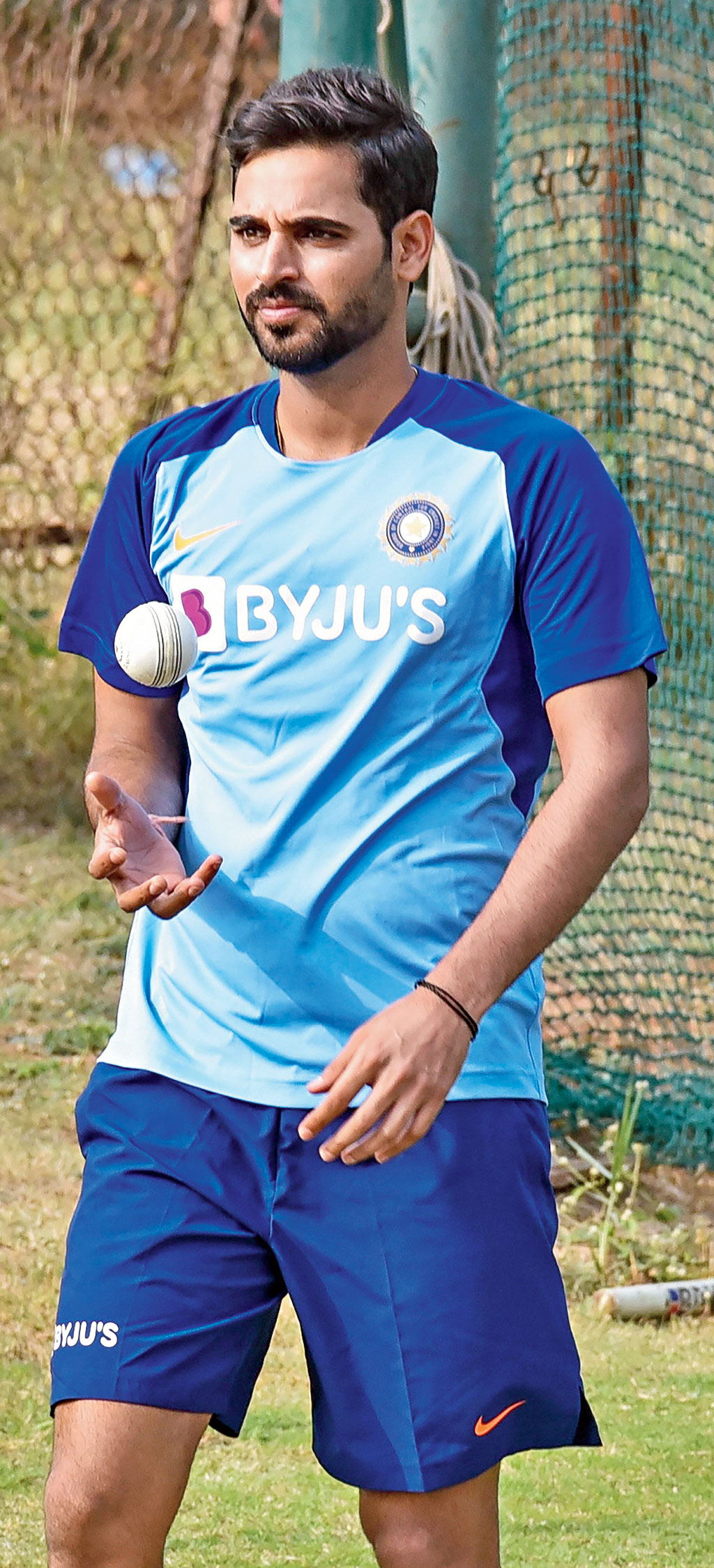 Bhuvneshwar Kumar
File picture
---
Calcutta
|
Published 11.03.20, 09:52 PM
|
---
The governing council of the Indian Premier League will meet this week to discuss the implications arising out of the coronavirus outbreak, but Bhuvneshwar Kumar hinted on Wednesday that Team India might limit the use of saliva to shine the white ball during the three-match ODI series against South Africa as a precautionary measure.
The 31-year-old Indian pacer, however, said a decision on this would be taken by the team doctor.
"We have thought about this thing (not using saliva) but I can't say right now we will not use saliva because if we don't use saliva then how will we shine the ball? Then we will get hit and you people will say you are not bowling well," he said in Dharamsala on the eve of the first ODI.
"But it's a valid point and let's see we will have a team meeting today and whatever instruction we get or whatever is the best option we will do. It all depends on the team doctor and what advice he gives us," Bhuvi, who is making a comeback after recovering from a sports hernia surgery, said.
Bhuvi said they are taking every possible precaution in these difficult times but refused to speculate on whether the upcoming Indian Premier League will be disrupted.
"You cannot say anything right now because it's taking a dangerous situation in India. But we are taking every precaution we can take.
"We have a team doctor with us and he is giving us instructions about dos and don'ts. So we hope it won't go (spread) much further," he said.
Just like the other teams, the Indian players have also been advised to stay away from fans. "Few dos and don'ts which the team doctor wants us to do. Simple things like maintaining hygiene, keep washing your hands regularly and not going closer to the fans and all those things.
"But we cannot avoid fans because they love us, they support us. In the meantime, we can try and not get too much closer to them. We can avoid as much as we can."
The Board of Control for Cricket in India's medical team issued an advisory in the evening for the players and team support staff, besides others associated with the sport.
It includes washing hands with soap and water for a minimum of 20 seconds, use of hand sanitisers, covering mouth while sneezing or coughing, reporting to the medical team immediately in case of fever, cough or any illness, avoid touching face, mouth, nose and eyes before thoroughly washing hands, avoid eating out at restaurants where hygiene standards are unknown or compromised, and avoid close contact and interaction with individuals outside the team environment.
The players have also been asked to avoid handshakes and using unknown phones for selfies.
The guidelines are expected to be followed at the IPL, due to start from March 29.