Berth pangs trigger test of nerves
Sourav joined the race after some last-minute uncertainty over Rajat Sharma's choice as president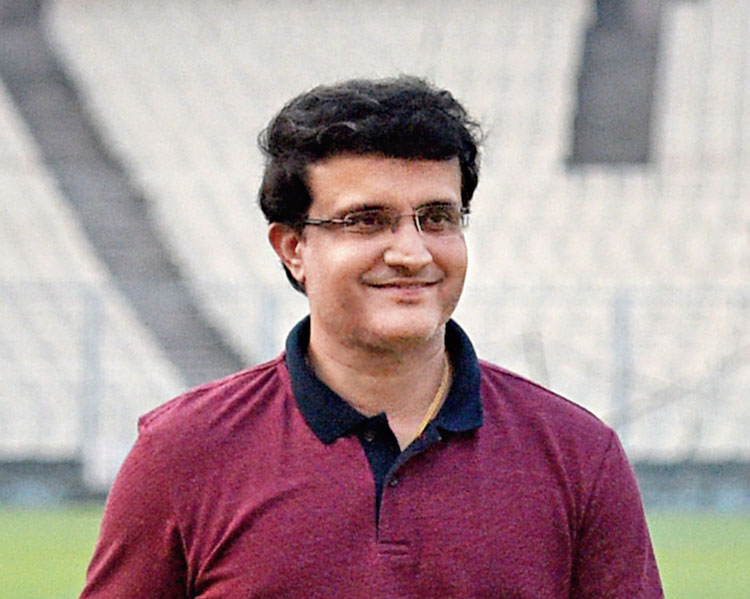 Sourav Ganguly
Telegraph file picture
---
Calcutta
|
Published 12.10.19, 08:52 PM
|
---
Team India may be closing in on a series win against South Africa in Pune but more drama and excitement could be awaiting 150km away in Mumbai on Sunday when the 30 state representatives on the final electoral roll sit down to finalise the nominations for the office-bearers' posts.
Hectic parleys between the key players dominated most of Saturday as last-minute negotiations reportedly took place at former Board of Control for Cricket in India (BCCI) president Anurag Thakur's residence in New Delhi.
Thakur is acting as the go-to man for various state associations as an influential Union minister in the Narendra Modi cabinet is having the biggest say in the BCCI elections.
Among those present in New Delhi were Cricket Association of Bengal (CAB) president Sourav Ganguly, besides another former BCCI chief, N. Srinivasan.
According to The Telegraph's sources, Sourav met the influential Union minister besides being present at parleys involving Thakur and other officials.
The former India captain, who will have to go into a compulsory cooling-off period for three years in July next, hasn't been promised anything but he has made known his preference for the BCCI president's post.
Sourav though was unavailable for comment.
Sourav joined the race after some last-minute uncertainty over Rajat Sharma's choice as president.
"Sharma doesn't enjoy the confidence of some people close to Thakur… BJP's internal politics could also be blamed for this. The Delhi and District Cricket Association president has also antagonised a lot of people during his short tenure and that has only led to complications," said a well-placed source.
The powers-that-be, however, haven't still zeroed in on a suitable candidate.
"Everyone has only presented their case today. Things will be clear after evaluating the pros and cons," said a BCCI member.
The "informal meeting" at the Trident in Mumbai on Sunday has been jointly called by Thakur and Srinivasan.
It has been agreed in principle that the Srinivasan camp will get to nominate their candidates for the secretary and treasurer's posts. The remaining three office-bearers' posts — president, vice-president and joint secretary — will be decided by Thakur and Co.
Former India batsman Brijesh Patel, who will represent the Karnataka State Cricket Association, is being considered a strong candidate for the secretary's post.
Thakur's brother Arun Singh Dhumal of the Himachal Pradesh Cricket Association is also a prospective candidate for the joint secretary's post.
BJP president Amit Shah's son and Gujarat Cricket Association's Jay Shah has around 10 months left before his mandatory cooling-off period and that has compounded problems. Jay may not be rushed into the BCCI administration now as he is being touted for bigger things.
There's another school of thought which is of the opinion that several issues, including the cooling-off period and the 70 years age cap, can be overcome if the government manages to introduce and pass the sports bill in Parliament. "We can dodge past Justice RM Lodha's reforms through the sports bill. But that will be looking at the future. For now we have to get the BCCI moving," said a member.
The deadline for filing nominations is 3pm on Monday but the final list of candidates is expected to be clear by Sunday evening. None of the aspirants are keen on having a contest for any of the posts.
Meanwhile, there's a strong buzz that Srinivasan could put his hat in the ring as the BCCI's representative at the International Cricket Council (ICC). The age cap of 70 years may prevent him from attending ICC meetings but that could well be challenged.
Srinivasan has an axe to grind against current ICC chairman Shashank Manohar and that might lead to another round of interesting battle. Manohar had abolished Srinivasan's Big Three Model at the ICC wherein India would have received around $570 million.