Before match, Bagan & Kashmir smiles apart
Mohun Bagan players unhappy about how Real Kashmir FC did not give them enough time to practise at the match ground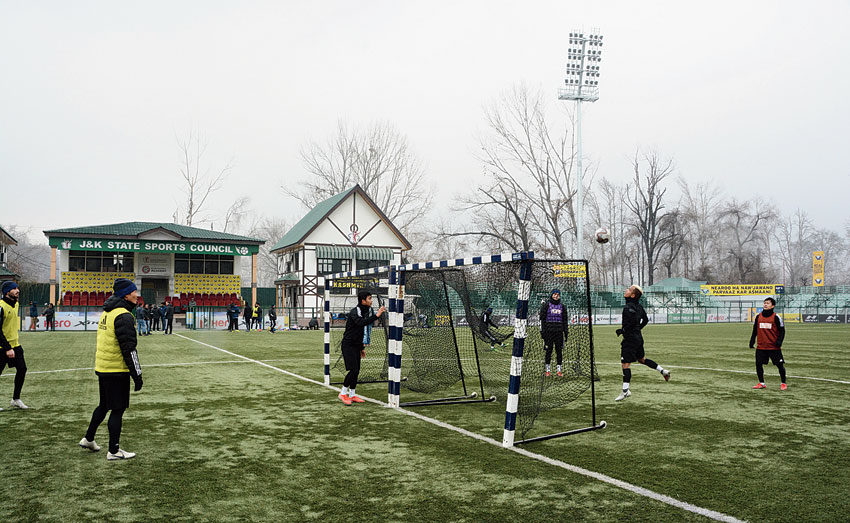 ---
|
Srinagar
|
Published 04.01.20, 11:04 PM
---
Watching Mohun Bagan practise at the Tourist Recreation Centre Ground in Srinagar on Saturday, a football fan made a telling statement. "Till now not a single shot is on target. Hope they do improve..." The fan could not even complete the sentence when another wayward shot broke a board behind the goal. "My god! We have to now get this fixed also," a Real Kashmir FC official said under his breath.
That's Bagan for you on the eve of their I-League match against Real Kashmir FC. Jittery, tensed and complaining. They cribbed about how Real Kashmir FC did not give them enough time to practise at the match ground. "People have to be flexible. One hour cannot be one hour. I am very unhappy," coach Kibu Vicuna told The Telegraph.
Real Kashmir FC said they were more than accommodative since clubs like Mohun Bagan and East Bengal are institutions of Indian football. "Still their coach is complaining. These big clubs have this sense of entitlement. It has to stop," the official said.
It's not just about practice timing, Bagan seem to be smelling a rat in almost everything — the artificial turf, the biting cold and poor Internet connectivity.
Amidst all these, they tend to have forgotten the fact that in Baba Diawara Bagan might have hit the jackpot. Top Bagan official Debashish Dutta was asked about Baba. "In Mohun Bagan's history, we never have signed a player of his profile," Datta said with a smile. "Let's hope he does well for us."
Kibu, at the pre-match media conference, was asked whether he would give a start to the Senegalese forward. "Will take a call on Sunday. He is a good player who played at the top level and I am hoping he would give a good account of himself in this I-League."
Joseba Beitia, who pulled out of training on Friday complaining about discomfort in the left heel, practised on Saturday. The chemistry between Beitia and Diawara will dictate how Bagan's I-League campaign shapes up from Sunday.
"Baba is a good player with a good track record. It's a big signing for Mohun Bagan. But I am not someone who focuses on one individual. Bagan overall are a great side with some really dangerous players. We have to be at our best," Real Kashmir coach David Robertson said. "But having said that, we are also prepared and I am hoping that we would get something from this match."
Last season, as I-League debutants, Real Kashmir showed how difficult it was for the rivals to break them down. "This year we have already conceded four goals. So whoever says we are difficult to break down is not giving the right picture. But there is a brighter side too. This season, unlike the last one, we are getting goals. So it's a big boost," Robertson said.
For the goals, Real Kashmir will be banking on Gnohere Krizo, Mason Robertson, Kallum Higginbotham and Danish Farooq. At 6 feet 9 inches, Krizo is like a giant. Given the short Bagan goalkeepers, it's a win-win situation for the Ivory Coast player. When crosses come from the flanks, Bagan defender Daniel Cyrus, who is 6 feet 3, will have to keep an eye on Krizo. Robertson is a shrewd tactician and he will definitely ask his 'delivery boys' to pick out Krizo.
Last season, Bagan came here and won the match. But in the return leg, played in the first weekend of 2019, Real Kashmir settled scores with a fantastic victory. "It was a big achievement for us," Robertson said. The defeat also cost then Bagan coach Shankarlal Chkaraborty his job.
So what's in store for the first Sunday of 2020? "A victory for us will give the fans a reason to smile about," Real Kashmir's Danish said. Very aptly too.