Australian Open: Rafael Nadal, Daniil Medvedev to meet in final
The Sunday duel will be a rematch of the gruelling 2019 US Open final, which the Spaniard won in five sets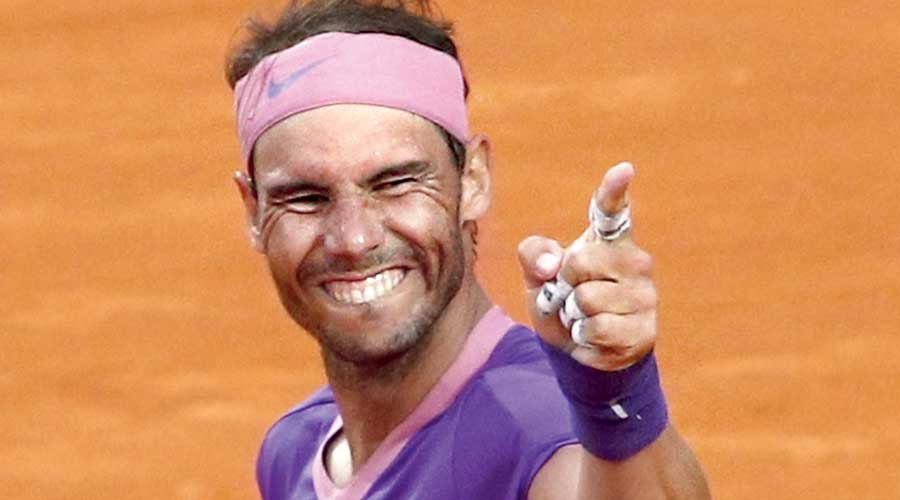 ---
Melbourne
|
Published 29.01.22, 03:23 AM
|
---
Rafael Nadal moved within one match of a record-breaking 21st grand slam men's singles title by defeating Matteo Berrettini of Italy 6-3, 6-2, 3-6, 6-3 in the semi-finals of the Australian Open.
The No. 6 seed Nadal will face second seed Daniil Medvedev in Sunday's final.
Medvedev also won in four sets on Friday, defeating Stefanos Tsitsipas 7-6 (5), 4-6, 6-4, 6-1. But his victory was considerably more tempestuous than Nadal's. After losing his serve in the ninth game of the second set and receiving a code violation for a visible obscenity, Medvedev shouted angrily at chair umpire Jaume Campistol for most of the changeover because he believed that Tsitsipas' father was illegally coaching his son from the player box.
"Are you stupid? His father can talk every point?" Medvedev said from his chair, screaming "Look at me!" at the Spanish official when Campistol turned his head back toward the court to try to defuse the situation.
It was an extraordinary outburst, and when Tsitsipas did eventually receive a warning for coaching early in the fourth set, he did not win another game as Medvedev accelerated to the finish.
Tsitsipas smiled when asked about the outburst after the match. "It's for sure funny," he said. "I don't pay attention to this stuff. Players like to do this stuff to throw you off mentally."
Medvedev's Sunday duel with Nadal will be a rematch of the gruelling 2019 US Open final that the Spaniard won in five sets.
Golden chance
Nadal, the 35-year-old from Mallorca, is tied with Roger Federer and Novak Djokovic for the men's record. Nadal, the only member of the Big Three in Melbourne, has won this title just once, beating Federer in the 2009 summit clash.
Now, he has a chance to set himself apart. "For me it's all about the Australian Open more than anything else," he said when asked about the prospect of winning No. 21. "I was lucky to win in 2009 but never thought about another chance in 2022."
Nadal now has a 2-0 record against Berrettini, the strapping 25-year-old Italian who has a big serve and heavy forehand, but also has a comparatively weak backhand that Nadal exploited repeatedly.
Berrettini had no break points on Nadal's serve until the eighth game of the third set, but with Nadal serving at 3-4, Berrettini sprinted to his right and hit a forehand passing shot winner down the line that appeared to surprise both men. Nadal was soon serving at 0-40 and two points later, Berrettini was able to break him for the first time.
He then served out the third set, baring his teeth to his support team as he strutted past Nadal to his chair before the fourth set.
But the patterns of play were still in Nadal's favour as he continued to focus his attacks on Berrettini's backhand. The Italian did hit a two-handed winner to get to 15-30 on Nadal's serve in the opening game of the fourth set, but Nadal won a cat-and-mouse exchange on the next point as Berrettini missed a backhand slice off a good drop shot.
Though Berrettini kept hustling and ripping through his forehands, he could not sustain his comeback, losing his serve in the eighth game of what turned out to be the final set.
"We need to suffer, and we need to fight," Nadal said, summing up his philosophy over his nearly 20-year career. "That's the only way I am where I am today. Honestly it means a lot to me to be in the final again here."
Both Federer and Djokovic have taken aim at No. 21 in a grand slam final and missed. Federer had two match points on his serve against Djokovic in the 2019 Wimbledon final and failed to convert. Djokovic faced Medvedev in last year's US Open final and lost in straight sets. Now it is Nadal's turn.
"I'm happy to have the chance to try to stop, one more time, somebody from making history," said the grinning Russian, whose New York triumph also prevented Djokovic from completing a rare calendar grand slam.
Nadal is the fifth oldest man to reach the singles final here in the Open era — Sunday will be his 29th grand slam final — and like Federer, who was 35 when he won in 2017, Nadal is coming back from an injury layoff and playing with freedom and lower expectations than usual.
He had the staying power to hold off Denis Shapovalov in a five-set quarter final in the heat. After two days to recuperate, he had the skill set and precision to hold off Berrettini under a closed roof.
(New York Times News Service