Medvedev goes down fighting 6-2, 7-6, 4-6, 4-6, 5-7
Rafael Nadal wins historic 21 Grand Slam title with Aussie Open title
In one of the greatest comebacks after being two sets down, Rafa wins taking the match to a toe-to-to fifth set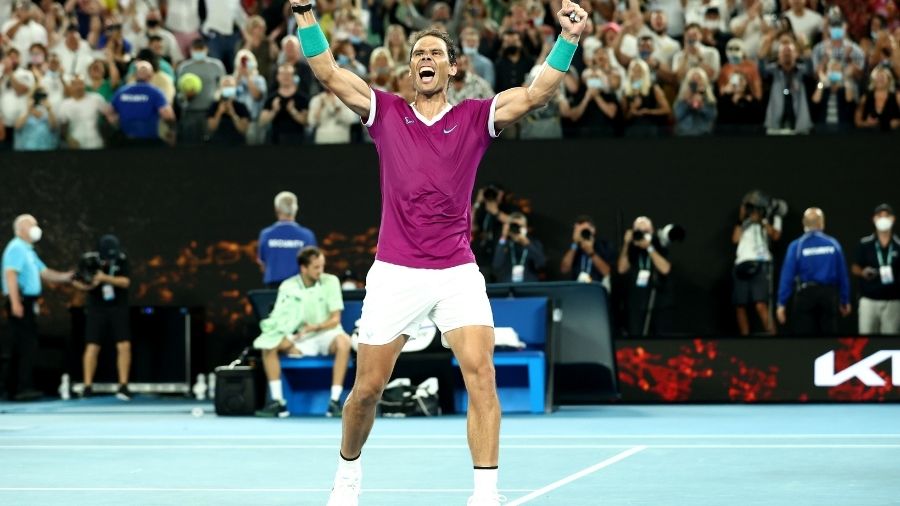 Rafael Nadal after scripting history
Twitter/ @AustralianOpen
---
New Delhi
|
Published 30.01.22, 05:52 PM
|
---
Rafael Nadal has taken all-time ownership of the record for men's Grand Slam singles titles, the Spaniard earning his record 21st major crown with an extraordinary 2-6 6-7(5) 6-4 6-4 7-5 come-from-behind victory over Daniil Medvedev at Rod Laver Arena on Sunday night.
Nadal looked down and out after dropping the opening two sets, but steeled himself to snap a three-way tie with Novak Djokovic and Roger Federer on 20 major singles titles, winning the match in five hours and 24 minutes. 
Nadal's second Australian Open title comes 13 years after his first in 2009, and broke a run of four straight losses in the 2012, 2014, 2017 and 2019 Melbourne Park finals. The Spaniard now has a 21-8 record in major finals, and Sunday's win was his fourth in succession in major deciders since he lost the 2019 Melbourne final to Djokovic
Medvedev was aiming to become the first man in the Open Era to win his second major at the next Grand Slam following his first, which came at last year's US Open when he denied Djokovic in the final. It's the second straight final loss for the Russian in Australia, denied in the decider by Djokovic last February, and he falls to 1-3 in Grand Slam finals. 
Just about five months ago, Nadal had posted on social media a photograph of himself on crutches after a medical procedure. Cut to Sunday and the 35-year-old Spaniard has gone on to win a record 21st grand slam title by defeating his Russian challenger in the Australian Open men's singles final in Melbourne.
That's quite an incredible journey for the man who has built his legacy with tales of grit and fight. A second triumph at Melbourne Park for 2009 champion Nadal means Nadal has broken a three-way tie for the most major titles in the men's game, with the Spaniard nosing ahead of rivals Novak Djokovic and Roger Federer.
Nadal chose to play down the hype on Saturday on the eve of the finals. "I just feel happy to be part of this amazing era of tennis... In some ways it doesn't matter if somebody achieves one more or one less," he said. But whoever follows tennis, knows the gravity of the occasion.
It's interesting to note that the day Nadal posted that photograph, on September 11, Medvedev was booking a spot in the US Open final.
The difference between the two players was of course generational and much more. Medvedev, a decade younger, is a dominant player on hard courts and had also beaten Nadal the last time they met, in the ATP finals in 2020. "If I'm not able to play at my top level, (I) simply will be (sic) no chance," Nadal said on Saturday. On Sunday, he did play one of his best matches. 
Legendary status 💪#AusOpen • #AO2022 pic.twitter.com/7uDDds3x7z

— #AusOpen (@AustralianOpen) January 30, 2022