OnePlus is in seventh heaven as it continues to zoom past competition
People are using OnePlus phones and are recommending it confidently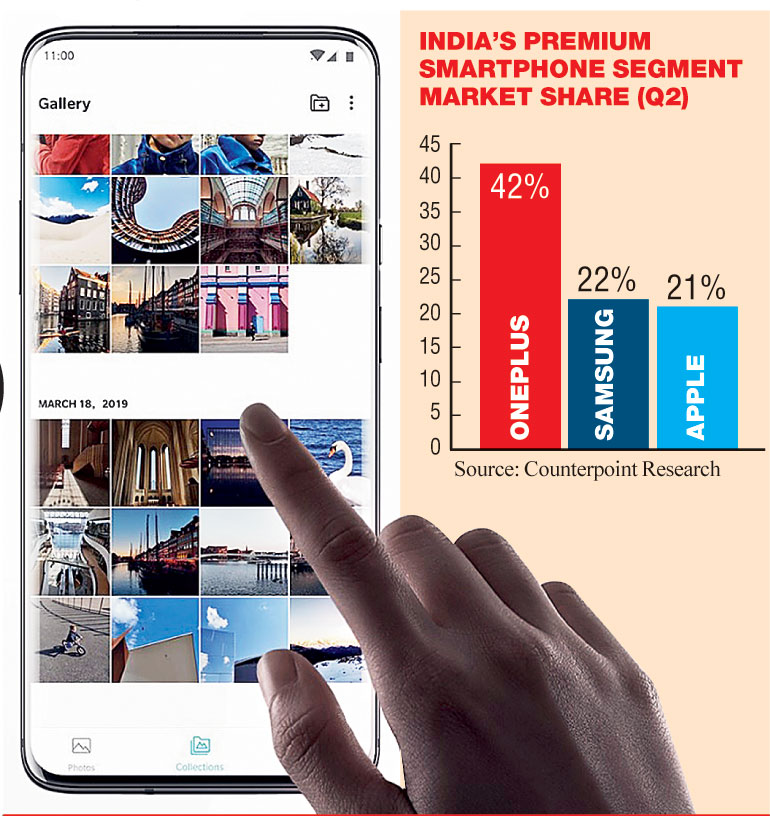 ---
---
When OnePlus decided to launch two smartphones this year (instead of the usual one), most people were excited about the 90Hz display on the OnePlus 7 Pro. This helps video game graphics appear smoother and the lag we notice while scrolling, say, through our Instagram feeds, is missing. Has it worked? The Shenzhen-HQed company has managed to widen its lead over Apple and Samsung in the premium market with highest ever market share of 42 per cent, a Counterpoint Research report (for Q2) has said on Wednesday. It's a big achievement, and Vikas Agarwal, OnePlus India's general manager, is thrilled. Here's what he told t2.
What are the points you are happy about in Counterpoint's Q2 report?
The consistency with which the brand has been growing. Doing it once or twice is one thing but doing it consistently is really satisfying for us. The way we see the premium segment, it is really about trust in the brand and comfort. People are using OnePlus phones and are recommending it confidently. There is a very high degree of satisfaction with our products. And if you see with OnePlus 7, we have entered into a new segment — the ultra-premium segment. We have had a fairly good success even in this segment. People used to say that OnePlus products are doing so well because the pricing is so attractive. But I would really say it's all about value proposition. Even in the more expensive segment, OnePlus products continue to do very well because the whole proposition is so strong.
Tell us more about how you fared in the ultra-premium segment?
If you look at percentage shares, the premium segment can be broadly divided into two segments — there is high-end, which is 30K to 45K, and then there is ultra-premium, which is 45K and above. Before OnePlus 7 series arrived, we used to have only one product, which normally catered to the high-end segment. In this segment we have further strengthened our share to 60 per cent, which is like two out of three customers who were looking to buy a phone at above 30K but not go over 45K. We are talking about both online and offline. The second thing: With the OnePlus 7 Pro we have entered a new segment that's sizeable… it's almost 40 per cent of the premium segment. In that segment we now have close to 26 per cent share in the first quarter itself. The response is very encouraging.
If you look at the overall picture, the most important thing is that with OnePlus the whole premium segment is actually growing faster than the industry. So far the premium segment has been a small part of the overall industry, like three to five per cent. But the segment is growing very well and OnePlus being the fastest member of this segment is helping Indians to consume more premium products.
Any feature on the phone that has worked very well?
With 7 Pro we have expanded the market and entered into a segment that has largely been a duopoly. There we have seen that almost one-third of our customers are actually coming from Apple and Samsung. Almost 33 per cent of OnePlus 7 Pro users are ex-Apple or Samsung users, which, in turn, means the product has been able to attract users who are looking for a better premium smartphone experience. Second highlight of the Pro version is that almost 35 per cent of OnePlus users are willing to upgrade to a more premium OnePlus device. These are people who are happy with our products.
From product perspective, the most appreciated feature is the 90Hz display. If you think of it, no other brand is offering this feature as the core proposition. Let me take you back to 2016 when we launched Dash Charge. Back then no brand was talking about charging as the key customer proposition. OnePlus has always been a step ahead of the industry in terms of identifying the core requirements of our users. We have gone with our understanding of users and taken a leap of faith. The second key highlight of our product is Warp Charge. Added to this is the 855 Snapdragon processor, up to 12GB RAM and so on. The third key factor which has emerged as the differentiator is our OxygenOS.
The brand is becoming popular in the US and Europe where premium phones sell in good numbers.
The brand is perceived the same way in every region. That's a good thing but it's difficult to achieve. We are perceived as a global brand and not just a sort of local, affordable brand. One thing that may not have been understood well is innovation. As a company we focus on meaningful innovations and do not chase any new technology wave for the sake of it.