Wheels of change
Trolleybuses would be substantially more energy-efficient as they draw energy directly from the grid, while in battery-operated buses energy is stored in batteries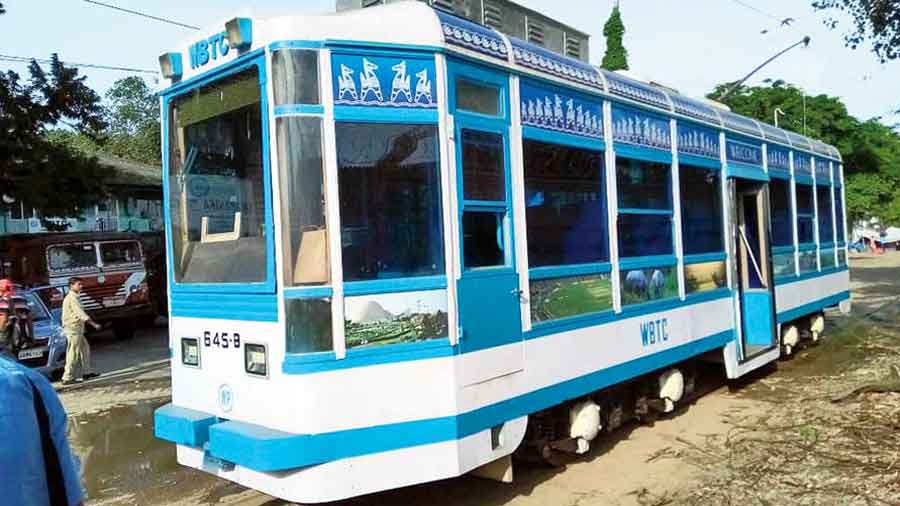 Representational image.
File photo
---
Published 18.07.22, 03:43 AM
|
---
The tram service is the pride of Calcutta. News of two tramlines that were dysfunctional being brought back to life will thus make people happy. But in the interest of speed and avoiding traffic congestions, it will be challenging to keep all tramlines operational. In this context, the introduction of trolleybuses that will use the overhead electric cables but not the tracks can be a good option. However, this has to be evaluated with respect to battery-operated electric buses that have received a lot of attention in recent years.  Battery-operated vehicles are gaining popularity because they are less polluting. Amidst growing concerns about climate change, more countries are promoting this technology. But cities that do not have the experience of trams in recent history will find it difficult to imagine electrically-operated trolleybuses that run on tyres rather than tracks. But in Calcutta, given people's emotional attachment to trams, it is natural that the idea of a trolleybus would fascinate. 
Before we compare battery-operated buses and electric trolleybuses, we must recognise that the claim that such vehicles are environment-friendly is only partially true.
While electric or battery-operated vehicles do not generate visible pollution, they do pollute the environment somewhere else as long as they draw electricity from the grid that is largely dependent on coal. As such, trolleybuses would be substantially more energy-efficient as they draw energy directly from the grid, while in battery-operated buses the energy is stored in batteries and energy will be lost in the process of charging the batteries as well as through automatic discharge, leading to dead weight loss of energy in battery-operated buses. 
If the electricity grid can reduce its dependence on coal substantially, then battery-operated buses can truly become pollution-free. India is making efforts to reduce its dependence on coal by enhancing renewable energy generation — solar power in particular — which has become competitive in terms of generation costs. However, the problem with solar energy is that it can be generated only during daytime and the storage cost is prohibitively expensive. The fact that India experiences its peak power demand at night makes it challenging. Battery-operated buses will then add to the problem as they will run during daytime and be charged at night, increasing the nighttime demand for electricity.   
In a developing copuntry like ours, cost is also an important consideration. In a battery-operated bus, the price of the battery is about 50 per cent of the total cost. But a trolleybus is just the same as a battery bus without a battery plus a pantograph of trolley poles. Effectively, one gets two trolleybuses at the cost of one battery-operated bus. Trolleybuses will require an overhead cable system but costs of that will be negligible considering that it will be used by several trolleybuses every day. Another cause of concern is the life of a battery. While it is claimed that batteries last for 6-8 years, this is not definitive. Life of a battery also depends on the temperature as well as charging practices. Our ambient temperature is more than 30 degrees Celsius for a substantial part of the year, which is bad news for batteries. Our work culture will also ensure that batteries get overcharged frequently, reducing the life of the batteries. 
While we are already making battery-operated buses in India, it will take several years to make batteries. Even if we can achieve the capability to make batteries in the future, we do not have material to make them and will remain dependent on foreign sources. Battery-operated buses are being pushed in India and are very often compared to diesel buses in terms of operational costs as well as environmental benefits. However, the right comparisons will be between trolleybuses and battery-operated buses and it needs to look beyond operational costs and obvious environmental benefits.