Unethical construction is a punishment to innocent citizens
Besides having their trust in development violated, displaced citizens have had to leave behind essentials and valuables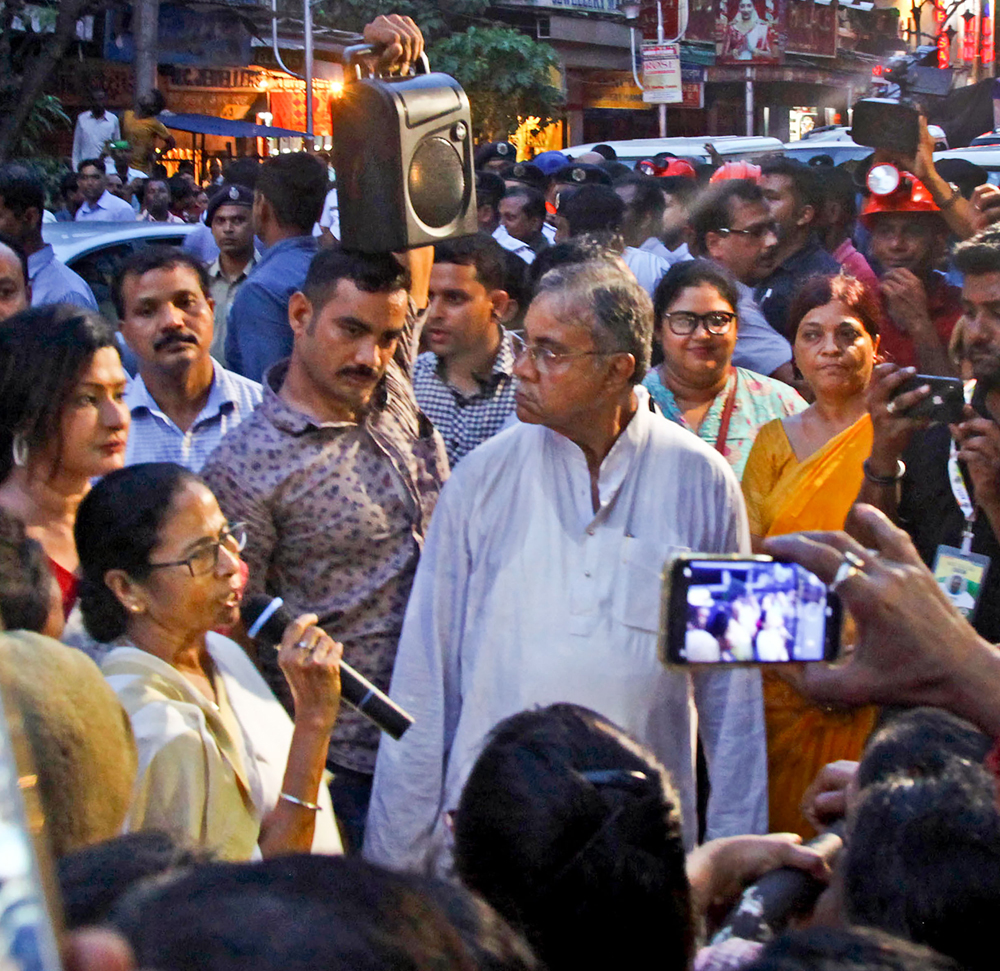 West Bengal Chief Minister Mamata Banerjee interacts with residents of Bowbazar area, where several houses have been damaged owing to a tunnel boring for East-West Metro corridor, in Calcutta on Monday, September 2, 2019.
(PTI)
---
Published 06.09.19, 04:38 AM
|
---
In spite of daily gripes, citizens take for granted a certain level of safety in their homes. No social existence is possible without this basic trust — that except when natural disasters strike, the floor will not be jerked away from under the feet or the roof shall not cave in. Political conflict, that ultimate violation of trust, can do this, but, Calcutta has shown, so can the bland inefficiency of experts tasked with the most delicate and expensive of jobs. As more houses in Bowbazar fall apart and more residents are evacuated, the company boring the stretch of the east-west metro tunnel between Howrah Maidan and Sealdah has to be asked why it went on tunnelling after it had failed to inject concrete in the ground to protect old buildings while knowing there was a huge aquifer underfoot. Why did the implementing agency, the Kolkata Metro Railways Corporation Limited, allow it? Tunnelling under areas with very old buildings is not new in Calcutta: it has just been done for the same project by another company under Burrabazar. If one method of protection failed, why was not the work paused to find another? The answer is obvious, yet the depths of irresponsibility, folly, inefficiency and the sheer absence of ethics displayed by this company are remarkable.
It is not just the violation of a fundamental trust that the displaced residents are suffering from. Many have had to leave behind identity papers, house deeds, jewellery, basic clothes and even medicines. Only some of this has been retrieved so far. The disruption is shocking: without conflict or earthquake, they have been torn from their roots — some from houses over 200 years old — and thrown out of their orbit of work and study, with some wondering about impending marriages. The interim residence being marked out for them is barely habitable. Why should innocent citizens be punished for the failures of paid companies? The chief minister has demanded that the displaced families be compensated under different heads with an amount for immediate relief. The KMRC has agreed in principle, but is already mumbling about the lack of clear guidelines in the relevant law. Restoring people's trust in basic infrastructure and assuring them of compensation for trauma and deepest damage are probably not on its horizon.