Thok ke bhav
BSP boss Mayawati says that if she is voted to power in the 2022 UP elections, she will no longer build memorials, statues and parks dedicated to OBC and Dalit icons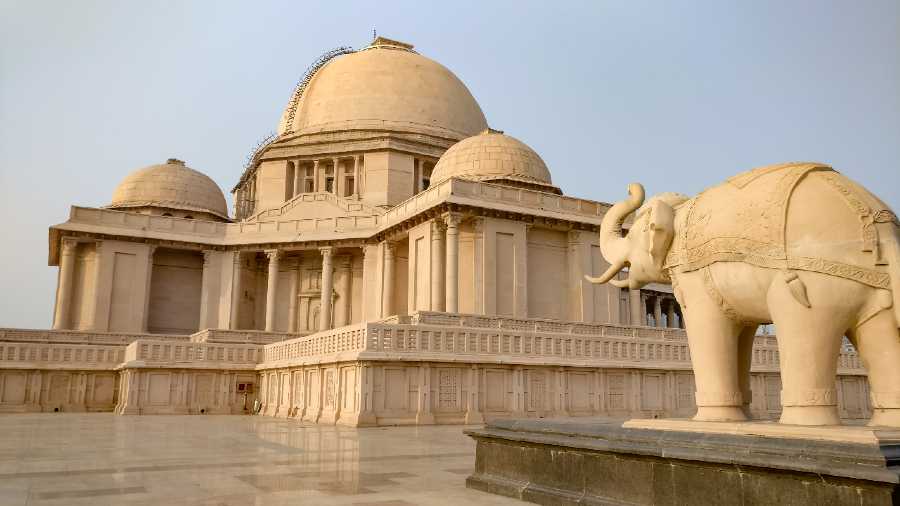 The main dome of the Ambedkar Stupa at the Ambedkar park Rashtriya Dalit Prerna Pratibimb Sthal Noida, Lucknow Uttar Pradesh
Shutterstock
---
Published 12.09.21, 12:06 AM
|
---
The Bahujan Samaj Party or BSP boss Mayawati has said that if she is voted to power in the 2022 Uttar Pradesh (UP) elections, she will no longer build memorials, statues and parks dedicated to OBC and Dalit icons. She said, "We have already done it thok ke bhav." Indeed, soon after she came to power for the first time in 1995, Mayawati built more than 1,500 statues of Ambedkar across UP. Statues of Jyotirao Phule, Pandita Ramabai, Shahuji Maharaj also came up. There were statues of Kabirdas, Ravidas, Ghasidas, Birsa Munda. And there were more of the Buddha, Kanshi Ram and Mayawati herself. In 2009, a PIL was filed, which accused the BSP government of using Rs 2,000 crore public money to build statues and BSP's symbols.
Extra human
Mayawati was elected chief minister of UP four times. The fourth time --- 2007 to 2012 --- she served a full term. The first lot of statues may have been regular cement structures, but eventually bronze, marble and granite came to be used. Post 2002, came the sthals — Dr Bhimrao Ambedkar Samajik Parivartan Prateek Sthal better known as Ambedkar Memorial Park, the Rashtriya Dalit Prerna Sthal, the Manyavar Kanshiram Smarak Sthal. Expert commentary about the architectural style employed is peppered with terms such as "neo-Buddhist style", "enfilades", "Sanchi stupa inspired domes", "Ashokan pillars". Nearly everyone remarks about the "extra-human scale" of the creations.
Afterthought
Much is also said about the "visually incongruent" cityscape of Lucknow; much Nawabi, some part British, and then ostensibly Dalit. The statue of Ambedkar in the Ambedkar Memorial Complex is inspired by the Lincoln Memorial. The Prerna Kendra enshrines Kanshi Ram's ashes. It seems thicker-than-usual stone slabs were used and extra thick bronze. The open-air sculpture gallery at the Ambedkar Memorial has friezes on its walls depicting key events from the careers of Kanshi Ram and Mayawati. In the paper "Monumental Pride: Mayawati's Memorials in Lucknow", Melia Belli writes, "These are not sites built to honour the Buddha. It could even be argued that their ultimate function is not to honour Ambedkar or Kanshi Ram, but Mayawati." Her primary job done, this time round Mayawati has promised not to build more statues and memorials for her vote bank, and instead work for development.