Strange idea: tweaking the National Anthem
Modi, the recipient of Swamy's letter, would be more concerned with the immediate political costs of such periodic howlers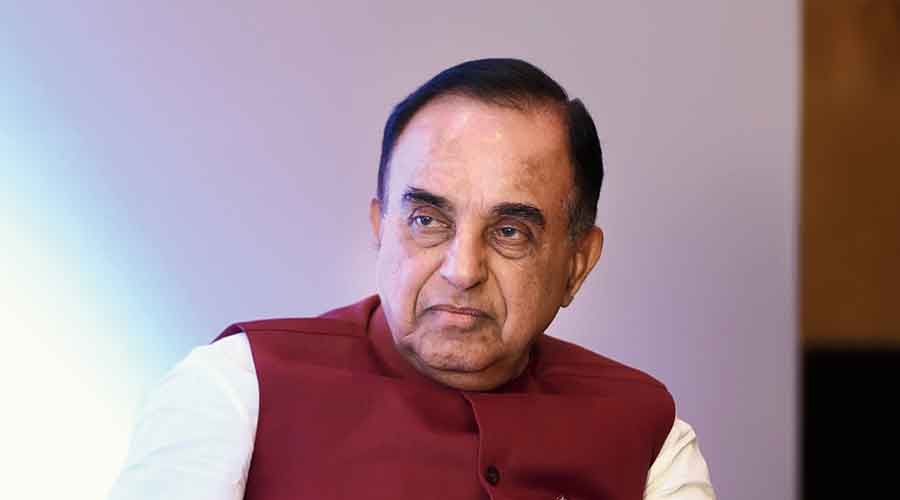 Subramanian Swamy.
File picture
---
Published 16.12.20, 12:44 AM
|
---
A maverick leader may be a political liability in an election season. The prime minister and his colleagues in the Bharatiya Janata Party — they have their eyes fixed on the approaching assembly elections in Bengal — seldom lose an opportunity to wax eloquent about Rabindranath Tagore, the state's tallest icon. Unsurprisingly, the shadow has fallen, once again, between the BJP's words and deeds. As if the embarrassing attribution of Visva-Bharati as Tagore's birthplace in a tweet by the Bengal unit was not enough, Subramanian Swamy, the BJP's proverbial enfant terrible, has now demanded that the national anthem penned by the Poet be tweaked as some bits of it, in Mr Swamy's opinion, no longer reflect the ground realities of post-Independence India. The mention of 'Sindh', now in Pakistan, in the anthem has got the BJP parliamentarian's goat: Mr Swamy deems that the version sung by Subhas Chandra Bose and his comrades in the Indian National Army can be a suitable replacement.
There are several weaknesses in Mr Swamy's argument. Substituting some of Tagore's words with those used by Bose and his comrades would not help Mr Swamy's cause because 'Sindh' had not been dropped by the valorous peers in the INA. There is also a broader, philosophical problem. The spirit of Tagore's song transcends the narrow borders of geography and territoriality. Its aesthetic appeal lies in its explicit endorsement of humanism, harmony, pluralism, brotherhood and cultural diversity. The importance of these elements had been recognized and appreciated by members of the Constituent Assembly in the context of the founding and the sustenance of the nascent Republic. Should Mr Swamy's demand then be seen as a rejection of this composite vision? The conjecture cannot be dismissed, given these divisive times. Ironically, there may even be an ideological argument against Mr Swamy's reasoning from the sangh parivar itself: the deletion of Sindh would dismantle the parivar's Akhand Bharat project. Narendra Modi, the recipient of Mr Swamy's letter, would be more concerned with the immediate political costs of such periodic howlers. Earlier, another missive had been sent to the National Council for Educational Research and Training, demanding the excision of Tagore's writings from textbooks. Another contribution of Tagore, the national anthem, is now being viewed through the lens of revisionism. Mr Modi is surely aware that such radical propositions could undo his attempts to win Bengal's heart with quite a bit of help from Tagore.