Spot the change: Editorial on Shiv Sena's pursuit of a moderate, inclusive policy
Uddhav Thackeray's rainbow alliance could have eventually led to political dividends in Maharashtra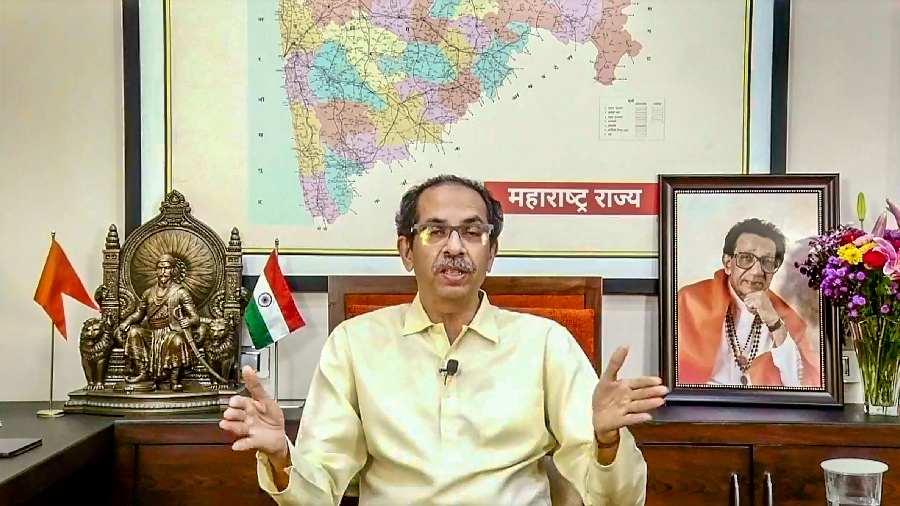 Uddhav Thackeray's leadership during the Covid crisis was also devoid of the bigoted targeting of minorities.
File Picture
---
Published 24.06.22, 03:23 AM
|
---
The disgruntled segment of the Shiv Sena has, its leader says, been suffering from heartburn. The cause that has been cited is the Shiv Sena's 'unnatural' alliance with the Nationalist Congress Party and the Congress. The three parties headed Maharashtra's Maha Vikas Aghadi government after the Shiv Sena junked its traditional ally, the Bharatiya Janata Party. Eknath Shinde, who sounded the bugle of rebellion, has demanded that the Shiv Sena must return to the ideological fold it espoused with the BJP. Mr Shinde, in other words, wants to resurrect the format of hard Hindutva that the Shiv Sena was associated with. Mr Shinde — or is it the BJP? — it is being speculated, was unnerved by the Shiv Sena's pursuit of a moderate, inclusive policy. Indeed, Uddhav Thackeray's short reign had been marked by the toning down of the Sena's shrill rhetoric and rowdyism: even Muslim candidates had found candidacy in the municipal election. Mr Thackeray's leadership during the Covid crisis was also devoid of the bigoted targeting of minorities, something that the Narendra Modi government could not quite resist indulging in.
What deserves attention, however, is Mr Shinde's claim of the Shiv Sena being a consistent proponent of rabid Hindutva. The ideological evolution of the party has not been simple, or linear. The Shiv Sena gained its political legitimacy — notoriety? — as the ostensible protector of the social and economic interests of the Marathi manoos, anxious about their diminishing stakes and influence in cosmopolitan Mumbai. Its target under Bal Thackeray was the migrant. Muslims were targeted as communal degeneration set in. Interestingly, Bal Thackeray's father, Prabodhankar, is also known for promoting Bahujanwadi Hindutva, an anti-Brahmanical ideology that is more anti-caste than communal. Uddhav Thackeray's repeated insistence on the Sena's Hindutva being different from that of the BJP has been interpreted as a willingness to experiment with Prabodhankar's legacy. But all that is now in the past: it is the Sena's future that is up for grabs. Jettisoning indigeneity and its attendant parochialism may be difficult for the Shiv Sena. But forging a broader rainbow alliance across castes and communities — Uddhav Thackeray's project — could have eventually led to political dividends.