Shamed: Capitol Hill attack
Trump, who projected himself to be a custodian of law and order thought nothing of attempting to subvert time-honoured stipulations that protect the citadel of democracy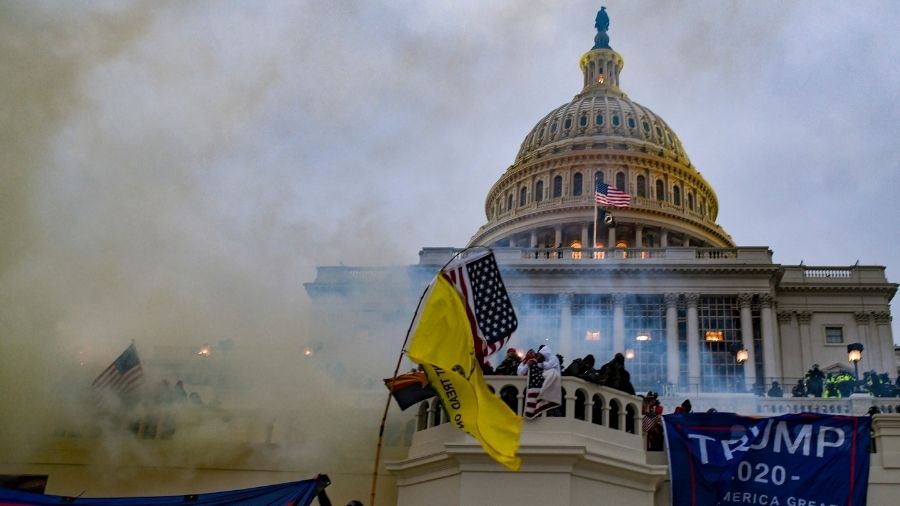 Authorities deploy tear gas on the mob that stormed the Capitol, on Wednesday, in Washington.
NYTNS
---
Published 08.01.21, 03:35 AM
|
---
A demagogue should have no place in a democracy. Ironically, a democracy can end up electing a demagogue to office. The United States of America, the torchbearer of global democracy, has shown the world that such a horror can, indeed, come to pass. Capitol Hill, the plinth that supports democratic America, was under siege — and shamed — by a mob of supporters of the outgoing president, Donald Trump. The mob clashed with security men, disrupted the proceedings of the electoral count, while claiming, among other things, that the elections that led to Mr Trump's ouster were fraudulent. The outrage was not spontaneous: it was part of a deliberate, unfolding orchestration by a cynical leader who seems to relish his anti-constitutionalism. That the rioters were allowed easy access to the temple of American democracy raises speculations of a wilfully tardy security arrangement. The cue must have come from the top. Mr Trump and his admirers have been engaged in inciting supporters for a while, refusing to concede the polls. Hours before the attack, Mr Trump's lawyer endorsed a 'trial by combat'; it has been reported that Mr Trump, too, had made patently false claims shortly before the carnage. Mr Trump is no bitter loser: he has lent explicit support to an insurrection against democracy and the US Constitution.
The ironies of the Trumpian legacy are glaring. The leader who projected himself to be a custodian of law and order thought nothing of attempting to subvert time-honoured stipulations that protect the citadel of democracy. His tepid response to the assault on Capitol Hill blows to smithereens his carefully crafted image of a president who prides himself in upholding the law against agents of chaos. The man who pledged to make America great has now turned the nation into a laughing stock in the eyes of its rivals: Beijing, the opposite of a model democracy, mocked the US by describing the metaphorical fire on Capitol Hill as a "beautiful sight". Those committed to democracy and its ideals may take heart from the fact that Joe Biden's triumph is now formal. But Mr Trump's ability for mischief must not be undermined. The law must act swiftly and decisively against the storm-troopers and their general. The challenge to reclaim democracy from the grip of the Trumpian vision remains formidable. Yet, it must be overcome. Otherwise, democracy, not just in the US, will be devoured by its children.