Women at forefront
The movement against equal citizenship could be a turning point in fight for gender equality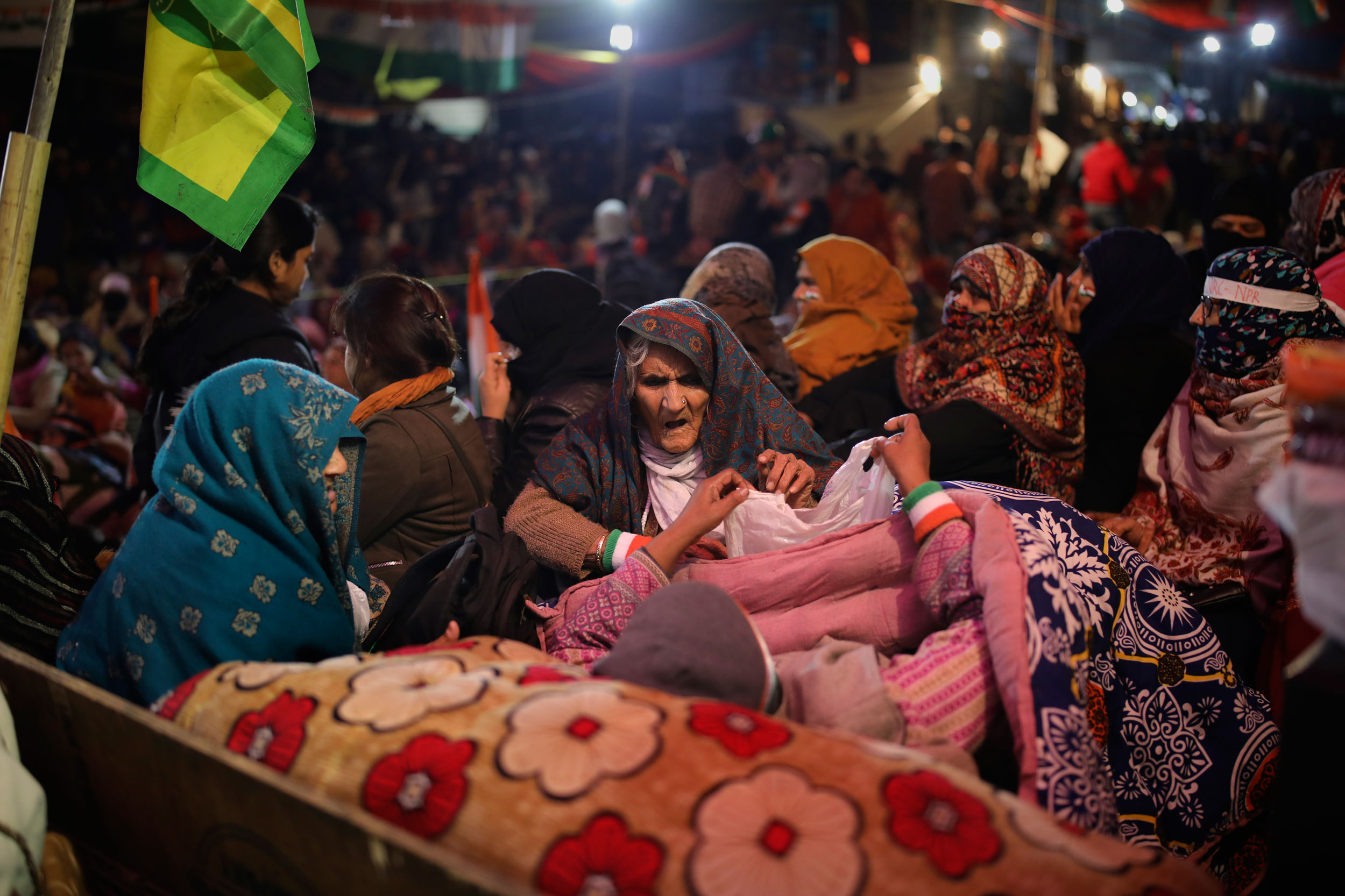 In this January 22, 2020, photo, 90-year-old Asma Khatoon tends to a sick protester inside a tent in New Delhi's Shaheen Bagh area.
(AP)
---
Published 28.01.20, 07:42 PM
|
---
Home is no longer where the hearth is for thousands of women in India; it is out on the streets. Across the country, women have taken the lead in raising their voices against the Citizenship (Amendment) Act. Shaheen Bagh, Ghanta Ghar, Park Circus Maidan are just a handful of instances of women's resilience in the face of adversities — be it the biting cold or a State that spares neither police violence nor pettiness in the form of allegedly stealing biscuits and blankets from protesters to silence dissent. Unsurprisingly, the flagbearers of patriarchy are spooked. Leading the charge on behalf of the chauvinists is the chief minister of Uttar Pradesh, Yogi Adityanath. Not objecting to women stepping out of their homes to protest on the streets, Mr Adityanath feels, is akin to bearing silent witness to the "cheer haran (molestation)" of the nation. Evidently, Mr Adityanath is among those who subscribe to the misguided notion that a woman's honour — tied inextricably in the patriarchal mind to chastity — resides in her body and must be protected by confining her within the home. As usual, Mr Adityanath feels that the Opposition is to blame for "maligning the atmosphere" by "pushing women to the front". Perhaps he also thinks that women are incapable of thinking for themselves. Women, however, have proved otherwise. Once women step out of imposed boundaries, they cannot be bulldozed back. Protesters at Shaheen Bagh, for instance, have resisted attempts by male relatives and political parties alike to hijack and direct the movement.
The participation of large numbers of women in the anti-CAA protests, though, is not incidental. Women cutting across socio-economic divides are often deprived of official documents and most of them also do not possess immovable property in their name, staying under the care of one or the other male relative. The legislation thus threatens women in a bigger way than men. Also prominent among the women protesters are young, educated girls. First-generation learners refuse to have their agency snatched from them as they have seen happen to their mothers and grandmothers. What has become amply clear in the course of these agitations is that there are more natural leaders in India than society is willing to admit. Could it then be that the movement for equal citizenship for all communities may also be a turning point in the movement for equal citizenship for all genders?