New threats make hunger a layered challenge
Besides persistent inequality, global hunger is accentuated by climate change, conflict and falling nutrition standards.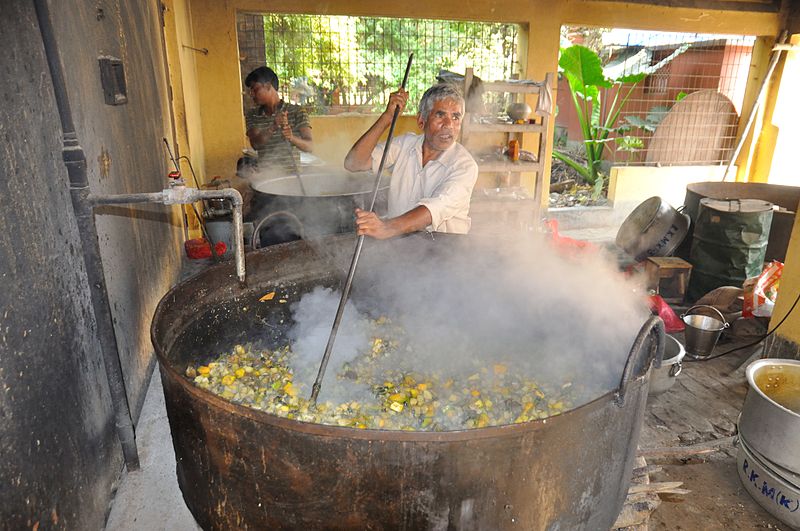 ---
---
Meal being cooked for school children in Murshidabad. Photo by Biswarup Ganguly / Wikimedia Commons

Correlations can be deceptive. It can be assumed, for example, that access to food would become easier with the rise in global wealth. But the reality, as indicated by a report published by the United Nations, belies such an expectation. The State of Food Security and Nutrition in the World has revealed that one of the main factors that have contributed to this anomaly is the iniquitous nature of global wealth. This, in turn, chronicles the sorry tale of the lopsidedness of purchasing power among different segments of society. The consequences are chilling. It has been estimated that two per cent of the global population have suffered stunting. Last year, nearly 821 million people remained undernourished, even though their numbers registered a decline in such populous nations as China and India. The bad news, however, is overwhelming. The report has shown that hunger has been accentuated by not just persistent inequality but also newer threats of which climate change, conflict and - tellingly - declining standards of nutrition are the most potent. Climate change has led to the creation of both erratic and extreme weather conditions, adversely affecting food production. The shortages have led to rise in prices, putting food further away from the reach of the poor. But hunger cannot be attributed to nature's fury alone: the human imprint is palpable. Take the case of India, a nation that has burdened itself with more than 50 per cent of the share of the world's underweight children. More than 30 per cent of stunted children call India their home as well. Inexplicably, packaged food - there are votaries for this kind of intervention - remain indifferent to nutrition quality, a lacuna that may have prompted the Centre to announce that freshly-cooked food would not be replaced in India's mid-day meal programme. But seemingly inclusive measures could reinforce exclusion, as is evident from the numerous complaints of hunger deaths in families that were denied rations because they had not been enrolled in Aadhaar.
Hunger, evidently, is a layered challenge. Unfortunately, measures to tackle it remain fixed in terms of imagination. It is imperative to join the emerging dots - say, the link between climate change and malnourishment. But would that be enough? A firmer moral commitment to make wealth representative holds the key.